Bookmarks
Entrepreneur Corner: Building talent pipelines and saving corporate culture. Here's the latest from VentureBeat's Entrepreneur Corner:How to get a VC you don't know to mentor you – It's hard to catch the eye of a venture capitalist and even harder to convince one to mentor you.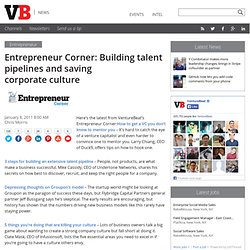 Larry Chiang, CEO of Duck9, offers tips on how to hook one. 3 steps for building an extensive talent pipeline – People, not products, are what make a business successful. Mike Cassidy, CEO of Undertone Networks, shares his secrets on how best to discover, recruit, and keep the right people for a company. 4 Promising Curation Tools That Help Make Sense of the Web. Steven Rosenbaum is a curator, author, filmmaker and entrepreneur.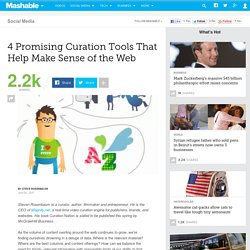 He is the CEO of Magnify.net, a real-time video curation engine for publishers, brands, and websites. His book Curation Nation is slated to be published this spring by McGrawHill Business. As the volume of content swirling around the web continues to grow, we're finding ourselves drowning in a deluge of data. Razer Laptop With Chameleon-Like OLED Keys. What if you had a keyboard that worked with you, changing along with you as you engaged in different types of activities?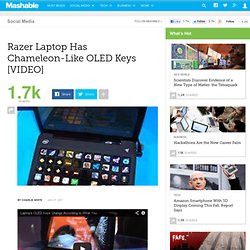 That's what this Razer laptop can do, on display at the Intel booth at CES. Each key is a tiny display, configurable with whatever icons or video its user desires. And, this Razer laptop is so small, it'll fit into a coat pocket. Reminding us of that exorbitantly priced Optimus Maximus keyboard from Art Lebedev, the Razer laptop put on a good show for us in this video hosted by Christina Warren. Pricing or availability for this sweet PC weren't announced. TheHouseOfBusiness.
Various stuff
Salesforce. Internet. Social,media,resources,blogs. Articles. Social,networks,statistics,society,consumer,behaviour,trends. Groupon will become the Sarah Palin of tech, and other predictions for 2011. 2011 will be a year of economic recovery and continued drama in Silicon Valley, marked by the hyped battles of Apple vs.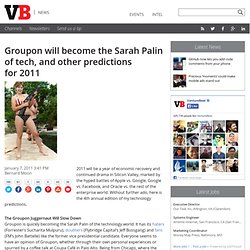 Google, Google vs. Facebook, and Oracle vs. the rest of the enterprise world. Without further ado, here is the 4th annual edition of my technology predictions. The Groupon Juggernaut Will Slow Down Groupon is quickly becoming the Sarah Palin of the technology world. It has its haters (Forrester's Sucharita Mulpuru), doubters (Flybridge Capital's Jeff Bussgang) and fans (FM's John Battelle) like the former vice presidential candidate. TheHOB's favorite websites. Social Bookmarking Sharing Button Widget. Ustream Live Broadcasting over Android app - Business & Social Media!
---