Quantum Physics
5 Scientific Theories That Will Make Your Head Explode. There are generally two types of science: first, there's the type that makes computers work, allows us to ride around in metal boxes propelled by continuous explosion, and makes it so that milk doesn't taste all gross.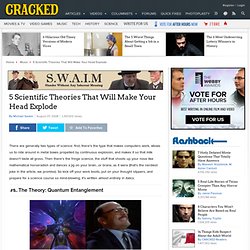 Then there's the fringe science, the stuff that shoots up your nose like mathematical horseradish and dances a jig on your brain...or brane, as it were (that's the nerdiest joke in the article, we promise). So kick off your work boots, put on your thought slippers, and prepare for a science course so mind-blowing, it's written almost entirely in italics. The Theory: Quantum Entanglement The Crazy Part:The part where you jiggle an electron on one side of the universe and an invisible force traverses millions of light years and smacks another electron into wiggling instantaneously, which is about a million years faster than is technically possible without time travel.
Faster than the Speed of Light? In September 2011, an international group of scientists has made an astonishing claim - they have detected particles that seemed to travel faster than the speed of light.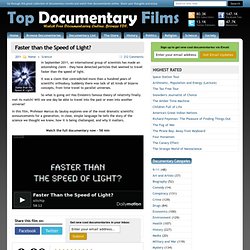 It was a claim that contradicted more than a hundred years of scientific orthodoxy. Suddenly there was talk of all kinds of bizarre concepts, from time travel to parallel universes. So what is going on? Has Einstein's famous theory of relativity finally met its match? Will we one day be able to travel into the past or even into another universe? The Elegant Universe. Adapted from a provocative book by Brian Greene, this deeply engrossing documentary -- which originally aired on PBS's NOVA in three parts -- attempts to explain the controversial string theory, a complicated scientific proposal that, in short, posits a single explanation for many of the universe's mysteries.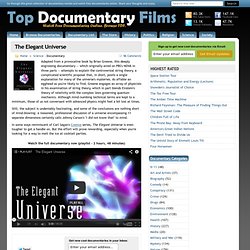 As affable an egghead as you're likely to find, Greene engages an array of physicists in his examination of string theory, which in part blends Einstein's theory of relativity with the complex laws governing quantum mechanics. Although mind-numbing technical terms are kept to a minimum, those of us not conversant with advanced physics might feel a bit lost at times. Still, the subject is undeniably fascinating, and some of the conclusions are nothing short of mind-blowing: a reasoned, professional discussion of a universe encompassing 11 separate dimensions certainly calls Johnny Carson's "I did not know that" to mind.
---