Organizational Censorship
The U.S. vs. John Lennon | Watch Free Documentary Online. A fascinating account of a relatively unknown piece of political history.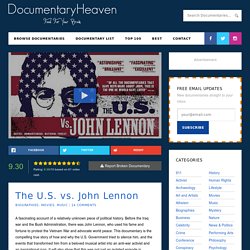 Before the Iraq war and the Bush Administration, there was John Lennon, who used his fame and fortune to protest the Vietnam War and advocate world peace. This documentary is the compelling true story of how and why the U.S. 12 Things That The Mainstream Media Is Being Strangely Quiet About Right Now.
As the mainstream media continues to be obsessed with Anthony Weiner and his bizarre adventures on Twitter, much more serious events are happening around the world that are getting very little attention.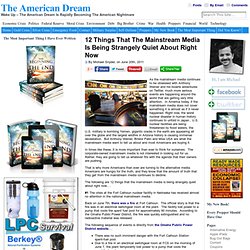 In America today, if the mainstream media does not cover something it is almost as if it never happened. Right now, the worst nuclear disaster in human history continues to unfold in Japan , U.S. nuclear facilities are being threatened by flood waters, the U.S. military is bombing Yemen, gigantic cracks in the earth are appearing all over the globe and the largest wildfire in Arizona history is causing immense devastation. But Anthony Weiner, Bristol Palin and Miss USA are what the mainstream media want to tell us about and most Americans are buying it. The Thomas Jefferson Center For the Protection of Free Expression. Print - Concerned About Your Digital Privacy? You Should Be. Threat Level III: Devastating Victims: Harassed ex-spouses, government suspects, random targets, future homeowners Damage: psychological and physical Threats, oppressive Orwellian Intrusion GPS Car Tracking Low-cost GPS devices for tracking kids or pets may be marketed for innocent purposes, but they can also be used to sinister effect.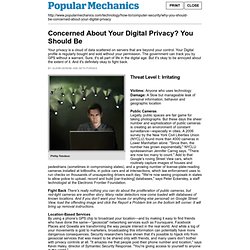 UN Secretary-General pitches for freedom of Internet. UN Secretary-General pitches for freedom of InternetNew Delhi | Friday, Dec 9 2011 IST On the eve of Human Rights Day, United Nations Secretary-General Ban Ki-moon today said Governments must not block access to the Internet and various forms of social media as a way to prevent criticism and public debate.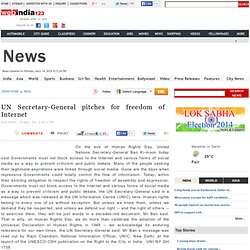 Many of the people seeking their legitimate aspirations were linked through social media.
---