Pearltree 2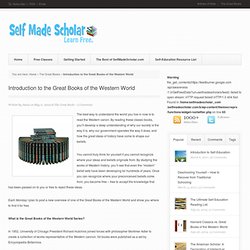 Introduction to the Great Books of the Western World
The best way to understand the world you live in now is to read the Western canon. By reading these classic books, you'll develop a deep understanding of why our society is the way it is, why our government operates the way it does, and how the great ideas of history have come to shape our beliefs. You cannot truly think for yourself if you cannot recognize where your ideas and beliefs originate from. By studying the works of Western history, you'll see that even the "modern" belief sets have been developing for hundreds of years. Once you can recognize where your preconceived beliefs come from, you become free – free to accept the knowledge that has been passed on to you or free to reject these ideas. Each Monday I plan to post a new overview of one of the Great Books of the Western World and show you where to find it for free.
The Master Course in Personal Development May Already Be Sitting On Your Shelf Reading the great books takes a lot of effort. Studying masterpieces such as the Odyssey or the works of Shakespeare requires more concentration than picking up a Tom Clancy novel. But, the payoffs can be tremendous. If you're not sold on starting a reading plan, consider the benefits that reading great literature can bring to your life.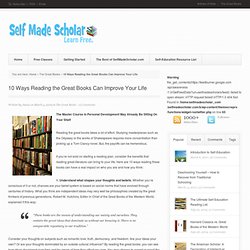 10 Ways Reading the Great Books Can Improve Your Life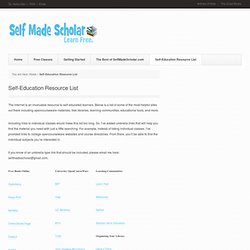 The internet is an invaluable resource to self-educated learners. Below is a list of some of the most helpful sites out there including opencourseware materials, free libraries, learning communities, educational tools, and more. Including links to individual classes would make this list too long. So, I've added umbrella links that will help you find the material you need with just a little searching.
The World as Your Campus: Designing a General Ed Curriculum for Life
One of the biggest hurdles people face when embarking on a journey of self-education is deciding what to learn. There are so many possibilities that it's difficult to narrow down the options. If you still don't know what you want to focus your self-studies on, may I suggest you take a bit of time for "general education." In college, we think of general education as the series of courses one must take to get a broad understanding of academics.
One of the most challenging and gratifying parts of learning alone is the opportunity to search for and select your own learning material. Students in traditional classrooms usually don't get to decide how they are going to master course content. Instructors decide for them in the form of textbook selection, quizzes, tests, group projects, etc.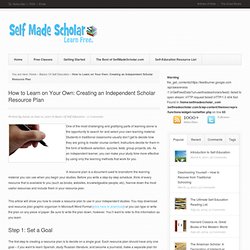 Ivy League Education at Home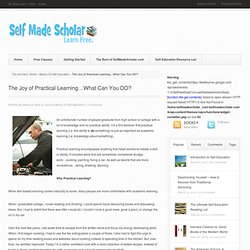 The Joy of Practical Learning…What Can You DO?
An unfortunate number of people graduate from high school or college with a lot of knowledge and no practical ability. I'm a firm believer that practical learning (i.e. the ability to do something) is just as important as academic learning (i.e. knowledge about something). Practical learning encompasses anything that helps someone master a skill or ability. It includes skills that are sometimes considered drudge work…cooking, painting, fixing a car. As well as talents that are more recreational…skiing, drawing, dancing.