Video
MickaelNewton: Peut-on faire de cette image... Game Of Thrones "Throne" Tease (HBO) The Dark Knight App Edition. Tonight I'm Frakking You. L'age d'or du techno - Cyberpresse. Previews & Clips - Priest. A Day Made of Glass... Made possible by Corning. Badminton Jedi. Lottery Results AD Windows Phone 7 application - AppsFuze. For Developers: XNA support coming to Visual Basic. There are still millions of Visual Basic developers who find the language a quick and easy way to take an application from conception to production.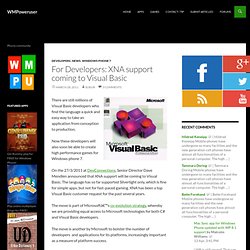 Now these developers will also soon be able to create high performance games for Windows phone 7. On the 27/3/2011 at DevConnections, Senior Director Dave Mendlen announced that XNA support will be coming to Visual Basic. The language has so far supported Silverlight only, which is fine for simple apps, but not for fast-paced gaming. Detail. Twitter Announces Fully-Functional Embedded Tweets. Until now, there has been no quick and simple way to embed a functional Tweet in a blog post.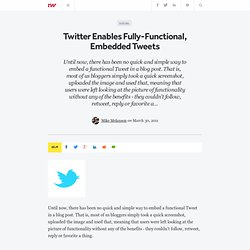 That is, most of us bloggers simply took a quick screenshot, uploaded the image and used that, meaning that users were left looking at the picture of functionality without any of the benefits - they couldn't follow, retweet, reply or favorite a thing. Today, Twitter has released a new set of developer tools that will make it easier for bloggers and others alike to embed fully-functional Tweets on the Web, with WordPress leading the pack. According to the developer description, the new feature - called Web Intents - will "make it possible for users to interact with Twitter content in the context of your site, without leaving the page or having to authorize a new app just for the interaction. " Twitter had previously offered a way to embed Tweets with a feature called Blackbird Pie, but the resulting embed was lifeless.
Only a true geek can understand the excitement this pic can p. Get the NoDo Update right now! Get the NoDo Update right now!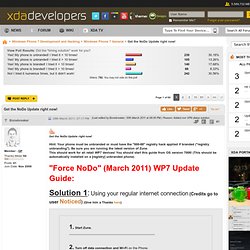 Hint: Your phone must be unbranded or must have the "000-88" registry hack applied if branded ("registry unbranding"). Be sure you are running the latest version of Zune. This should work for all retail WP7 devices! Easy hack forces NoDo update. For those of you who received the February pre-NoDo update but are still waiting for the big important March one to hit, there looks to be an easy way to make it happen now, without using the "VPN" trick discovered earlier.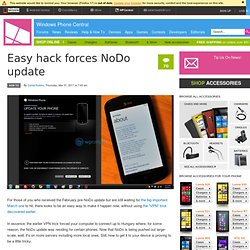 In essence, the earlier VPN trick forced your computer to connect up to Hungary where, for some reason, the NoDo update was residing for certain phones. Now that NoDo is being pushed out large-scale, well, it's on more servers including more local ones. Still, how to get it to your device is proving to be a little tricky. On devices listed on Microsoft's website as "delivering update" this should work, including T-Mobile HD7's: Start ZuneTurn off Data connection and Wifi on the PhoneConnect the Phone with the PC (USB)Start the update search in ZuneAbout 3 seconds later, disconnect your PC from the internet (Turn WLAN off).Zune finds NoDo-Update. Samsung mass producing 22-inch transparent LCD, your desktop monitor seethes with jealousy. Samsung Electronics Becomes the World's First in Mass Production of Transparent LCD PanelSEOUL, South Korea--(BUSINESS WIRE)--Samsung Electronics Co., Ltd. announced today that it began mass production of a 22-inch transparent LCD panel in March this year.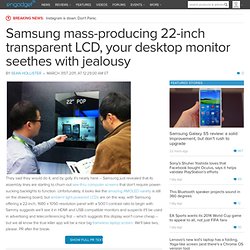 "Transparent displays will have a wide range of use in all industry areas as an efficient tool for delivering information and communication. With the world's first mass production of the transparent LCD panel, Samsung Electronics plans to lead the global transparent LCD market by developing various applications.
" Apple - iPad 2 - TV Ad - We Believe. Microsoft Office Labs 2019 Vision Montage.
---