The Arab Spring
The more Bashar Assad butchers Syrian dissidents, the more the world community expresses outrage — while it does little to stop the bloodletting.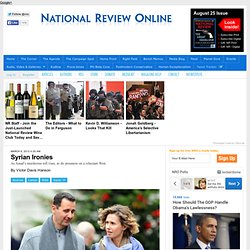 Syrian Ironies - Victor Davis Hanson
The road to Damascus goes through Moscow
With recent events in Syria capturing headlines around the world, we have been bombarded with reports and statistics provided by the opposition forces fighting President Bashar al-Assad's Syrian army.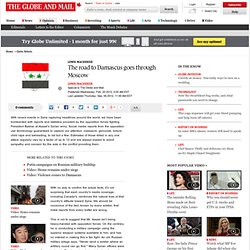 The surrender is complete now. The Hindu reports that the Obama administration has turned to Sheikh Yusuf al-Qaradawi, the Muslim Brotherhood's leading jurist, to mediate secret negotiations between the United States and the Taliban. I wrote about Qaradawi at length in The Grand Jihad and, here at NRO, have regularly catalogued his activities (see, e.g., here, here, here, here, and here; see also Andrew Bostom's "Qaradawi's Odious Vision").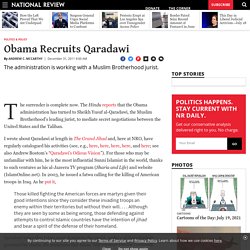 Obama Recruits Qaradawi - Andrew C. McCarthy
Rabat, Morocco — A little over a year ago, a young fruit vendor in Tunisia poured gasoline on himself, struck a match, and committed suicide.
Moderation in Morocco - John Fund