Islam
Western Sharia - Andrew C. McCarthy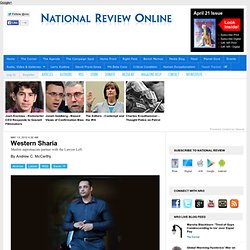 Ismail Belghar, a 36-year-old Muslim man living in Australia, assaulted, abducted, and nearly killed his sister-in-law. The victim, a 25-year-old Moroccan named Canan Kokden, had dared to take her older sister, Mrs. B, to the beach without Belghar's permission. This heinous effrontery was amplified, Belghar later recounted for police, when Mrs. B thereupon "displayed her body," sustaining the shoulder sunburn that tipped him off. To Australians, this may have been, well, just a day at the beach.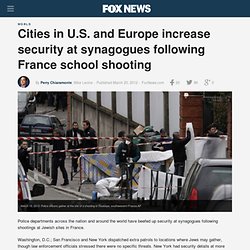 Cities in U.S. and Europe increase security at synagogues following France school shooting
March 19, 2012: Police officers gather at the site of a shooting in Toulouse, southwestern France.AP Police departments across the nation and around the world have beefed up security at synagogues following shootings at Jewish sites in France. Washington, D.C.; San Francisco and New York dispatched extra patrols to locations where Jews may gather, though law enforcement officials stressed there were no specific threats. New York had security details at more than 50 locations following the killings of four people at a school in Toulouse, France. Those shootings were done by a gunman on a motor scooter, and came after a similar assailant killed three French soldiers in the region.
French official: Islamists planned to kidnap judge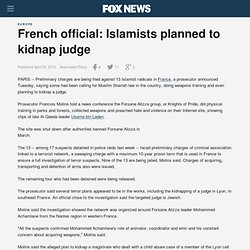 PARIS -- Preliminary charges are being filed against 13 Islamist radicals in France, a prosecutor announced Tuesday, saying some had been calling for Muslim Shariah law in the country, doing weapons training and even planning to kidnap a judge. Prosecutor Francois Molins told a news conference the Forsane Alizza group, or Knights of Pride, did physical training in parks and forests, collected weapons and preached hate and violence on their Internet site, showing clips of late Al Qaeda leader Usama bin Laden. The site was shut down after authorities banned Forsane Alizza in March. The 13 -- among 17 suspects detained in police raids last week -- faced preliminary charges of criminal association linked to a terrorist network, a sweeping charge with a maximum 10-year prison term that is used in France to ensure a full investigation of terror suspects.
Muslims Making Atheists - Dennis Prager
Here in Sydney, Australia, where I've been lecturing for a week, I may have had one Australian-born waitress or waiter, and one Australian-born taxi driver. As is my wont, I have been asking all my waiters, waitresses, and taxi drivers where they were born and, whenever possible, having some discussion about their native country. I say "whenever possible" because, unlike in the United States, where taxi drivers, whether foreign- or American-born, are known for being talkative, in Sydney, apparently, the influence of the famous British reserve is still very much in evidence.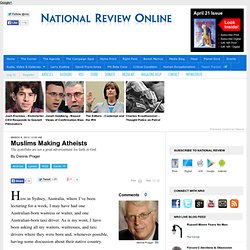 Afghans Resume Protests Over Koran Burnings
KABUL, Afghanistan – Protesters threw rocks at police, government buildings and a U.N. office in eastern Afghanistan on Saturday, kicking off a fifth day of riots sparked by the burning of Korans at a U.S. base, officials said. At least 25 people have been killed and hundreds wounded since Tuesday, when it first emerged that Korans and religious materials had been thrown into a fire pit used to burn garbage at Bagram Air Field, a large U.S. base north of Kabul. President Barack Obama and other U.S. officials apologized and said it was a terrible mistake, but the incident has sent thousands to the streets in this deeply religious country. Hundreds of demonstrators staged peaceful protests in Nangarhar, Logar and Paktia provinces, but ones in Laghman and Kunduz provinces turned violent.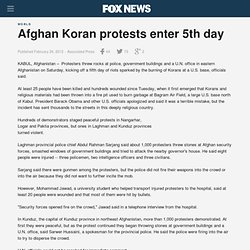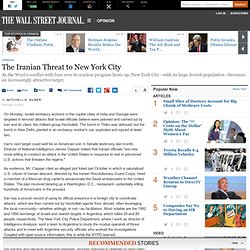 Mitchell Silber: The Iranian Threat to New York City
On Monday, Israeli embassy workers in the capital cities of India and Georgia were targeted in terrorist attacks that Israeli officials believe were planned and carried out by Iran and its client, the militant group Hezbollah. The bomb in Tbilisi was defused, but the bomb in New Delhi, planted in an embassy worker's car, exploded and injured at least two. Iran's next target could well be on American soil. In Senate testimony last month, Director of National Intelligence James Clapper stated that Iranian officials "are now more willing to conduct an attack in the United States in response to real or perceived U.S. actions that threaten the regime."
A decade after 9/11, America has reached a political and intellectual stalemate regarding the Muslims in its midst. Many Americans continue to fear their Muslim neighbors and fellow citizens, if not as potential terrorists then as terrorist sympathizers — or, more generally, as the bearers of an alien culture shared by America's enemies. Stoking these fears are a handful of zealous investigative journalists and bloggers who recycle a body of facts about the Islamist origins of most Muslim leaders and of virtually all major American Muslim organizations.
The Muslim-American Muddle > Publications > National Affairs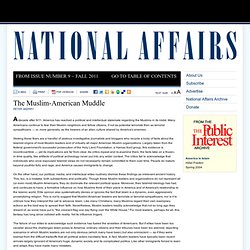 Ayaan Hirsi Ali:The Global War on Christians in the Muslim World
Call it the triumph of ideology over national interest and honor. Having dithered for nearly three years, the Obama administration has only a few weeks to bring to justice a Hezbollah terrorist who slaughtered five U.S. soldiers in Iraq in 2007. Unfortunately, it appears more likely that Ali Musa Daqduq will instead be transferred to Iran, to a hero's welcome. In the early evening of Jan. 20, 2007, in the city of Karbala, south of Baghdad, five black SUVs approached the location of a regular meeting between U.S. and Iraqi military officers. Inside the vehicles, which mimicked U.S. transports (to avoid heightened scrutiny), were a dozen individuals dressed in U.S. military uniforms and bearing U.S. weapons. Their drivers spoke English.
David Rivkin and Charles Stimson: Obama and the Hezbollah Terrorist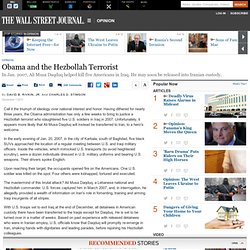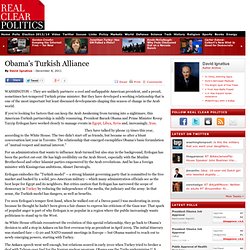 Obama's Turkish Alliance
WASHINGTON -- They are unlikely partners: a cool and unflappable American president, and a proud, sometimes hot-tempered Turkish prime minister. But they have developed a working relationship that is one of the most important but least discussed developments shaping this season of change in the Arab world. If you're looking for factors that can keep the Arab Awakening from turning into a nightmare, this American-Turkish partnership is mildly reassuring. President Barack Obama and Prime Minister Recep Tayyip Erdogan have worked closely to manage events in Egypt, Libya, Syria and, increasingly, Iran. They have talked by phone 13 times this year, according to the White House.
The Washington, D.C. Office of Human Rights confirmed that it is investigating allegations that Catholic University violated the human rights of Muslim students by not allowing them to form a Muslim student group and by not providing them rooms without Christian symbols for their daily prayers. The investigation alleges that Muslim students "must perform their prayers surrounded by symbols of Catholicism – e.g., a wooden crucifix, paintings of Jesus, pictures of priests and theologians which many Muslim students find inappropriate." A spokesperson for the Office of Human Rights told Fox News they had received a 60-page complaint against the private university. The investigation, they said, could take as long a six months. The complaint was filed by John Banzhaf, an attorney and professor at George Washington University Law School.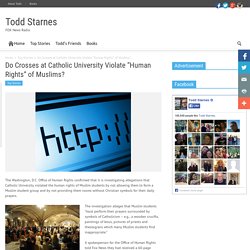 Do Crosses at Catholic University Violate "Human Rights" of Muslims?
Jose Pimentel, an American citizen from the Dominican Republic, arrested27-year-old ordered held without bail following his arraignment on SundaySuspect was inspired by radical cleric Anwar al-Awlaki and online magazineIt included an article called 'How to build a bomb in the kitchen of your mom'Pimentel wanted to change his name to Osama Hussein after his 'heroes'Allegedly targeting police, government officials and troops returning home By Thomas Durante and Mark Duell Updated: 23:24 GMT, 21 November 2011 A tearful Catholic mother has apologised for her 'lone wolf' Muslim militant son who was arrested in New York when allegedly just one hour away from completing a homemade pipe bomb. Carmen Sosa, 56, mother of U.S. citizen Jose Pimentel, 27, who was born in the Dominican Republic and is a follower of late Muslim cleric Anwar al-Awlaki, said she is 'disappointed' with his actions.
Jose Pimentel: New York City terror plot to attack NYPD, returning U.S. soldiers foiled
Islamic state fears effect of 'tempting' eyes on menSays it 'has the right' to issue repressive edictWomen must already cover their hair and wear full-length black cloak By Mail Foreign Service Updated: 01:50 GMT, 19 November 2011 Women with attractive eyes may be forced to cover them up under Saudi Arabia's latest repressive measure, it was reported yesterday.
Saudi women with attractive eyes may be forced to cover them up, if resolution is passed
Mustafa Abdul Jalil's announcement last month that Islamic sharia would form the basic source of legislation in the new Libya, and that all laws contradicting the sharia were immediately null and void, came as a surprise for Western observers. Given that the chair of Libya's National Transitional Council (NTC) wears the sign of his piety on his forehead in the form of the darkened "prayer bump" or zabibah created through vigorous prostration during prayer, it probably should not have. Western observers had always been determined to see the anti-Qaddafi rebellion in Libya as a "democracy movement." They were encouraged to do so by English-language NTC statements replete with soothing — if not indeed downright soporific — boilerplate that had undoubtedly been composed with the aid of Western advisers or PR agencies.
The Libyan Revolution: Democracy or 'Purity of Islam'? - John Rosenthal
The Region: Islamists in power; w... JPost - Opinion - Columnists
The New York Times has run an op-ed entitled, 'The Overblown Islamist Threat.' Big surprise: There's no Islamist threat! They're all moderates! Just like in 1979 Iran or in Turkey more recently.
The Ally From Hell - Magazine
Pakistan lies. It hosted Osama bin Laden (knowingly or not). Its government is barely functional. It hates the democracy next door. It is home to both radical jihadists and a large and growing nuclear arsenal (which it fears the U.S. will seize). Its intelligence service sponsors terrorists who attack American troops.
Islamism Fills the Vacuum Left by Socialism
The Rise of Moderate Islam
Socialist Multicultural Anti-American Dhimmitude
Utilities Company Seeks To Evict Ground Zero Mosque Unless Developer Pays Up
State Media Reports Iranian Pastor Facing Execution For Rape, Not Religion
Despite Anti-Terrorism Success, Obama's 2012 Hopes Still Tied To Economy
Ending al-Qaeda - Carl Ciovacco, Howard Gambrill Clark & James Van de Velde - The American Interest Magazine
The Americanization of Islamism - Mohamed Nimer - The American Interest Magazine
History, Hardliners, and Humility - Andrew C. McCarthy
Israel Apologizes For Deaths Of Egyptian Troops In Shootout With Militants | FoxNews.com
Syria Blocks Turkey's Ascent
The Inside Story of America's Favorite Terrorist Group
What did we expect from the Arab Spring?
Abbas' Vision of an Ethnically Cleansed Palestinian State
Church bells not allowed in Dearborn, MI? (video)
Muslims Attack Christian Village in Egypt -- 1 Murdered, Homes Looted and Torched
CNN Puts On Its Own Booking Executive to Explain Ramadan and Islamophobia
BBC is less anti-Catholic under Muslim head of religion, says Ann Widdecombe 
A Jihad by Muslim Women Against Violence
The War in Hipstamatic - An FP Photo Essay
Fear of a Muslim America
To Fight Radical Islam, U.S. Wants Muslim Allies
Pakistan IJT influence: Pakistan Islamist student group IJT said to terrorize campuses
Is Islam Compatible with Capitalism? by Guy Sorman, City Journal Summer 2011
Does Islam Stand Against Science? - The Chronicle Review