Android
ZXing (pronounced "zebra crossing") is an open-source, multi-format 1D/2D barcode image processing library implemented in Java, with ports to other languages. Our focus is on using the built-in camera on mobile phones to scan and decode barcodes on the device, without communicating with a server. However the project can be used to encode and decode barcodes on desktops and servers as well. We currently support these formats: UPC-A and UPC-E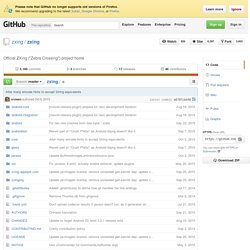 Android Cloud to Device Messaging (C2DM)
Android Cloud to Device Messaging (C2DM) - Tutorial Copyright © 2011 Lars Vogel Android C2DMs This tutorial describes how to push information from a server to the Google device.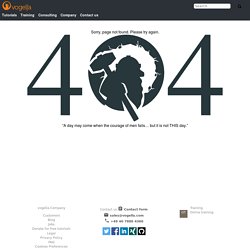 Communication between Android and Arduino with Bluetooth(1) | ElecFreaks
We all know Android is very popular now, especially ADK (Android Open Accessory Development Kit), which allows external 0pen source hardware to connect with Android system by USB and interact with an Android-powered device in a special "accessory" mode. We keep working on it for weeks, and try to assemble some bata prototype and make a library for the communication between Android and Arduino by bluetooth and Freaduino for ADK. With the Google providing source files, we are able to provide this board from now on.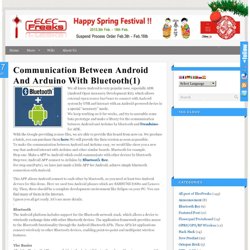 Articles, tutoriels et cours pour la programmation sur système Android, le développement d'applications mobiles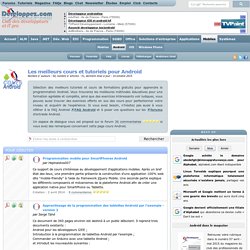 Une soundboard consiste à proposer un panel de bouton jouant chacun un son particulier sur le thème choisi. On ne le dirait pas comme ça, mais les soundboards sont des applications très appréciées par les utilisateurs. Sur Android Market par exemple, on peut retrouver des milliers d'applications de soundboards sur des thèmes variés aussi bien sur les jeux vidéo, séries télévisées ou encore de chanteurs/chanteuses. L'objectif de cet article reste simple : faire une application Android affichant deux boutons et jouant chacun un son lorsque l'on appuie dessus. Après avoir réalisé ceci, vous serez de vous-même capable, grâce à votre imagination, de proposer une jolie interface présentant plusieurs boutons jouant différents sons.
droid4me - Android application development framework
Android - Développement