Government Sites for Researchers
Tools for the Researcher @ The Smithsonian Institution Libraries
Access Secretary of State Records Search - Home
Governmentfilesonline.com lists Secretary of State web sites to search & file online public records for entities in all states. It lists links to online public records and business information about corporations, partnerships, LLCs and other business entities as well as UCC filing information in all 50 states. Sign up today Is Search for Public Records Keeping You from Your Core Business?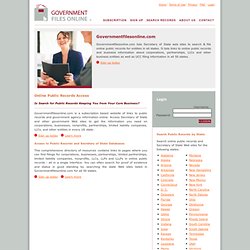 Library of Congress Research Tools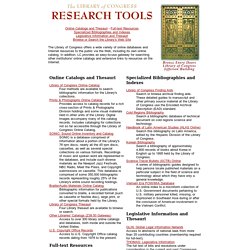 Online Catalogs and Thesauri - Full-text Resources Specialized Bibliographies and Indexes Legislative Information and Thesauri Browse or Search the Library's Web Site The Library of Congress offers a wide variety of online databases and Internet resources to the public via the Web, including its own online catalog. In addition, LC provides an easy-to-use gateway for searching other institutions' online catalogs and extensive links to resources on the Internet.