Government Sites for Researchers
USA.gov: The U.S. Government's Official Web Portal. Tools for the Researcher @ The Smithsonian Institution Libraries. Access Secretary of State Records Search - Home. National Archives and Records Administration. Library of Congress Research Tools. Online Catalogs and Thesauri - Full-text Resources Specialized Bibliographies and Indexes Legislative Information and Thesauri Browse or Search the Library's Web Site The Library of Congress offers a wide variety of online databases and Internet resources to the public via the Web, including its own online catalog.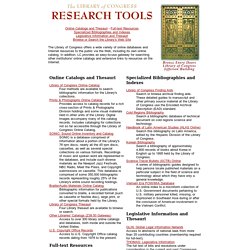 In addition, LC provides an easy-to-use gateway for searching other institutions' online catalogs and extensive links to resources on the Internet.
---