Wpf
Windows Presentation Foundation (WPF) - Home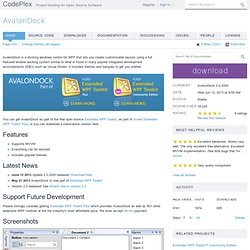 AvalonDock is a docking windows control for WPF that lets you create customizable layouts using a full featured window docking system similar to what is found in many popular integrated development environements (IDEs) such as Visual Studio. It includes themes and samples to get you started. You can get AvalonDock as part of the free open source Extended WPF Toolkit, as part of Xceed Extended WPF Toolkit Plus, or you can download a stand-alone version here.
AvalonDock - Home
Windows Presentation Foundation (WPF) - Home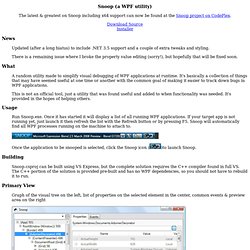 Snoop
Snoop (a WPF utility) The latest & greatest on Snoop including x64 support can now be found at the Snoop project on CodePlex. Download SourceInstaller News Updated (after a long hiatus) to include .NET 3.5 support and a couple of extra tweaks and styling.