Handarbeit
DIY] Update Mosaiklampe‬‏
How to Make Baby Pants from a Tshirt‬‏
Crochet Mary Jane Baby Slipper‬‏
Art of Crochet by Teresa - Crochet Baby High Top Bootie‬‏
Die Kappe für 'Freizeit-Legionäre' (in der Anleitung unten) habe ich aus einem Rest von bedrucktem Baumwollstoff genäht. Drucken Sie zunächst das Schnittmuster für die Kappe [PDF - 1,3MB] aus, kleben Sie die vier Seiten passgenau zusammen und schneiden Sie dann das Schnittmuster in der gewünschten Größe (Kopfumfang: 54, 57, 60, 63 oder 66cm) aus. Zum Drucken die Option 'nicht an die Seite anpassen' wählen, damit das Schnittmuster in Originalgröße gedruckt wird. Es befindet sich ein Kontrollwinkel zum Nachmessen auf dem Schnittmuster. Schneiden Sie die Teile entsprechend der Angaben auf dem Schnittmuster zu. Das Schnittmuster enthält keine Nahtzugaben, schneiden Sie also im Abstand von etwa 1cm zum Papierschnitt. markieren Sie die vorder Mitte am Kopfteil, am Schirm und am Stirnband mit kleinen Einschnitten mit der Nahtzugabe.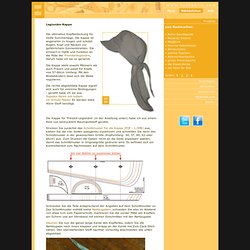 Nählexikon :: Materiallexikon :: Tipps, Ideen und Anleitungen zum selber nähen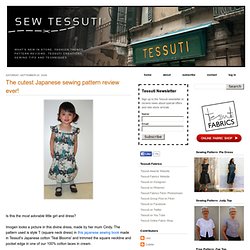 Is this the most adorable little girl and dress? Imogen looks a picture in this divine dress, made by her mum Cindy. The pattern used is style T (square neck dress) in this japanese sewing book made in Tessuti's Japanese cotton 'Teal Blooms' and trimmed the square neckline and pocket edge in one of our 100% cotton laces in cream. For 2 year old Imogen , Cindy cut out the 100cm sizing and found the pattern very easy to put together. In fact, Cindy first discovered these wonderful pattern books after reading one of our earlier posts and was quick to get out to Kinokuniya bookstore to purchase them. More of Cindy's other lovely creations for sweet little Imogen coming soon...
The cutest Japanese sewing pattern review ever!
Pinup Mode, Vintage und Rockabilly Kleidung search results: burda petticoat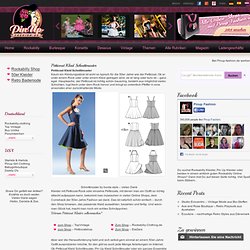 Petticoat Kleid Schnittmuster Petticoat Kleid Schnittmuster Kaum ein Kleidungsstück ist wohl so typisch für die 50er Jahre wie der Petticoat. Ob er unter einem Rock oder unter einem Kleid getragen wird, ob er lang oder kurz ist – ganz egal.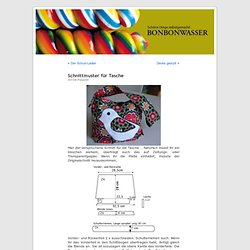 Blogarchiv » Schnittmuster für Tasche
von Die Passantin Hier der versprochene Schnitt für die Tasche … Natürlich müsst ihr ein bisschen werkeln, übertragt euch das auf Zeitungs- oder Transparentpapier. Wenn ihr die Maße einhaltet, müsste der Originalschnitt herauskommen. Vorder- und Rückenteil 2 x ausschneiden. Schulterriemen auch. Wenn ihr das Vorderteil in den Schittbogen übertragen habt, fertigt gleich die Blende an.
Nähanleitung Tasche | naehen-schneidern.de
makramee-online
Makramee - Basteln & Deko & Co. - Hilfe Pflege Bilder GREEN24.de
Free Bags, Totes and Purses Knitting Pattern Link Directory
Free Patterns | Bags & Totes