Info Tech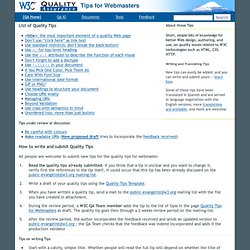 Short, simple bits of knowledge for better Web design, authoring, and use, on quality issues related to W3C technologies such as HTML, CSS, HTTP. Writing and Translating Tips New tips can easily be added, and you can write and submit yours — learn how.
C QA - Quality Tips for Webmasters
IPTO Online Portal
Speed Test
WUGNET's Bandwith Speed Test is a precisely accurate measurement of your Internet connection UPLOAD and DOWNLOAD speeds.