Literature and Reading
Books that will induce a mindfuck. The Best English-Language Fiction of the Twentieth Century - By Rank. Vintage Vinyl:Steal This Book. Library of Congress number 72-157115 (stolen from Library of Congress) copyright ©1971 PIRATE EDITIONS Restaurants Food Programs Supermarkets Wholesale Markets.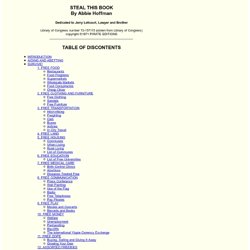 Vanishing Point: How to disappear in America without a trace. Where there's water, life is possible.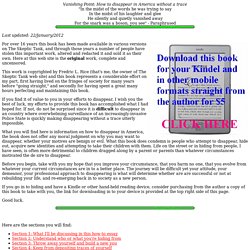 True, it may be very difficult and very hard to live, depending, but anyone who's driven, hiked, or camped in the American South West will have noticed that cities and ranches crop up where there's surface water or where there's been a well dug. Within the state of California, Nevada, Arizona, Utah, New Mexico, and Colorado, there are deserts, mesas, mountains, and forests where normally people never or rarely visit; not-so-secret places where there's water, access to a road within a day's hike, and where a fairly rugged individual may hide while remaining basically healthy, marginally well fed, and reasonably sane. In this section I'll look at two such environments, neither of which I would recommend, but one of which I'd suggest is a reasonable way to live in basic health while either on the run, hiding out from the law, old girl friends, the draft for an illegal war, putative wives and such.
Brave New World by Aldous Huxley. Chapter One A SQUAT grey building of only thirty-four stories.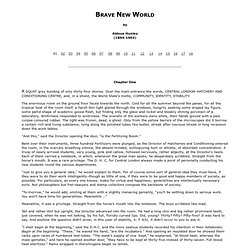 Over the main entrance the words, CENTRAL LONDON HATCHERY AND CONDITIONING CENTRE, and, in a shield, the World State's motto, COMMUNITY, IDENTITY, STABILITY. The enormous room on the ground floor faced towards the north. Cold for all the summer beyond the panes, for all the tropical heat of the room itself, a harsh thin light glared through the windows, hungrily seeking some draped lay figure, some pallid shape of academic goose-flesh, but finding only the glass and nickel and bleakly shining porcelain of a laboratory.
Wintriness responded to wintriness.
---