Blog
takeoverla | Urban Bike Adventures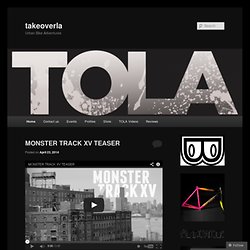 Devon has one sweet Zephyr Track build. These Zephyr Track builds continue to leak out and I wonder who's build we'll see next? Continue reading Billy showed me Velo Hinge at Interbike last year, I was very impressed by this bicycle storage solution from Feedback Sports. I'm even more stoked to find out that they are now available! Continue reading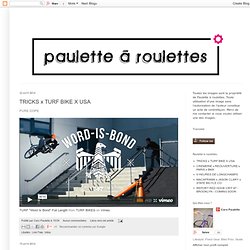 Paulette à roulettes.
Chacun s'accordera à dire que faire partie d'une communauté c'est au départ une histoire de passion commune, mais par la suite une histoire de rencontre. Se retrouver avec des personnes avec qui ont partage bien plus que l'amour du vélo, avec qui ont apprécie passer du temps et partir sur des évènements liés à cette passion. C'est ainsi qu'avec Félix Fander et Yann Goradesky nous avons au cours de ces rencontres, rides et autres soirées, tissé des liens particuliers au point de vouloir avancer ensemble sur de nouveaux projets. Nous avons donc le plaisir de vous présenter le teaser, issu de notre première association, de malfaiteur, sous le nom de DONTDO. Le sujet du film, qui sortira en Janvier 2014, portera sur le Red Hook Crit de Milan.
Blog | 8bar Bikes | Unique, custom-made fixed gear and single speed bikes from Berlin.
Hi Friends! Welcome to the home of Road Runner Bags! Please check out our About Page as well as the FAQ for more info on us and to know where your bags are coming from! On the FAQ page you will find all of the info on our business practices and on the processes of ordering. ***Please take note that all orders placed AFTER NOV. 28th will not be shipped out until AFTER THE HOLIDAYS.
Road Runner Bags
PREFERRED MODE // NEW YORK BIKE STYLE // PHOTOGRAPHS BY SAM POLCER | Page 9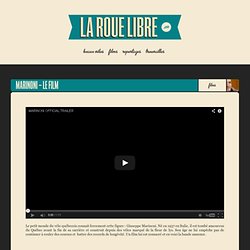 La roue libre | Beaux vélos, films, reportages et trouvailles pour tous
Voici la bande annonce du film « Murder of Couriers » sur les coursiers à velo de Vancouver qui sort aujourd'hui sur internet et disponible en intégralité ici. D'après ce court extrait, l'accent est mis sur les témoignages plutôt que sur les moments d'actions sur la route, et ce n'est pas pour nous déplaire, bien au contraire ! Vous vous souvenez de Martyn Ashton ? On vous le présenter l'année dernière dans une vidéo où il maltraitait s'amusait avec un vélo de route à faire des tricks de vélo de trial, sa spécialité.
Tracko —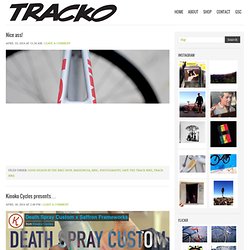 figured I might as well bring up the Tire Tread Lights at Golden Saddle Cyclery. They were designed and built by Kyle Kennedy and Luis Garcia(friends of Golden Saddle Cyclery), and have become one of the most talked about pieces in the shop. Those two solved the lighting problem we'd had since opening the shop, by producing affordable lighting that would illuminate the whole shop, but not look like we spent the afternoon shopping at Ikea. The tire treads used for our lights were the Challenge Grifo, Panaracer Pasela and Panaracer Fire XC(I think).
PEDAL Consumption
half assed 7 from Phil & Destroy on Vimeo. man... it's been a minute since the last 1/2 assed edit, but here the return and my, what a return it is. jball, robert rice, JD, gus and cole ruffing are a pretty eclectic and talented bunch. jball's got lines all day, robert's got that table on lock, JD can turn a run of the mill spot into something special with his bigass bag of tricks, and gus is a sexy mother fucker. what really put this over the top (for me anyway) was cole's lines. let'd go through them: at 1 minute he does a feeble, climbs up, and does a nose 180 drop. after second viewing the guy over shot that bitch. that's pretty nuts considering how much clearance he's got do execute said nose 180. then at 1:20 he busts a double peg, drops the nose down, does a tire slide right before he drops down into the loading dock. fucking magic. THEN THE ENDER. what the hell was that? random ass tech shit. ifuckswiddit. jmik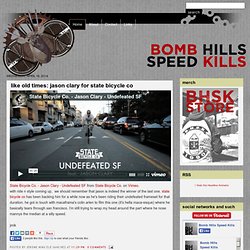 bomb hills, speed kills: a cogblog.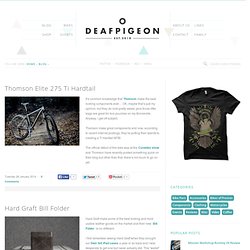 Deaf Pigeon
Last year was a great year for meeting new people and businesses around my neck of the woods. One of the coolest people i met was Ed Oxley a.k.a Great Rock via the dudes over at NWBC and the Weird and Wonderful. Ed is an awesome guy, he rides MTB really well, rocks one of the tastiest beards i've ever seen and plays the didgeridoo like an absolute demon. He put out this genius video last year and due to various reasons i haven't posted it, but this one is definitely a case of better late than never! If you're a fan of beards, bikes, oddity and motorbikes, The Chop is definitely one to watch!
golden saddle cyclery
Bicycle Design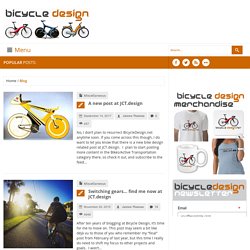 No, the Bicycle Design blog isn't coming back (at this time at least), but I do want to share my recap of the North American Handmade Bicycle Show with any of you who are still subscribed to the feed. You can see my latest post at JCTdesign.net for a few impressions from the show, and browse through all of my NAHBS 2014 photos here. Posted in Uncategorized. By James Thomas – March 19, 2014 It is hard to pinpoint the exact reason that I started this blog in 2005. I could say that it was to showcase the work of industrial designers in the bicycle industry, or to give students a place to share their bike related ideas and concepts, or maybe the idea was just to generate discussion and get people thinking about the potential of bicycles, and other types of human powered machines, to change the world for the better.
"I'm from Copenhagen and I bike every day." "I assume you are going to a New Year Eve's party, Yes. It's wonderful to use your bike when you go out because you don't have to think about drinking too much or catching the last bus. You always have your bike with you wherever you go. It's so easy to get home.
Cycle Chic™ - The Original from Copenhagen.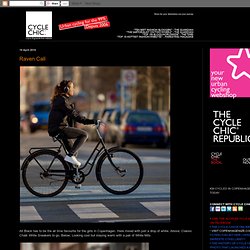 Copenhagenize.com - Building Better Bicycle Cultures
There are a great many reasons why people choose to live in cities. The life, the culture, the job opportunities, the sense of community that you can find even in the presence of great numbers of strangers. When we travel from our home city to another, we will always have our individual observations, often details that nobody else will notice. All based on our own urban experience, our personal preferences and our lives in our home city. You will notice tiny details that will escape me if we were travelling together and vice versa. I have lived in Copenhagen for 20 years or so.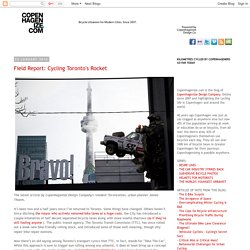 www.pristinefixedgear.com
DJ Mull riding his SE Showtime in Portland. Sam and I have been rocking Almond Footwear Riviera shoes for some while now and i love these shoes. Real solid, nice and warm, perfect for some one who is looking for a decent shoe that looks good, sits great and can have a whole lotta beating! Check them out in full effect.
Galerie Pignon fixe Festka Bike par Tomski & Polanski Le fixie Urban Zero Bike a été dévoilé à l'occasion du North American Handmade Bicycle Show à Charlotte aux USA, coup de projecteur. I+I Singlespeed rétropédalage Garin des années 30 !
Fixie Singlespeed, infos vélo fixie, pignon fixe, singlespeed quotidiennes
Cycling Fairdale Weekender Review The Fall and Fall of Fixed Gear Bikes The Foot Down – New Tees and A2 Screen Prints Latest Blog Posts Cycling 0 Comments Garreth's Field Cycles Fixed Gear Build Field Cycles have created yet another truly beautiful bike, this time in the shape of a steel brakeless fixed gear. ...
Fixed Gear Blog | Fixed Gear Bikes | Fixed Gear Shop | Fixed Gear Bike Gallery
Superb Carbon 1″ Track Forks Back in Stock! We just got a new batch of our Superb Carbon 1″ Track forks. The Online Store is stocked so grab one before they disappear again!
Superb Bicycle
L'info indispensable vélo fixie, les meilleurs tarifs, les tests cadres et roues, les petites annonces, les tutos tricks et montages, les actus dressing marques et shop à Paris, Bordeaux, Nantes, Marseille, Rennes…
Prolly Is Not Probably
▲
CYCLE ANGELO
SURPLACE