Reading
Introduction After having played some adventure and RPG games lately something struck me: repetition in games have almost the same problems as trial-and-error do. This is not really a shocking conclusion, since repeating things in a game is basically what you do when stuck in a sequence of trial and error. But since the repetition is not a direct consequence of being unable to progress, and that not all repetition is bad per se, I figured it was worth looking into a bit. The Problem Most of the time the problem arise when doing an action several times causes the same response.
The Problem of Repetition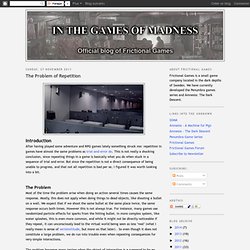 It's Beginning to Look a Lot Like Something December 20, 2013 - TF2 Team Well, it's December again, assuming you adhere to the Gregorian Calendar, there's an etching of frost on the ol' window panes, unless you live somewhere temperate, and the lights are shining brightly on the ol' tree you may or may not have, depending on religious affiliation and stance on deforestation. That can only mean one thing: It's Smissmas, everybody! It's a holiday we invented that we'd love you to celebrate with us.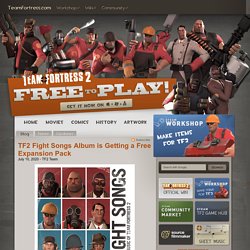 Opposable Thumbs