Design
Boutwell Studio. 34 Cleverly Designed Inventions. Painting with the Sun – Masters of Natural Lighting – Michelle Moore | X-Equals - image, workflow, technology, business. Back in June, we sent out requests to select photographers to be part of a new series on X-equals regarding the use of natural lighting in their work.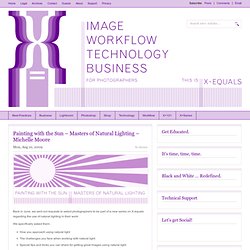 We specifically asked them: How you approach using natural lightThe challenges you face when working with natural lightSpecial tips and tricks you can share for getting great images using natural lightHow you prepare for and work through a shoot using natural lightEquipment especially suited for working in varying natural light settings The response has been great, and it gives us all a chance to delve into the thought processes and techniques some of the masters use in their work!
Busan. Busan (부산 (Korean pronunciation: [pusʰan]), officially Busan Metropolitan City), Latinized Pusan before 2000,[3] is South Korea's second largest metropolis after Seoul, with a population of approximately 3.6 million.[1] The population of the metropolitan area, including the adjacent cities of Gimhae and Yangsan, is approximately 4.6 million.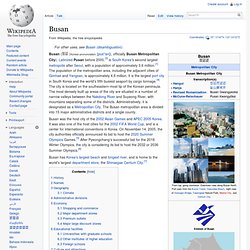 It is the largest port city in South Korea and the world's fifth busiest seaport by cargo tonnage.[4] The city is located on the southeastern-most tip of the Korean peninsula. The most densely built up areas of the city are situated in a number of narrow valleys between the Nakdong River and Suyeong River, with mountains separating some of the districts. New Urbanism. New Urbanism is an urban design movement which promotes walkable neighborhoods containing a range of housing and job types.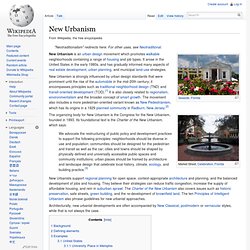 It arose in the United States in the early 1980s, and has gradually informed many aspects of real estate development, urban planning, and municipal land-use strategies. The organizing body for New Urbanism is the Congress for the New Urbanism, founded in 1993. Its foundational text is the Charter of the New Urbanism, which says: We advocate the restructuring of public policy and development practices to support the following principles: neighborhoods should be diverse in use and population; communities should be designed for the pedestrian and transit as well as the car; cities and towns should be shaped by physically defined and universally accessible public spaces and community institutions; urban places should be framed by architecture and landscape design that celebrate local history, climate, ecology, and building practice.[3]
City Beautiful movement. The City Beautiful Movement was a reform philosophy of North American architecture and urban planning that flourished during the 1890s and 1900s with the intent of introducing beautification and monumental grandeur in cities.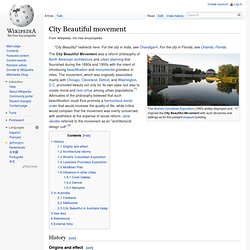 The movement, which was originally associated mainly with Chicago, Cleveland, Detroit, and Washington, D.C. promoted beauty not only for its own sake, but also to create moral and civic virtue among urban populations.[1] Advocates of the philosophy believed that such beautification could thus promote a harmonious social order that would increase the quality of life, while critics would complain that the movement was overly concerned with aesthetics at the expense of social reform; Jane Jacobs referred to the movement as an "architectural design cult".[2] History[edit] Cute Space Saving House In Tokyo. 'Less is more' and that is the new mantra!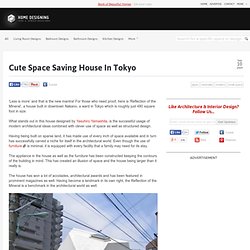 For those who need proof, here is 'Reflection of the Mineral', a house built in downtown Nakano, a ward in Tokyo which is roughly just 480 square foot in size. What stands out in this house designed by Yasuhiro Yamashita, is the successful usage of modern architectural ideas combined with clever use of space as well as structured design. Having being built on sparse land, it has made use of every inch of space available and in turn has successfully carved a niche for itself in the architectural world. Tumblr Themes | Home. American City of Future (1925) #2.
---