Computers
Stickies description, Desktop Downloads List By 30 Day Change. A to-do list is a very tidy thing.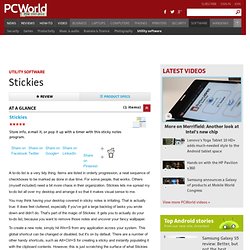 Items are listed in orderly progression, a neat sequence of checkboxes to be marked as done in due time. For some people, that works. Others (myself included) need a bit more chaos in their organization. Stickies lets me spread my to-do list all over my desktop and arrange it so that it makes visual sense to me. WriteMonkey description, Word Processing Downloads List By 30 Day Change. Writer's block is no fun.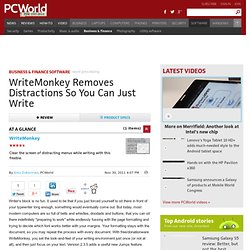 It used to be that if you just forced yourself to sit there in front of your typewriter long enough, something would eventually come out. But today, most modern computers are so full of bells and whistles, doodads and buttons, that you can sit there indefinitely "preparing to work" while endlessly fussing with the page formatting and trying to decide which font works better with your margins.
FileZilla description, Internet Tools Downloads List By 30 Day Change. Note: This review covers v2.2 of this software.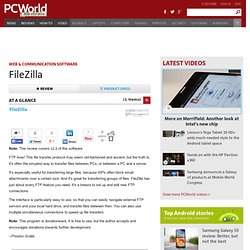 FTP lives! This file transfer protocol may seem old-fashioned and ancient, but the truth is, it's often the simplest way to transfer files between PCs, or between a PC and a server. It's especially useful for transferring large files, because ISPs often block email attachments over a certain size. Designing the Start screen - Building Windows 8.
Thank you for the comments and feedback on the previous post.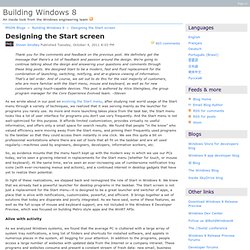 We definitely get the message that there's a lot of feedback and passion around the design. We're going to continue talking about the design and answering your questions and comments through these blog posts. We designed Start to be a modern, fast and fluid replacement for the combination of launching, switching, notifying, and at-a-glance viewing of information. Evolving the Start menu - Building Windows 8. This post kicks off a series of posts on the design of the Start screen and the evolution of the core activity of launching and switching programs.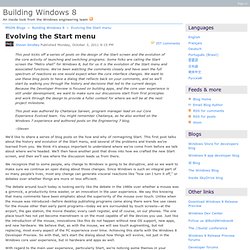 Some folks are calling the Start screen the "Metro shell" for Windows 8, but for us it is the evolution of the Start menu and associated functions. We've been watching the comments closely and have seen the full spectrum of reactions as one would expect when the core interface changes. Windows Dev Center. We make it easy to get started.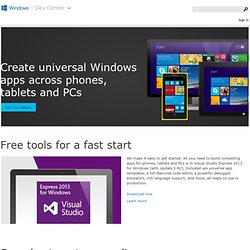 All you need to build compelling apps for phones, tablets and PCs is in Visual Studio Express 2013 for Windows (with Update 2 RC). Included are universal app templates, a full-featured code editor, a powerful debugger, emulators, rich language support, and more, all ready to use in production. Breathe New Life into Your Old PC — with Windows 7. Linux has long been the preferred operating system for rejuvenating older PCs for three reasons: It's lighter weight than Windows, it's secure enough to let you sidestep CPU-hogging anti-virus programs, and it's free.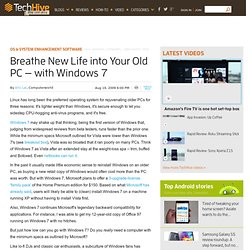 Windows 7 may shake up that thinking, being the first version of Windows that, judging from widespread reviews from beta testers, runs faster than the prior one. While the minimum specs Microsoft outlined for Vista were lower than Windows 7's (see breakout box), Vista was so bloated that it ran poorly on many PCs. Think of Windows 7 as Vista after an extended stay at the weight-loss spa -- trim, buffed and Botoxed. Laptop Refresh: Six Ways to Revitalize an Older Notebook. Do you have an aging laptop that you want to save from the recycling center?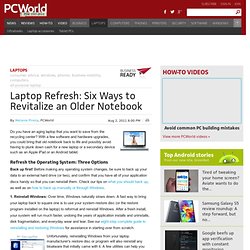 With a few software and hardware upgrades, you could bring that old notebook back to life and possibly avoid having to plunk down cash for a new laptop or a secondary device such as an Apple iPad or an Android tablet. Refresh the Operating System: Three Options Back up first! USB Code 43 Error. I suggest you reload the USB controller drivers.1.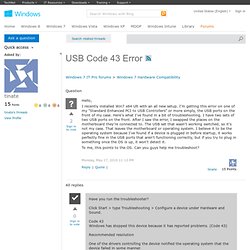 Click "Start", type in Device Manager the Search bar and press "Enter". Click Continue if necessary. 2. Error code 43 when USB not recognised. Found this helpful 1 Have you run the troubleshooter?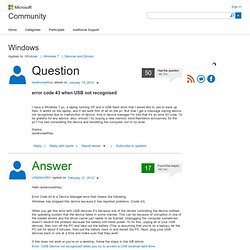 Click Start > type Troubleshooting > Configure a device under Hardware and Sound. Code 43 Windows has stopped this device because it has reported problems. (Code 43) Recommended resolution. The 50 Best Ways to Disable Built-in Windows Features You Don't Want - How-... Over the years, we've written about loads of ways to disable features, tweak things that don't work the way you want, and remove other things entirely.
Here's the list of the 50 best ways to do just that. Just in case you missed some of our recent roundup articles, here's a couple of roundups of our very best articles for you to check out: If you've already been through those, keep reading for how to disable loads of Windows features you might not want. Disable Context Menu Items.
30 Windows 7 Hotkeys: Ultimate Guide. Apart from so many new features in Windows 7, Microsoft has also added new hotkeys to give individuals better control over their operating system. We have covered 30 hotkeys for Windows 7 which we believe everyone should know about. Master them all to increase your daily productivity.
---