Health
County of Los Angeles - Department of Health Services
County of Los Angeles - Department of Health Services
Centers for Disease Control and Prevention
National Institutes of Health (NIH)
Sexual & Reproductive Health - Sex Education - Planned Parenthood
Valley Community Clinic | Home
The Saban Free Clinic - Teen Health - Welcome to Teen Health
Mental Health Latino in San Fernando Valley California
California Poison Control System
HICAP Free Medicare Counseling: How to Get Help with Medicare Questions in California
ncer Detection Section Home Page
Medicare
Health insurance for Medicare, families, and employers, health information at Kaiser Permanente
Tarzana Treatment Centers - Integrated Behavioral Healthcare
Affordable Auto Insurance, Investments, Retirement
County of Los Angeles - Department of Health Services
San Fernando Valley Community Mental Health Center, INC | San Fernando Valley Community Mental Health Center,INC
Trader Joe's
The Saban Free Clinic - Home
Sexual Health - Men Forum - How to Make a Woman Orgasm And Scream For More!!!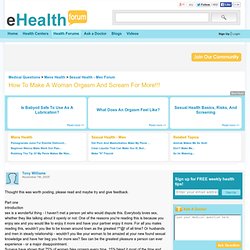 Thought this was worth posting, please read and maybe try and give feedback. Part one introduction sex is a wonderful thing - I haven't met a person yet who would dispute this. Everybody loves sex, whether they like talking about it openly or not. One of the reasons you're reading this is because you enjoy sex and you would like to enjoy it more and have your partner enjoy it more. For all you males reading this, wouldn't you like to be known around town as the greatest !
Orthodontist San Fernando CA San Fernando Valley | Mission City Orthodontics
Affordable Dentures, dental implants, tooth extraction, partial dentures
Find a Health Center - Search Page
CDA and our more than 24,000 member dentists across California are pleased to provide assistance in locating a source of low-cost dental care. You can use the search feature on the right to look for clinics that offer free or discounted dental services to those in need. Specifics vary by clinic, and in many cases are outlined within the search results. This list is intended for public use only and should not be construed as an endorsement of any participating dentist or clinic.
California Dental Association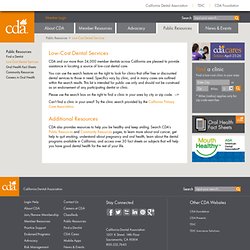 Free Medical Clinics and Free Dental Clinics in Los Angeles, California
The Los Angeles Free Clinic - Free Clinic in Hollywood, California