361 General social problems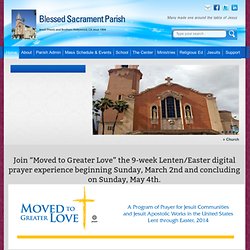 Church of the Blessed Sacrament, Hollywood, California | Welcome to our Parish
We are a wonderfully diverse community located in the middle of historic Hollywood, three blocks from the Academy Awards Theater. Our ministry, which began in 1904, is focused both to enrich our community of faith and to improve the quality of life of those that live in Hollywood. We dedicate ourselves to a rich liturgical tradition in which the sacramental life of the Roman Catholic Church is made vibrant and alive. Our religious education program seeks to prepare children and adults to fully participate in this sacramental life.
Homepage - Jewish Family Service of Los Angeles
Our Mission Social Services at Blessed Sacrament gives low-income and homeless persons service filled with compassion and love with the hope that through honoring their dignity we will provide them with the inspiration to reach their human potential. Invitation to a Fundraiser on Oct. 4, 2012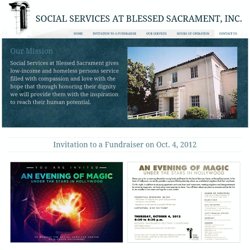 Social Services at Blessed Sacrament, Inc.
FamilySource Centers (FSC)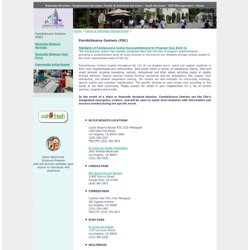 FamilySource Centers (FSC) Highlights of Familysource Center Accomplishments for Program Year 2010-11 The familysource system has recently completed their first full year of program implementation, providing a comprehensive array of social services to low-income city residents through centers located in the most impoverished areas of the city. FamilySource Centers located throughout the city of Los Angeles serve, assist and support residents in their local neighborhoods and communities.
Socialserve.com - Find Affordable Housing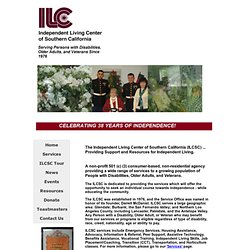 ILCSC - Independent Living Center of Southern California, Inc. - Home
The Independent Living Center of Southern California (ILCSC) ... Providing Support and Resources for Independent Living. A non-profit 501 (c) (3) consumer-based, non-residential agency providing a wide range of services to a growing population of People with Disabilities, Older Adults, and Veterans. The ILCSC is dedicated to providing the services which will offer the opportunity to seek an individual course towards independence - while educating the community.
Community and Senior Services - Welcome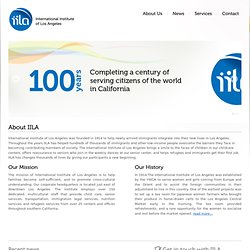 International Institute of Los Angeles
International Institute of Los Angeles was founded in 1914 to help newly arrived immigrants integrate into their new lives in Los Angeles. Throughout the years IILA has helped hundreds of thousands of immigrants and other low-income people overcome the barriers they face in becoming contributing members of society. The International Institute of Los Angeles brings a smile to the faces of children in our childcare centers, offers reassurance to seniors who join in the weekly dances at our senior center, and helps refugees and immigrants get their first job.
Public Counsel Law Center
Stop Los Angeles County Agrees to Comprehensive Reforms to General Relief Program A coalition of advocates for Los Angeles's most vulnerable communities announced a settlement agreement with the County of Los Angeles that will lead to major changes to the General Relief program, pending court approval. Settlement Delivers on Dream of Stability for Los Angeles Schools Rocked by Budget Cuts Attorneys representing middle-school students who experienced huge teacher turnover due to budget-based layoffs have reached a historic agreement in the Reed v.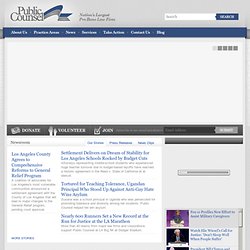 Welcome to Neighborhood Legal Services of Los Angeles County (NLSLA) - Providing free legal services to low-income residents throughout Los Angeles County
Carecen
Humane Borders, motivated by faith, offers humanitarian assistance to those in need through the deployment of emergency water stations on routes known to be used by migrants coming north through our desert. Our sole mission is to take death out of the immigration equation. Our water tanks are on a combination of private and public lands. In all cases we have permission to locate our water stations on these lands in writing from the landowners. Humane Borders was founded in June 2000 to create a safe and death free border environment.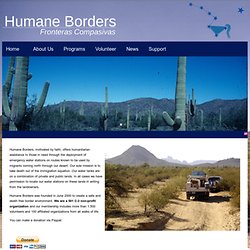 Humane Borders
ACLU of Southern California
PROFELICITAS
Welcome to Neighborhood Legal Services of Los Angeles County (NLSLA) - Providing free legal services to low-income residents throughout Los Angeles County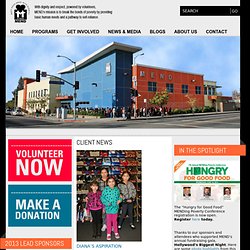 Diana's Aspiration At eight years old, Diana Iturbe already has a clear picture of her future. "I want to help people feel better when they are in pain and help them smile brighter too" she says. As she prepares for a career in dentistry, she knows that staying on top of her... Read More »
MEND - Meet Each Need with Dignity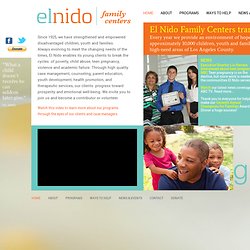 Since 1925, we have strengthened and empowered disadvantaged children, youth and families. Always evolving to meet the changing needs of the times, El Nido enables its young clients to break the cycles of poverty, child abuse, teen pregnancy, violence and academic failure. Through high quality case management, counseling, parent education, youth development, health promotion, and therapeutic services, our clients progress toward prosperity and emotional well-being. We invite you to join us and become a contributor or volunteer.
El Nido Family Centers home page
Los Angeles Regional Foodbank - Fighting Hunger. Giving Hope.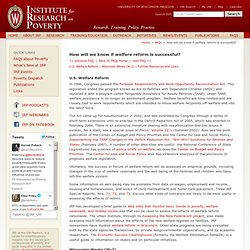 U.S. Welfare Reform In 1996, Congress passed the Personal Responsibility and Work Opportunity Reconciliation Act. This legislation ended the program known as Aid to Families with Dependent Children (AFDC) and replaced it with a program called Temporary Assistance for Needy Families (TANF). Under TANF, welfare assistance is no longer an entitlement program. Welfare benefits are time-limited and are closely tied to work requirements which are intended to move welfare recipients off welfare and into the labor force.
How will we know if welfare reform is successful?
Home : Volunteers of America Greater Los Angeles (VOALA)
Welcome to Legal Aid Foundation Los Angeles
Sitio Oficial del fmln Los Angeles - Inicio
AIDS Healthcare Foundation | Welcome
Welcome to Legal Aid Foundation Los Angeles
Bet Tzedek - The House of Justice
Welcome to the California Partnership
Home - Friends of Man
MEND - Meet Each Need with Dignity
Volunteers of America
Homepage - Jewish Family Service of Los Angeles
Illegal Immigration: Americans Fighting Back