:/Collections :/Note Utilities
Download Sidenote for Mac - Drawer for your notes, images, etc. MacUpdate Mac Software Downloads. Drawer for your notes, images, etc.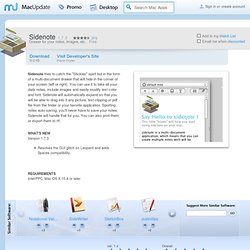 Free Sidenote tries to catch the "Stickies" spirit but in the form of a multi-document drawer that will hide in the corner of your screen (left or right). You can use it to take all your daily notes, include images and easily modify text color and font. Sidenote will automatically expand so that you will be able to drag into it any picture, text clipping or pdf file from the finder or your favorite application. Notational Velocity. Create.live.love.applications.
Scribblet. The Ultimate Collection of Productivity & Office Software for Mac | gadget release. This post is for all you workaholics who use a Mac for your full-time career.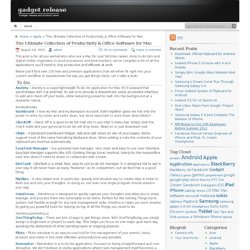 From to-do lists and digital clutter organizers to word processors and time trackers, we've compiled a list of all the applications you'll need to stay productive and efficient at work. Below you'll find over 100 free and premium applications that will either fit right into your current workflow or revolutionize the way you get things done. Let's take a look! To Do: Anxiety – Anxiety is a super-lightweight To-do list application for Mac OS X Leopard that synchronizes with iCal and Mail.
---