Online Shopping - Gothic
:: wolf clothing :: gothic couture ::
Welcome to Wolf Clothing - creators of fine gothic fashion and accessories. "When fiendish souls remove their common daily garb of their common daily lives. Do they search department stores for draperies of fashion lords? Do they trall the trash of manic malls to perchance aquire a factory-made garment of inferior nap and weave? No! these discerning mortals are made from higher stuff, they will not be assuaged with this inconsequential fluff.
This site uses some unobtrusive cookies to store information on your computer. We also use some non-essential cookies to anonymously track visitors or enhance your experience of the site. If you're not happy with this, we won't set these cookies but some nice features of the site may be unavailable. By using our site you accept the terms of our Privacy Policy. (One cookie will be set to store your preference)
Luxury steel boned corsets, designer lingerie , retro dress, faux vintage dresses at FairyGothMother® bridal corsets and shapewear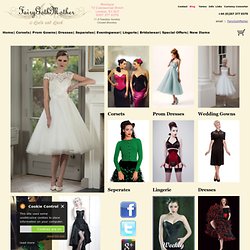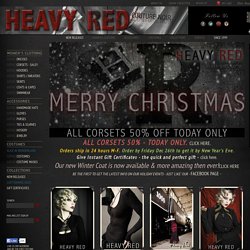 HEAVY RED - COUTURE NOIR WORLD FAMOUS GOTHIC CLOTHING PRESENTS GOTHIC FASHIONS FOR MEN & WOMEN. ESCAPE INTO THE DECADENT WORLD OF LOVE, DARKNESS, & ROMANCE WITH COUTURE NOIR FASHION THAT REDEFINES GOTH - CREATED BY THE GOTHIC FASHION TRENDSETTING - HEAVY RED COUTURE NOIR LINE. GOTHIC CLOTHING FOR WOMEN. GOTHIC CLOTHING FOR MEN. GOTHIC CLOTHING FOR THE ETERNAL NIGHT. WORLD FAMOUS GOTHIC CORSET MAKER.
Gothic clothing from Drac-in-a-Box UK, gothic lolita, plus size gothic fashions, boots and jewellery