Insane Bookshelves
15-render-FG.jpg (JPEG Image, 1000x750 pixels) - Scaled (85. 20 Cool Home Library Design Ideas. 20 Insanely Creative Bookshelves. Bookshelf Porn: Archive. Bücherkubus - Bild von Edgar2 aus Architektur - Fotografie (18872702. Symmetrie war noch nie ein Indiz für ein gelungenes Bild.
Symmetrie bedeutet Redundanz und Redundanz erzeugt Langeweile. Geringe Detailtiefe kann man nicht durch Schärfen ausgleichen, sondern, in der Digitalfotografie durch größere Sensoren, in der Analogfotografie durch eine größere Filmfläche und natürlich durch bessere Objektive. Customized book side tables. The 20 Most Beautiful Bookstores in the World. [Editor's note: In celebration of the holidays, we're counting down the top 12 Flavorwire features of 2012.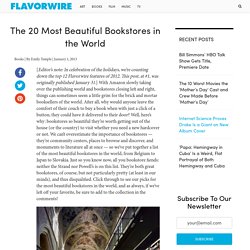 This post, at #1, was originally published January 31.] With Amazon slowly taking over the publishing world and bookstores closing left and right, things can sometimes seem a little grim for the brick and mortar booksellers of the world. After all, why would anyone leave the comfort of their couch to buy a book when with just a click of a button, they could have it delivered to their door? Well, here's why: bookstores so beautiful they're worth getting out of the house (or the country) to visit whether you need a new hardcover or not. We can't overestimate the importance of bookstores — they're community centers, places to browse and discover, and monuments to literature all at once — so we've put together a list of the most beautiful bookstores in the world, from Belgium to Japan to Slovakia. The 25 Most Beautiful College Libraries in the World.
[Editor's note: In celebration of the holidays, we're counting down the top 12 Flavorwire features of 2012.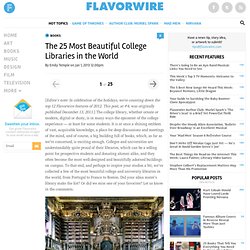 This post, at #4, was originally published December 13, 2011.] The college library, whether ornate or modern, digital or dusty, is in many ways the epicenter of the college experience — at least for some students. It is at once a shining emblem of vast, acquirable knowledge, a place for deep discussions and meetings of the mind, and of course, a big building full of books, which, as far as we're concerned, is exciting enough.
Colleges and universities are understandably quite proud of their libraries, which can be a selling point for prospective students and donating alumni alike, and they often become the most well-designed and beautifully adorned buildings on campus. To that end, and perhaps to inspire your studies a bit, we've collected a few of the most beautiful college and university libraries in the world, from Portugal to France to Boston. The Great Geek Manual » The World's Most Beautiful Libraries. I make no secret of the fact that I'm a hardcore bibliophile, but we're a common enough lot these day.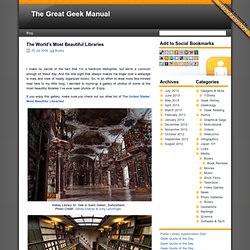 And the one sight that always makes me linger over a webpage is rows and rows of neatly organized books. So, in an effort to draw more like-minded read here to my little blog, I decided to round-up a gallery of photos of some of the most beautiful libraries I've ever seen photos of. Enjoy. If you enjoy this gallery, make sure you check out our other list of The United States' Most Beautiful Libraries!
---