Art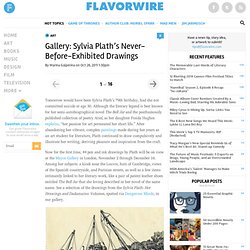 Tomorrow would have been Sylvia Plath's 79th birthday, had she not committed suicide at age 30. Although the literary legend is best known for her semi-autobiographical novel The Bell Jar and the posthumously published collection of poetry Ariel, as her daughter Freida Hughes explains, "her passion for art permeated her short life." After abandoning her vibrant, complex paintings made during her years as an art student for literature, Plath continued to draw compulsively and illustrate her writing, deriving pleasure and inspiration from the craft.
Gallery: Sylvia Plath's Never-Before-Exhibited Drawings
If you enjoyed Scott Campbell's cut currency art (or you happen to be a huge George Washington fan), then you'll probably also like Mark Wagner, whose amazing dollar bill collages can be found in the collections of institutions like the Museum of Modern Art, The Walker Art Center, and the Smithsonian. "The one dollar bill is the most ubiquitous piece of paper in America," he explains. "Collage asks the question: what might be done to make it something else? It is a ripe material: intaglio printed on sturdy linen stock, covered in decorative filigree, and steeped in symbolism and concept. Blade and glue transform it — reproducing the effects of tapestries, paints, engravings, mosaics, and computers— striving for something bizarre, beautiful, or unbelievable… the foreign in the familiar."
Gallery: Crazy Collages Made Out of One Dollar Bills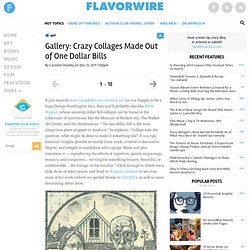 Acid Trip: Incredible government experiment with an artist under influence of LSD. View amazing artwork in different stages of the acid trip and have a good laugh at the subject's comments and behaviour. This flash featured was developed by a viral marketing people at Dejan SEO PC standalone version | zipped Flash movie for PC computer users. MAC standalone version | zipped Flash movie for Macintosh computer users.
Back in the spring of 2013, I agreed to make a large number (large by the standards of things that are handmade, anyway) of plush kobolds for 9th Level Games, who were Kickstarting a deluxe edition printing of their popular game Kobolds Ate My Baby. In December, the kobolds were finally shipped out, to terrorize homes around the world. Here's a look at what happened between April and December, at just how those 65 small fuzzy kobolds came into the world. Read the full post » Posted by Tally on January 17, 2014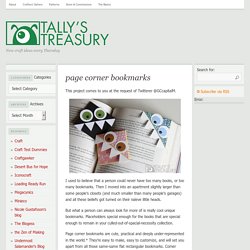 This project comes to you at the request of Twitterer @GCcapitalM. I used to believe that a person could never have too many books, or too many bookmarks. Then I moved into an apartment slightly larger than some people's closets (and much smaller than many people's garages) and all these beliefs got turned on their naïeve little heads. But what a person can always look for more of is really cool unique bookmarks.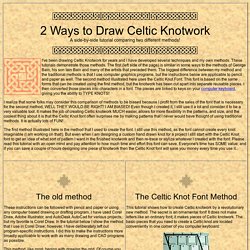 The old method These instructions can be followed with pencil and paper or using any computer based drawing or drafting program. I have used Corel Draw, Adobe Illustrator, and AutoDesk AutoCad for various projects, but my favorite is Corel Draw. In the tutorial below I show the method that I use in Corel Draw; however, I have deliberately left out program-specific instructions. I did this to make the instructions more broadly applicable to work with as many drawing and CAD programs as possible.