BlackFashionRocks!!!!
An archive of all things black, stylish, fashionable,cultural, and all around cool!!!! Feb 12
Stuff Fly People Like | Not Just a Blog, It's a LIFESTYLE!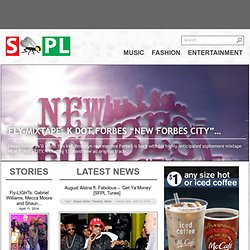 April 11, 2014 In honor of our hardworking strippers, August Alsina salutes the women who actually work hard to provide for themselves and their family. The featured track "Get Ya Money" also features Brooklyn's own, Fabolous. Check it out below...
Retro Gold | 16 Stone Vintage Retro Gold | True Style Never Fades…
Candy Apple | Hard But Sweet
Fashion Blog | New Fashion Blog | Fashion for Breakfast Fashion Blog
Im excited to bring to you a new series on my blog called , where I will bring you my favorite lines, the brands that inspire me immensely and that I envision in my closet! First up is , a brand that I most recently have completely fallen in love with. As you know I am obsessed with all things print and vintage.
JOY LOVES FASHION
Jazzi McG
A/X Armani Exchange tank dress This is what I wore for some desert festivities last weekend, then again yesterday when it was about 75 and covering up just felt like sacrilege. The tank dress is another look from A/X Armani Exchange (thanks A/X!) and it's perfectly barely-there in all the right places with a hint of shimmer that seemed impossibile to photograph, but totally does the glimmering-in-the-sunlight trick in reality. Having grown up in California, I've always been more into Spring/Summer dressing, when the clothes start coming off, than piling on layers.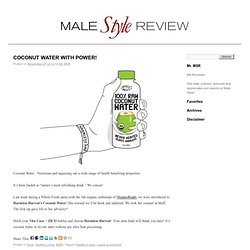 Male Style Review
Coconut Water: Nutritious and squeezing out a wide-range of health benefiting properties. It's been lauded as "nature's most refreshing drink." We concur! Last week during a Whole Foods spree with the fab organic enthusiast of OrganicReady, we were introduced to Harmless Harvest's Coconut Water! She warned we'd be hook and addicted.
Happy Fashion And Beauty Friday folks! This week's #FABFriday theme is leather skirts. We had so much fun with last week's Red Lip theme. This week we decided to live life on the wild side by showing you guys how we wear leather skirts. Everyone of course is familiar with the closet staple – leather jackets. But other items like leather skirts, dresses and even pants are a little more difficult to intertwine in your wardrobe.
LoveBrownSugar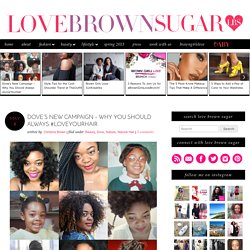 K.john_LaSoul
O.M.O. Writes | Curated fashion inspiration, nuances + trends from an NYC writer
AMMO Magazine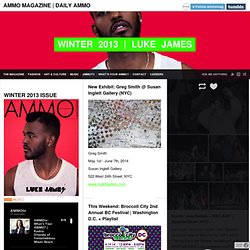 Greg Smith May 1st - June 7th, 2014 Susan Inglett Gallery 522 West 24th Street, NYC www.inglettgallery.com
NOT GOODBYE FOR LONG
Swagger New York — Street Style Photos, Video Interviews, Fashion and Music from New York City's Trendsetters
The Internet Remix Raleigh Ritchie's "Stay Inside" And It's EverythingApril 19, 2014 Anyone whose Twitter handle reads, "Raleigh like Ballet, Ritchie like Lionel" is obviously going to be the shit. Jacob Anderson, aka Raleigh Ritchie, is an English actor (Game of Thrones, anyone?)
The 2014 Golden Globes brought together the biggest and brightest talents from of television and film, so we expected nothing short of starlets' dazzling in some seriously amazing ensembles. From the awards show to the post-party, the evening was filled with old and new fashion icons that showed off the biggest fashion moments and trends of the season. Starting with some of the night's best dressed, the stunner from Wall Street, Margot Robbie, continued to turned heads by wearing a flattering Gucci gown embellished with vintage Van Cleef jewels. Mom-to-be Kerry Washington and Olivia Wilde glowed on the red carpet, and proved that you can still look fabulous even with a bun in the oven!
Fly & Mighty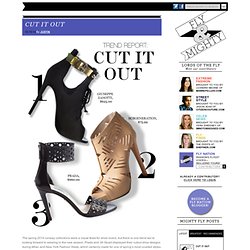 BLEED FOR FASHION | Vancouver Blog
April 17th, 2014 The day has finally come! My boyfriend and I are leaving for Coachella today. I haven't slept yet, but I'm really looking forward to spending all day, every day with him for the next few days, seeing some of my favourite artists, and squeezing in some family time to go visit his brother, sister-in-law, and nephew.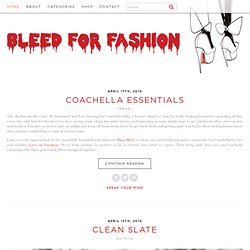 I have had a very good couple days and I can say that I am grateful for the opportunities I have had come my way recently. I am working on my online store and it has involved daily trips to my local cafe on Kings Road because I am waiting on my the internet at home to be installed. I have been sticking to my exercise regime as best I can, though the occasional cookie makes it way into my tummy ... usually around midnight.
SnowBlack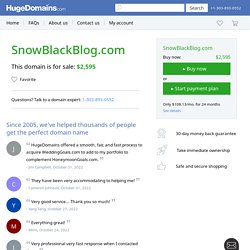 lowefactor.com - style you can factor
Shala's Rabbit Hole
guerreisms
Perhaps one of the common plights of office moms or busy women is the fact that they have to deal with dark eyes. Tired eyes not only give you grows feet but give the areas around it a blackish hue; so unless it's become fashionable to have a black-eye look, you might want to get rid of it. The explanation for this is quite simple; since your body is allotted with little or no sleep, it doesn't allow the recovery period to be so robust; hence the dark circles. Fortunately enough there's two kinds of treatment for such situations: long term and short term effects. Long term effects are referred to as cream-based treatment that internally treat the dark circles, while short term effects are concealers, which serve to mask the dark circles instead of out right treating them. Olay has certainly a lot of skincare products out there that are not only effective, but incredibly practical.
THE BLAY REPORT |
AFRICA STYLE DAILY |
My Damn Blog
9 Black Fashion Bloggers Worth Bookmarking | Coco & Creme