Nice Things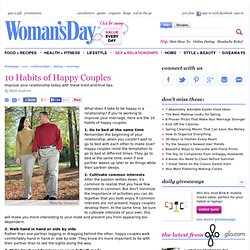 What does it take to be happy in a relationship? If you're working to improve your marriage, here are the 10 habits of happy couples. 1. Go to bed at the same timeRemember the beginning of your relationship, when you couldn't wait to go to bed with each other to make love?
How To Be Happy in a Relationship- 10 Habits of Happy Couples
We all know the uncomfortable feeling of anxiety. Our hearts race, our fingers sweat, and our breathing gets shallow and labored. We experience racing thoughts about a perceived threat that we think is too much to handle.
The Six Best Ways to Decrease Your Anxiety
The end of 2010 fast approaches, and I'm thrilled to have been asked by the editors of Psychology Today to write about the Top 10 psychology studies of the year. I've focused on studies that I personally feel stand out, not only as examples of great science, but even more importantly, as examples of how the science of psychology can improve our lives. Each study has a clear "take home" message, offering the reader an insight or a simple strategy they can use to reach their goals , strengthen their relationships, make better decisions, or become happier. If you extract the wisdom from these ten studies and apply them in your own life, 2011 just might be a very good year.
The Top 10 Psychology Studies of 2010
How to increase serotonin in the human brain without drugs
Great Books That Everybody Should Read At Least Once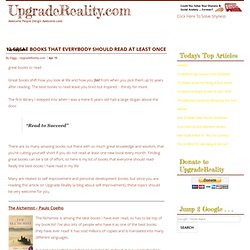 Great books shift how you look at life and how you feel from when you pick them up to years after reading. The best books to read leave you tired but inspired – thirsty for more. The first library I stepped into when I was a mere 6 years old had a large slogan above the door: "Read to Succeed" There are so many amazing books out there with so much great knowledge and wisdom, that you're cutting yourself short if you do not read at least one new book every month. Finding great books can be a bit of effort, so here is my list of books that everyone should read- Really the best books I have read in my life.
simple « brh
Men Who Dress Like Men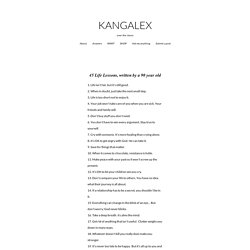 1. Life isn't fair, but it's still good. 2.
Diplo - Set It Off feat. Lazerdisk Party Sex on Vimeo
Dan Spencer | Creator of Content, Animator of Ideas
Now, I ain't a worshiper of any omnipotent being as such but I think folk have hit the nail on the head in saying 'Cleanliness is next to Godliness', meaning the second most important thing in life other than worshiping God is keeping clean. I've been through a lot the past few years, and it has exhausted my mind, body and soul to the point of hitting random states of depression, rendering prolonged periods of 'creative block' and 'Not giving a shit about anything'. So much so, I've neglected my studio to the point where one could not walk into the room without having to climb across objects and desks to use the space. When I did try and work there, the stacked up debris of my life's collections and work had me spending several days on end shouting at myself to 'Dig up!' when trying to generate creative ideas. Ever see Day of the Dead?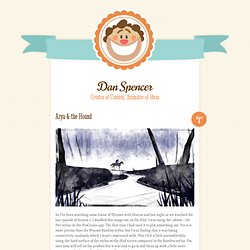 Science & Nature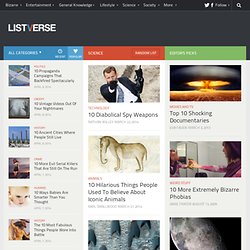 Animals 10 Terrifyingly Huge Extinct Versions Of Adorable Animals Space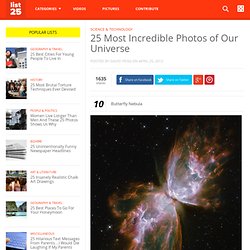 photo – NASA/ESA Also known as the Bug Nebula, this interstellar cloud of dust and has can be found about 4,000 light years from the Earth. The dying star in the middle of this fiery explosion is actually 200,000 degrees Kelvin. photo – Hubble Space Telescope
25 Most Incredible Photos of Our Universe
Modern Drunkard Magazine
Lucid - psychedelic brainwave entrainment experience
TeaClass: Tea education on your own schedule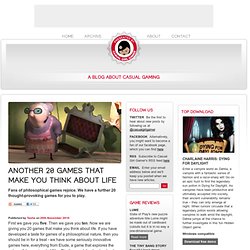 Another 20 games that make you think about life
First we gave you five. Then we gave you ten. Now we are giving you 20 games that make you think about life.
Browse
The Drunken Moogle
The 7-Step Film Directing Formula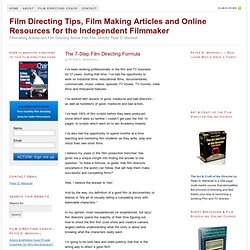 I've been working professionally in the film and TV business for 37 years. During that time, I've had the opportunity to work on industrial films, educational films, documentaries, commercials, music videos, episodic TV shows, TV movies, Indie films and Hollywood features. I've worked with dozens of good, mediocre and bad directors - as well as hundred's of good, mediocre and bad actors. I've read 100′s of film scripts before they were produced: some which were so terrible I couldn't get past the first 10 pages, to scripts which went on to win Academy Awards.
Projects / A Beautiful Mess D.I.Y Index
Structure is something that every agent and executive in Hollywood talks about, and that all of us teachers/authors/consultants/gurus/whatever go on and on about, to the point that it can seem complicated, intricate, mysterious and hard to master. So I want present plot structure in a way that simplifies it – that will at least give you a starting point for properly structuring your screenplay without overwhelming you with rules and details and jargon. Here are what I consider ten key elements of structure – ten ways of looking at structure that will immediately improve the emotional impact – and commercial potential – of your script. THE SINGLE RULE OF STRUCTURE I once got to work with long time television writer Doug Heyes, who used to say that there is only one rule for achieving proper plot structure: What's happening now must be inherently more interesting than what just happened.
TEN SIMPLE KEYS TO PLOT STRUCTURE
Neil deGrasse Tyson Lists 8 (Free) Books Every Intelligent Person Should Read
A Reddit.com user posed the question to Neil deGrasse Tyson: "Which books should be read by every single intelligent person on the planet?" Below, you will find the book list offered up by the astrophysicist, director of the Hayden Planetarium, and popularizer of science. Where possible, we have included links to free versions of the books, all taken from our Free Audio Books and Free eBooks collections. Or you can always download a professionally-narrated book for free from Audible.com. Details here.
33 Ways to Make More Time in Your Life For Music-Making
1. Disconnect. Power down your computer–or if you absolutely need the thing for some reason related to your practice and studies, sever it from the internet by disabling wireless. 2.
Q. Why do men's clothes have buttons on the right while women's clothes have buttons on the left? A. When buttons were invented, they were very expensive and worn primarily by the rich. Since most people are right-handed, it is easier to push buttons on the right through holes on the left.
Lots of Jokes - Did You Know?