Logiciels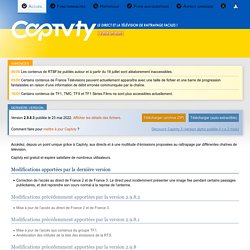 14/04 Les contenus du groupe Canal+ ne sont plus accessibles actuellement (mais peuvent cependant être visionnés avec le lecteur embarqué). 09/04 Les listes d'émissions de Canal+ et de TOU.TV ne sont plus disponibles actuellement, mais les contenus sont accessibles depuis le module de téléchargement manuel. 02/04 La liste des émissions d'Arte connaît actuellement un problème qui se manifeste par l'affichage d'heures locales.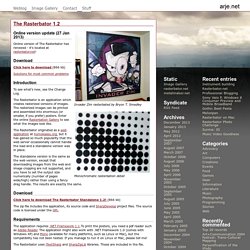 Invader Zim rasterbated by Bryon T. Smedley Monochromatic rasterbation detail Online version update (27 Jan 2013)
Chrome - Découvrez un navigateur rapide pour PC, Mac et Linux
Extensions Google Chrome
Download Firefox Adblock Plus Firefox is a free and open source browser available for Windows, OS X, Linux, and Android which supports addons. Addons are extensions to your browser to improve privacy and security and the way you view the web.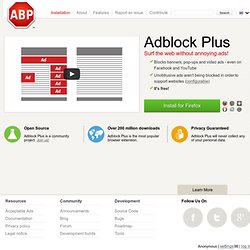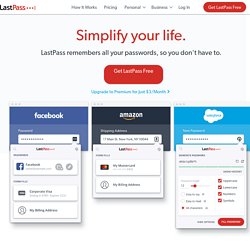 LastPass Does The Work LastPass is there when you need to login, generate a password for a new site, or complete an online order. Learn more. Browsing Is Faster
JDownloader is a free, open-source download management tool with a huge community of developers that makes downloading as easy and fast as it should be. Users can start, stop or pause downloads, set bandwith limitations, auto-extract archives and much more. It's an easy-to-extend framework that can save hours of your valuable time every day! Choose your operating system:
Official Homepage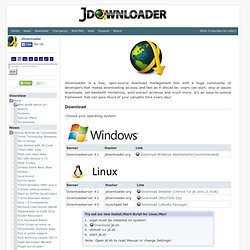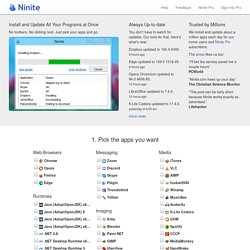 You can learn more about a program by hovering over it. Ninite installs apps for you in the background. No clicking next. We say NO to toolbars or other junk. Your installer will update apps to the latest versions.