Logiciels
Appels gratuits sur Internet et appels téléphoniques économiques.
Mixing
Bureau/Photos. Captvty. Sécurité. Media. The Rasterbator 1.2 at arje.net. Invader Zim rasterbated by Bryon T.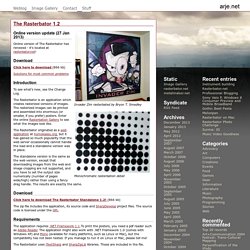 Smedley Monochromatic rasterbation detail Online version update (27 Jan 2013) Navigateur Firefox en français | Plus rapide, plus sécurisé et personnalisable. Chrome - Découvrez un navigateur rapide pour PC, Mac et Linux. Extensions Google Chrome. Xmarks | Bookmark Sync and Search. Adblock Plus for Chrome — for annoyance-free web surfing. Password Manager, Form Filler, Password Management. µTorrent - un (tout) petit client BitTorrent.
Official Homepage. JDownloader is a free, open-source download management tool with a huge community of developers that makes downloading as easy and fast as it should be.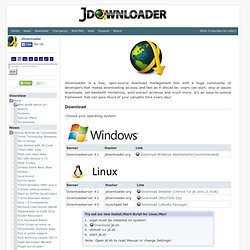 Users can start, stop or pause downloads, set bandwith limitations, auto-extract archives and much more. It's an easy-to-extend framework that can save hours of your valuable time every day! Choose your operating system:
AlternativeTo - Alternatives To The Applications You Want To Replace. Allmyapps. Ninite Easy PC Setup - Silent Unattended Install Multiple Programs At Once.
---