CollegeHumor
Videogame Quintet - CollegeHumor video
Article by Streeter Seidell on × Share with friend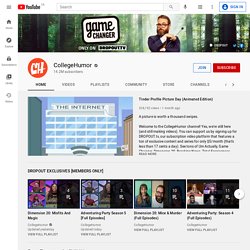 "Drunk-O-Vision II" by Streeter Seidell on CollegeHumor
Photoshop Tutorial Rap - CollegeHumor video
If dog was really man's best friend, he wouldn't have eaten your entire marijuana crop. - CollegeHumor picture
"5 New Ways to Tie a Tie" by Caldwell Tanner on CollegeHumor
"Lines From Alanis Morissette's "Ironic," Modified to Actually Make them Ironic" by Patrick Cassels on CollegeHumor
An old man turned ninety-eight. He won the lottery and died the next day… of chronic emphysema from inhalation of the latex particles scratched off decades' worth of lottery tickets. A black fly in your Chardonnay… poured to celebrate the successful fumigation of your recently purchased vineyard in southern France.
"Stoner-Vision" by Streeter Seidell on CollegeHumor
Work place hazards have gotten complicated. - CollegeHumor picture
"Honest Shopping Mall Map" by Owen Parsons on CollegeHumor
Welcome to Facebook
Dangerous Wands - CollegeHumor video
Guess which question is from dudes. - CollegeHumor picture
"Relationship Hierarchy Org Charts Through Life" by Susanna Wolff and Conor McKeon on CollegeHumor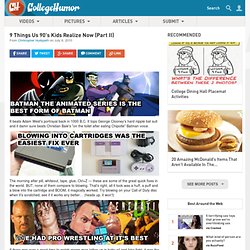 It beats Adam West's portrayal back in 1000 B.C. It tops George Clooney's hard nipple bat suit and it damn sure beats Christian Bale's "on the toilet after eating Chipotle" Batman voice. The morning after pill, whiteout, tape, glue, Ctrl+Z — these are some of the great quick fixes in the world.
"Caption Contest July 6, 2010" by CH Staff on CollegeHumor
"Guy Limits" by Kevin on CollegeHumor
Now-a-days there are age limits for just about everything. At 17-years-old I got kicked out of a hotel hot tub because I didn't have a parent guardian present. Our society places ridiculous age limits for things that we "can" do. However, I believe there should be a greater importance on age limits for things people "can no longer'" do.