Windows Presentation Foundation
WpfBinding.pdf (application/pdf Object) WPF NotifyIcon. Download Control (1.0.5) and Sample Application - 309.1 KB Introduction This is an alternative implementation of a NotifyIcon (system tray icon) for the WPF platform.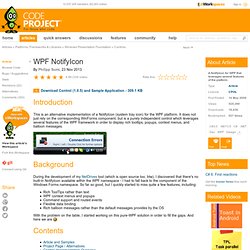 It does not just rely on the corresponding WinForms component, but is a purely independent control which leverages several features of the WPF framework in order to display rich tooltips, popups, context menus, and balloon messages. Background During the development of my NetDrives tool (which is open source too, btw), I discovered that there's no built-in NotifyIcon available within the WPF namespace - I had to fall back to the component of the Windows Forms namespace.
Topics
Development - Caliburn Micro: WPF, Silverlight and WP7 made easy. WPF Development - WPF Tutorial. WPF Development - WPF Dude - Home. Jason Dolinger on Model-View-ViewModel » Lab49 Blog. A while back, Jason Dolinger, a consultant here at Lab49, gave us a presentation on design in WPF with the Model-View-ViewModel pattern and the Unity dependency injection framework.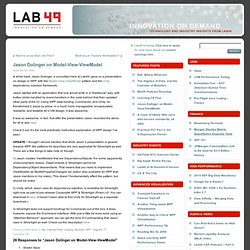 Jason started with an application that one would write in a "traditional" way, with button clicks handled by event-handlers in the code-behind that then updated other parts of the UI. Using WPF data-binding, Commands, and Unity, he transformed it, piece by piece, in a much more manageable, encapsulated, readable, and testable M-V-VM design. It was awesome. It was so awesome, in fact, that after the presentation Jason recorded the demo for all to see here. Check it out. Caliburn: A Client Framework for WPF and Silverlight.
Patterns & practices: Prism. WPF Application Framework (WAF)
---