Free Design Stuff&Tutorials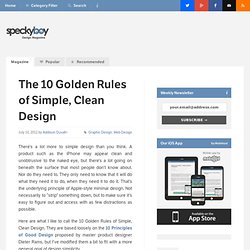 There's a lot more to simple design than you think. A product such as the iPhone may appear clean and unobtrusive to the naked eye, but there's a lot going on beneath the surface that most people don't know about.
The 10 Golden Rules of Simple, Clean Design
Initially silhouette was applied on portraits or pictorial which were be used for thin black card. But nowadays, we can easily find silhouette images in many media forms like artworks, illustration, photography, movies, graphic design or even fashion and fitness. Modern designers use silhouette to create dramatic effect in many art works because silhouette emphasizes the outline and view of an object. The mystery of silhouette objects create a space for viewers' imagination. Apple's iPod advertisement is a successful example of using silhouette.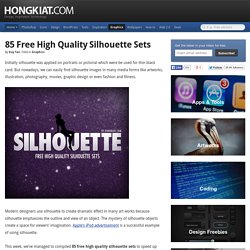 [Christmas Freebie] 18 Christmas & New Year icons (PSD included)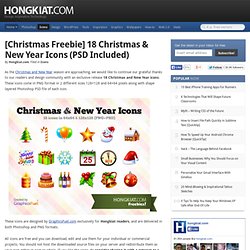 As the Christmas and New Year season are approaching, we would like to continue our grateful thanks to our readers and design community with an exclusive release 18 Christmas and New Year icons. These icons come in PNG format in 2 different sizes 128×128 and 64×64 pixels along with shape layered Photoshop PSD file of each icon.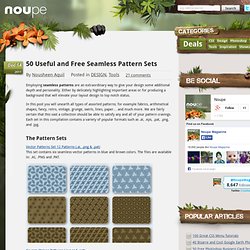 Dec 14 2011 Employing seamless patterns are an extraordinary way to give your design some additional depth and personality.
50 Useful and Free Seamless Pattern Sets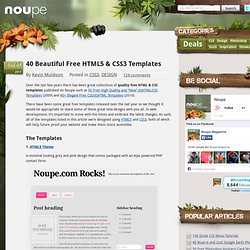 Dec 01 2011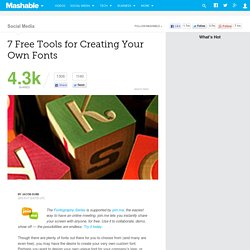 The Fontography Series is supported by join.me, the easiest way to have an online meeting. join.me lets you instantly share your screen with anyone, for free.
Water is beautiful, but creating its effect digitally from scratch can be dreadful, due to the complexity you have to deal with. However, there are always time when you, as a professional, have to create the water effect, be it for personal use or commercial project.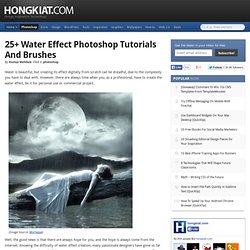 Hot WordPress Themes For Freelancers For Personal Branding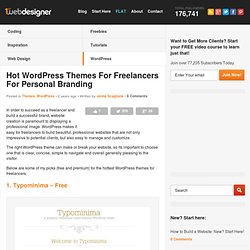 In order to succeed as a freelancer and build a successful brand, website creation is paramount to displaying a professional image. WordPress makes it easy for freelancers to build beautiful, professional websites that are not only impressive to potential clients, but also easy to manage and customize. The right WordPress theme can make or break your website, so its important to choose one that is clear, concise, simple to navigate and overall generally pleasing to the visitor.
In this week's tutorial we are going to create an eCommerce landing page using Adobe Photoshop. This tutorial is intended for new designers who are planning on designing an eCommerce template.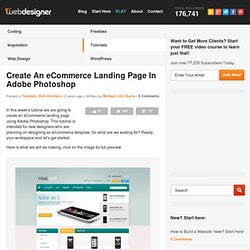 Create An eCommerce Landing Page In Adobe Photoshop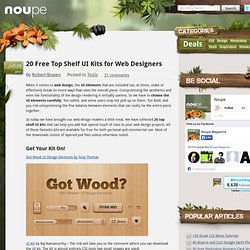 20 Free Top Shelf UI Kits for Web Designers - Noupe Design Blog
Jun 06 2011 When it comes to web design, the UI elements that are included can, at times, make or effectively break (in more ways than one) the overall piece. Compromising the aesthetics and even the functionality of the design rendering it virtually useless. So we have to choose the UI elements carefully. Too subtle, and some users may not pick up on them.
Dec 20 2011 As the year draws to a close, we tend to take a look back over the year and take stock.
Awesome Free Texture Packs from 2011
This exclusive freebie is a pack of 5-page business website templates in Photoshop format.
[Freebie] "BiZ" Business Website PSD Templates
We are all well acquainted with the power of the Adobe Illustrator and how important it is to a designer. Be it creating appealing text effects or creating awesome characters, Adobe Illustrator is always there to help out designers.
50 Excellent Text Effects Tutorials In Adobe Illustrator
10 Killer Photoshop Tips For Web Designers
Believe it or not, if you're using Photoshop to design website, you're on the right path to become a successful web designer. This is simply because Photoshop is one of the most advanced tool in the design industry that can make your creative imagination comes true with its plethora of professional tools which boost your productivity at the same time. But how well do you know about Photoshop?
Apr 29 2011 An attractive and compelling background adds depth to your graphics, banners or ads; and for this reason is of great importance. Sure there are some people who might not notice backgrounds, but the role they play in making the entire artwork look more interesting and visually alluring is paramount. They really do help to tie the entire piece together, no matter how simply or aggressively they are employed.
20 Awesome FREE PhotoShop Shape Set Downloads!!
Design Sleek Video Player Interface in Photoshop
60 Most Wanted Design Freebies of The Year 2011
Improve Your Illustrator Skills - Noupe Design Blog