Free Design Stuff&Tutorials
The 10 Golden Rules of Simple, Clean Design. There's a lot more to simple design than you think.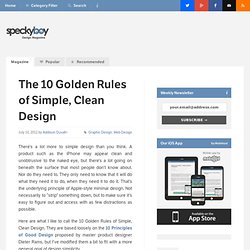 A product such as the iPhone may appear clean and unobtrusive to the naked eye, but there's a lot going on beneath the surface that most people don't know about. Nor do they need to. They only need to know that it will do what they need it to do, when they need it to do it. That's the underlying principle of Apple-style minimal design. Not necessarily to "strip" something down, but to make sure it's easy to figure out and access with as few distractions as possible. 85 Free High Quality Silhouette Sets. Initially silhouette was applied on portraits or pictorial which were be used for thin black card.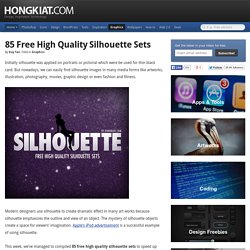 But nowadays, we can easily find silhouette images in many media forms like artworks, illustration, photography, movies, graphic design or even fashion and fitness. Modern designers use silhouette to create dramatic effect in many art works because silhouette emphasizes the outline and view of an object. The mystery of silhouette objects create a space for viewers' imagination. Apple's iPod advertisement is a successful example of using silhouette. [Christmas Freebie] 18 Christmas & New Year icons (PSD included) As the Christmas and New Year season are approaching, we would like to continue our grateful thanks to our readers and design community with an exclusive release 18 Christmas and New Year icons.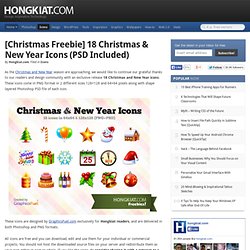 These icons come in PNG format in 2 different sizes 128×128 and 64×64 pixels along with shape layered Photoshop PSD file of each icon. These icons are designed by GraphicsFuel.com exclusively for Hongkiat readers, and are delivered in both Photoshop and PNG formats. All icons are free and you can download, edit and use them for your individual or commercial projects. You should not host the downloaded source files on your server and redistribute them as your own either in part or whole.
If you like the icons, do consider sharing it with a retweet or a Facebook like :-) 50 Useful and Free Seamless Pattern Sets. Dec 14 2011 Employing seamless patterns are an extraordinary way to give your design some additional depth and personality.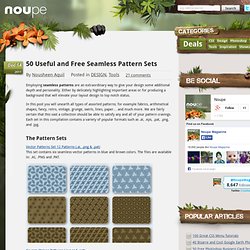 Either by delicately highlighting important areas or for producing a background that will elevate your layout design to top notch status. In this post you will unearth all types of assorted patterns; for example fabrics, arithmetical shapes, fancy, retro, vintage, grunge, swirls, lines, paper… and much more. We are fairly certain that this vast a collection should be able to satisfy any and all of your pattern cravings.
Each set in this compilation contains a variety of popular formats such as .ai, .eps, .pat, .png, and .jpg. 40 Beautiful Free HTML5 & CSS3 Templates. Dec 01 2011 Over the last few years there has been great collections of quality free HTML & CSS templates published on Noupe such as 50 Free High-Quality and "New" (X)HTML/CSS Templates (2009) and 40+ Elegant Free CSS/(X)HTML Templates (2010).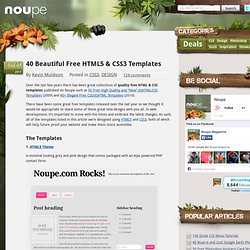 There have been some great free templates released over the last year so we thought it would be appropriate to share some of these great new designs with you all. In web development, it's important to move with the times and embrace the latest changes. 7 Free Tools for Creating Your Own Fonts. The Fontography Series is supported by join.me, the easiest way to have an online meeting. join.me lets you instantly share your screen with anyone, for free.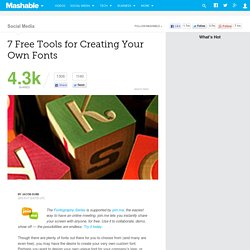 Use it to collaborate, demo, show off — the possibilities are endless. Try it today. Though there are plenty of fonts out there for you to choose from (and many are even free), you may have the desire to create your very own custom font. 25+ Water Effect Photoshop Tutorials and Brushes.
Water is beautiful, but creating its effect digitally from scratch can be dreadful, due to the complexity you have to deal with.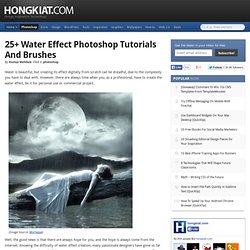 However, there are always time when you, as a professional, have to create the water effect, be it for personal use or commercial project. (Image Source: Morteque) Well, the good news is that there are always hope for you, and the hope is always come from the Internet. Knowing the difficulty of water effect creation, many passionate designers have gone so far to create tutorials and wonderful resources to aid you in achieving artistic and realistic water effect. In this post we have compiled a list of water effect tutorials that show you the brilliant ways to create water effects ranged from droplets to rain to waterfalls.
Hot WordPress Themes For Freelancers For Personal Branding. In order to succeed as a freelancer and build a successful brand, website creation is paramount to displaying a professional image.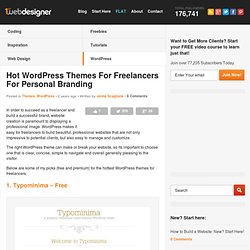 WordPress makes it easy for freelancers to build beautiful, professional websites that are not only impressive to potential clients, but also easy to manage and customize. The right WordPress theme can make or break your website, so its important to choose one that is clear, concise, simple to navigate and overall generally pleasing to the visitor. Create An eCommerce Landing Page In Adobe Photoshop. In this week's tutorial we are going to create an eCommerce landing page using Adobe Photoshop.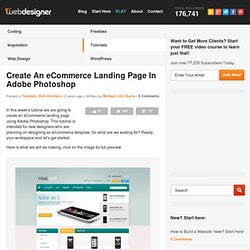 This tutorial is intended for new designers who are planning on designing an eCommerce template. So what are we waiting for? Ready your workspace and let's get started. Here is what we will be making, click on the image for full preview: Resources for this tutorial. 20 Free Top Shelf UI Kits for Web Designers - Noupe Design Blog. Jun 06 2011 When it comes to web design, the UI elements that are included can, at times, make or effectively break (in more ways than one) the overall piece.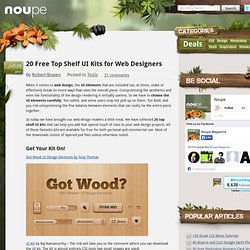 Compromising the aesthetics and even the functionality of the design rendering it virtually useless. So we have to choose the UI elements carefully. Too subtle, and some users may not pick up on them. Awesome Free Texture Packs from 2011. Dec 20 2011 As the year draws to a close, we tend to take a look back over the year and take stock. This post is here to not only sort of serve that purpose, but to also stock up on some of the year's top free texture packs from around the web.
Knowing how much use the web design community gets from resources like these, we felt like it would close the year in style to showcase some of 2011′s freshest and most useful textures that were released throughout the year. So get your virtual web design toolboxes ready for an extra healthy heaping of these awesome resources to be piled into the mix. Some of these you may have seen throughout 2011, and some may have slid under your radar and you are seeing them for the first time.
[Freebie] "BiZ" Business Website PSD Templates. This exclusive freebie is a pack of 5-page business website templates in Photoshop format. The design uses a clean, slick and professional look throughout the templates especially designed for website selling products/services. The design is also ideal for your business or corporate needs. The design comes in 5 templates: Home Page, About Us page, Services page, Portfolio page, Image Pop-up page and Contact page.
50 Excellent Text Effects Tutorials In Adobe Illustrator. We are all well acquainted with the power of the Adobe Illustrator and how important it is to a designer. Be it creating appealing text effects or creating awesome characters, Adobe Illustrator is always there to help out designers. In this collection, we are presenting some amazing and helpful tutorials regarding creating incredible text effects by using Adobe Illustrator. With this selection, you can learn how to create blurry, sketchy, bubbly, sticky, sleek, glossy, retro, or futuristic effects. Without further ado, let us move towards the collection of amazing tutorials. Kindly note that some of these tutorials may also require the use of Photoshop intended for finer details. 10 Killer Photoshop Tips For Web Designers. Believe it or not, if you're using Photoshop to design website, you're on the right path to become a successful web designer.
This is simply because Photoshop is one of the most advanced tool in the design industry that can make your creative imagination comes true with its plethora of professional tools which boost your productivity at the same time. But how well do you know about Photoshop? Useful Photoshop Tutorials for Designing Abstract Backgrounds - Noupe Design Blog. Apr 29 2011 An attractive and compelling background adds depth to your graphics, banners or ads; and for this reason is of great importance. Sure there are some people who might not notice backgrounds, but the role they play in making the entire artwork look more interesting and visually alluring is paramount.
They really do help to tie the entire piece together, no matter how simply or aggressively they are employed. 20 Awesome FREE PhotoShop Shape Set Downloads!! Design Sleek Video Player Interface in Photoshop. 60 Most Wanted Design Freebies of The Year 2011. 28 Fresh Photoshop Text Effect Tutorials. A Huge Compilation of 80 Free Illustrator Brush Sets - Noupe Design Blog. Improve Your Illustrator Skills - Noupe Design Blog.
---