VOLCANOES
Volcanic Highlights and Features: Colorado Colorado Regions Black Canyon of the Gunnison National Park Colorado National Monument Curecanti National Recreation Area Dome Rock Natural Area Dotsero Crater Elephant Rocks Natural Area Eleven Mile State Park Florissant Fossil Beds National Monument Front Range Glenwood Springs Area, Garfield County Great Wall Dike Green River Formation Jefferson County Mini-Wheeler Natural Area Mount Antero and White Mountain Needle Rock Natural Area Ouray Hot Springs Pikes Peak Raton Mesa Red and White Mountain Rocky Mountain National Park Saddle Mountain Research Natural Area Saint Mary's Falls San Juan Mountains Silverton Caldera Slumgullion Earthflow Natural Area Spanish Peaks Specimen Mountain Research Natural Area Wheeler Geologic Natural Area Black Canyon of the Gunnison:2 In Black Canyon of the Gunnison National Park, the Gunnison River cuts through Precambrian rock nearly 2 billion years old!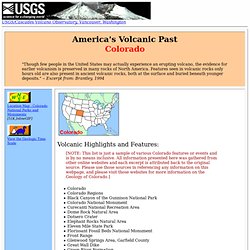 America's Volcanic Past - Colorado
Dotsero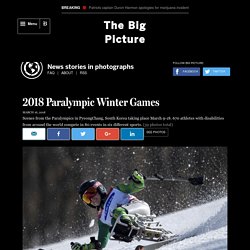 The 2014 National Geographic Traveler Photo Contest has begun. Photographers from around the world can submit their photos in the four categories: Travel Portraits, Outdoor Scenes, Sense of Place and Spontaneous Moments. The grand prize winner will receive a National Geographic Expedition to Alaska. The deadline is Monday, June 30, at 12 p.m. EDT.
Concept behind PhotoVolcanica.com The name PhotoVolcanica is intended to reveal the main focus of the site and is a hydrid between English and Latin terminology, meaning something like "photo of the volcano". However, the site is also dedicated to the wonderful and diverse Penguins that increasingly struggle to survive in the face of overfishing, habitat loss, introduced predators, etc. etc.... Whilst initially based almost solely on images, much of the site is now a highly illustrated encyclopaedia with extensive scientific referencing.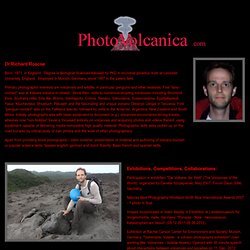 About the Photovolcanica Author
Volcanoes
News New Volcano Numbering System Implemented The Volcano Hazards Program has begun using new numerical identifiers for each volcano in our area of responsibility. These numbers are assigned and maintained by the Smithsonian Institution's Global Volcanism Program (GVP). You will see these numbers in current alerts and other information products for specific volcanoes. For example, Kilauea's identifier has changed from 1302-01- to 332010.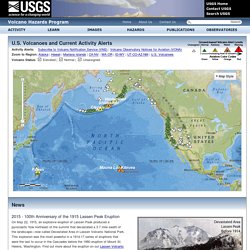 Volcano World | Volcano World | volcano eruptions | volcano news | famous volcanoes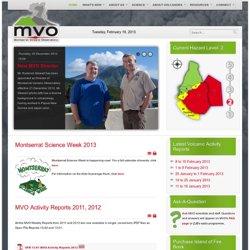 MVO - Home
The Hazard Level System was updated on 4 November 2011. The Government of Montserrat, the Disaster Management Coordinating Agency (DMCA) and the MVO have adopted a Hazard Level System which has been used at the Soufrière Hills Volcano, Montserrat since August 1, 2008. The purpose of the system is to improve management of the ongoing eruption and to provide important information to the residents of Montserrat. Read more: Hazard level system
Smithsonian Institution - Global Volcanism Program: Worldwide Holocene Volcano and Eruption Information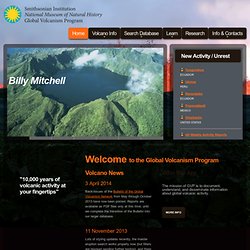 3 April 2014 Back-issues of the Bulletin of the Global Volcanism Network from May through October 2013 have now been posted. Reports are available as PDF files only at this time, until we complete the transition of the Bulletin into our larger database. 11 November 2013 Lots of styling updates recently, the master eruption search works properly now (but filters are blocked pending further testing), and there is now a simple spreadsheet download of the Holocene Volcano List (under Volcano Info). 21 October 2013 GVP invites proposals for a Postdoctoral Fellow/Visiting Scientist who will use GVP and Department of Mineral Sciences resources (including VOTW 4.0) to study problems in volcanology important on a global/regional scale.
Our Purpose: A primary focus of volcanology is to provide scientific and educational information that can lead to hazard mitigation. Michigan Tech's Volcanoes Page aims to provide information about volcanoes to the public and to complement other informational sites on the web. We started this site more than 20 years ago, when there were almost no other volcano sites--now there are lots, and many of them have far more resources. So we now aim to fill in spots that aren't covered elsewhere. Send your suggestions!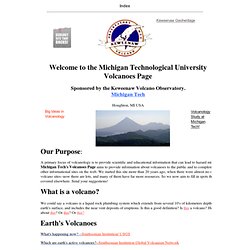 Index