VOLCANOES
Volcanic Highlights and Features: Colorado Colorado Regions Black Canyon of the Gunnison National Park Colorado National Monument Curecanti National Recreation Area Dome Rock Natural Area Dotsero Crater Elephant Rocks Natural Area Eleven Mile State Park Florissant Fossil Beds National Monument Front Range Glenwood Springs Area, Garfield County Great Wall Dike Green River Formation Jefferson County Mini-Wheeler Natural Area Mount Antero and White Mountain Needle Rock Natural Area Ouray Hot Springs Pikes Peak Raton Mesa Red and White Mountain Rocky Mountain National Park Saddle Mountain Research Natural Area Saint Mary's Falls San Juan Mountains Silverton Caldera Slumgullion Earthflow Natural Area Spanish Peaks Specimen Mountain Research Natural Area Wheeler Geologic Natural Area Black Canyon of the Gunnison:2 In Black Canyon of the Gunnison National Park, the Gunnison River cuts through Precambrian rock nearly 2 billion years old!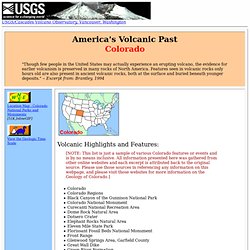 America's Volcanic Past - Colorado
Dotsero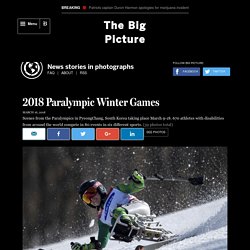 The winners have been named in the 2013 National Geographic Photography contest. As a leader in capturing our world through brilliant imagery, National Geographic sets the standard for photographic excellence. Professional photographers and amateur photo enthusiasts from over 150 countries submitted more than 7000 entries. Photographs were entered in three categories: people, places and nature. The competition was judged on creativity and photographic quality by a panel of experts comprising of National Geographic magazine Senior Photo Editor Susan Welchman; and documentary photographers Stephanie Sinclair and Ed Kashi.
Concept behind PhotoVolcanica.com The name PhotoVolcanica is intended to reveal the main focus of the site and is a hydrid between English and Latin terminology, meaning something like "photo of the volcano". However, the site is also dedicated to the wonderful and diverse Penguins that increasingly struggle to survive in the face of overfishing, habitat loss, introduced predators, etc. etc.... Whilst initially based almost solely on images, much of the site is now a highly illustrated encyclopaedia with extensive scientific referencing.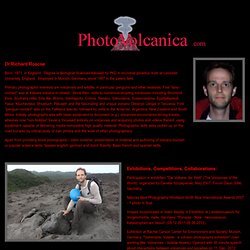 About the Photovolcanica Author
Volcanoes
Volcano World | Volcano World | volcano eruptions | volcano news | famous volcanoes
MVO - Home
Smithsonian Institution - Global Volcanism Program: Worldwide Holocene Volcano and Eruption Information
Our Purpose: A primary focus of volcanology is to provide scientific and educational information that can lead to hazard mitigation. Michigan Tech's Volcanoes Page aims to provide information about volcanoes to the public and to complement other informational sites on the web. We started this site more than 20 years ago, when there were almost no other volcano sites--now there are lots, and many of them have far more resources. So we now aim to fill in spots that aren't covered elsewhere. Send your suggestions!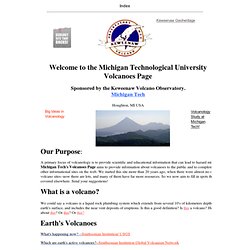 Index