Mt. Pelee
Mount Pelée. Mount Pelée is an active volcano at the northern end of the island and French overseas department of Martinique in the Lesser Antilles island arc of the Caribbean.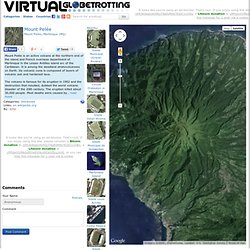 It is among the deadliest stratovolcanoes on Earth. Its volcanic cone is composed of layers of volcanic ash and hardened lava. The volcano is famous for its eruption in 1902 and the destruction that resulted, dubbed the worst volcanic disaster of the 20th century. The eruption killed about 30,000 people. How Volcanoes Work - the eruption of Mt. Pelee, Martinique. OVERVIEW: The Tropical Paradise of St.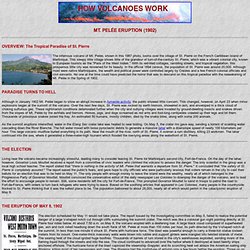 Pierre The infamous volcano of Mt. Mount Pelee Facts | InterestingFacts.org. Map of Martinique - Caribbean Island Maps, Martinique Map Information. Martinique was originally inhabited by Arawaks from South America, and the majority of those early inhabitants were killed by an eruption of Mount Pelee in 295 AD.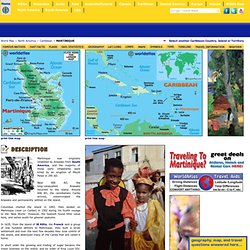 Near 400 AD, the long-vanquished Arawaks returned to the island. Around 600 AD, the cannibalistic Caribs arrived, exterminated the Arawaks and permanently settled on the island. Columbus charted the island in 1493, then landed on Martinique (near Le Carbet) in 1502 during his fourth voyage to the 'New World.' Map of Mount Pelee, Martinique. MT. PELEE.
---