Colleges
XSCI Science Programs
Rocky Mtn National Park Seminars. Seminar Course Calendar. eCommerce Shopping Cart and Online Store by WebStores Ltd Rocky Mountain Nature Association Friends of Rocky Mountain National Park in Estes Park Colorado Nature, Estes, RMNP, Public lands, Seminar, Educational, Support park, Posters, Note cards, Elk, Fitness, Trail ridge road, Forest, Natural, Friends, Fun, Postcards, Interpreter, Guide field, Funds, RMNA, Affiliate with park, t-shirts, educational, Rocky Mountain National Park, Rocky, Estes Park, Next Generation Fund, Camping, Hiking, Bird watching, Elk, Nature photography, Outdoors, Bighorn sheep, Deer, Open space Rocky Mountain Nature Association.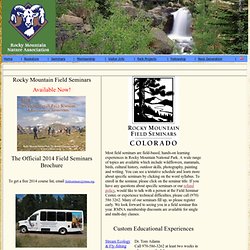 Www.nps.gov/flfo/forteachers/upload/seminarbrochure_2013.pdf. CSM Teacher Enhancement Program. Western State Colorado University.
CSU-Pueblo
Colorado Technical University. Colorado School of Mines. Western State College. Welcome to Wisc-Online.com. Adams State in Alamosa, Colorado. Annenberg Learner: Workshops and Courses. UCCS | University of Colorado Colorado Springs - UCCS Home. Experiential Science Learning and Research. Colorado State University-Pueblo. Colorado State University - Fort Collins.
---