Chickens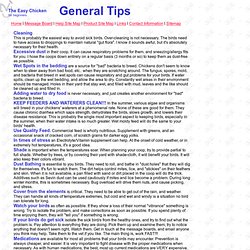 Cleaning This is probably the easiest way to avoid sick birds. Over-cleaning is not necessary. The birds need to have access to droppings to maintain natural "gut flora".
Your Bird's Health by The Easy Chicken for beginners
Forum
How to Raise Day-Old Chicks in Your Back Yard
A hen's coop is her castle! Proper housing is the key to happy, healthy birds, but building a chicken coop to the proper specifications is not as simple as it might seem. An adequate chicken coop design must: Be predator-proof, not just from the sides, but from above and below as well.
The My Pet Chicken Guide to Chicken Care, Chapter 5: Chicken coop requirements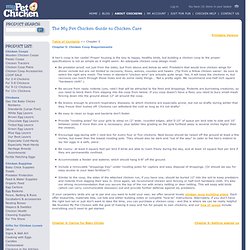 How To Raise Organic Chickens | Chickens On Camera
Organic chickens are not only the "in" thing that fetches a higher price on the market. It's also a more humane way to raise your chickens and provides a number of benefits to the consumer, including: Organic chicken breasts are lower in calories and higher in protein More B vitamins, selenium and niacin No additives, preservatives, pesticides or antibiotics Chickens are less susceptible to disease To raise, certified organic chickens, you must take the following steps: Each chicken must have at least 2 square feet of green space to roam and eat insects. Chickens are only housed when the weather is bad, but must have free outdoor access.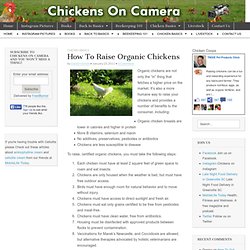 Chicken Nesting Boxes - Back Yard Chickens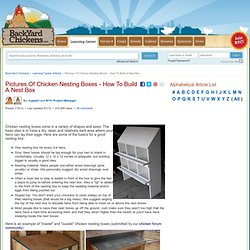 Chicken nesting boxes come in a variety of shapes and sizes. The basic idea is to have a dry, clean and relatively dark area where your hens can lay their eggs. Here are some of the basics for a good nesting box: