Base
Optical Illusion LED Watch Design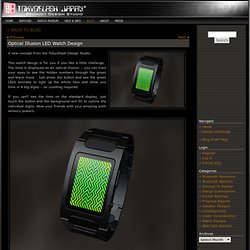 A new concept from the Tokyoflash Design Studio. This watch design is for you if you like a little challenge. The time is displayed as an optical illusion – you can train your eyes to see the hidden numbers through the green and black maze. Just press the button and see the green LEDs animate to light up the whole face and show you time in 4 big digits – no counting required. If you can't see the time on the standard display, just touch the button and the background will fill to outline the individual digits.
Google Reader has been discontinued. We want to thank all our loyal fans. We understand you may not agree with this decision, but we hope you'll come to love these alternatives as much as you loved Reader. Sincerely, The Google Reader team Frequently-asked questions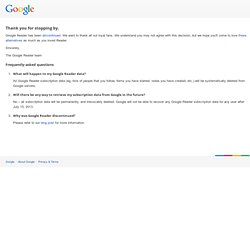 Laser mic makes eavesdropping remarkably simple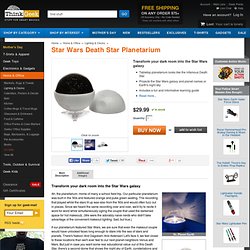 Ah, the planetarium. Home of many a school field trip. Our particular planetarium was built in the '60s and featured orange and puke green seating. The recording that played while the stars lit up was also from the '60s and would often fuzz out in places. Since we heard the same recording over and over, we'd try to recite it word for word while simultaneously ogling the couple that used the darkened space for hot makeoutz.
Death Star Planetarium
Current Anti Gravity Inventions and Experiments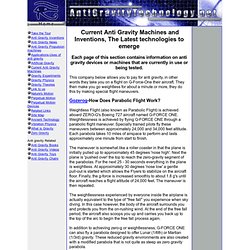 Each page of this section contains information on anti gravity devices or machines that are currently in use or being tested. This company below allows you to pay for anti gravity, in other words they take you on a flight on G-Force-One their aircraft. They then make you go weightless for about a minute or more, they do this by making special flight maneuvers.
Dossier > L'ordinateur quantique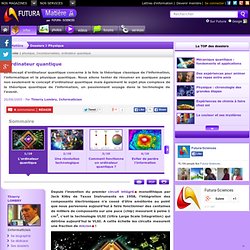 ThierryLombry Informaticien Depuis l'invention du premier circuit intégré monolithique par Jack Kilby de Texas Instruments en 1958, l'intégration des composants électroniques n'a cessé d'être améliorée au point que nous parvenons aujourd'hui à faire fonctionner des centaines de milliers de composants sur une puce (chip) mesurant à peine 1 cm2, c'est la technologie ULSI (Ultra Large Scale Integration) qui détrône aujourd'hui le VLSI. A cette échelle les circuits mesurent une fraction de micron !
Xcode 5 does more than ever to help you create high-quality apps. It automatically configures your apps to use the latest Apple services, manages images in a unified asset catalog, and helps you design stunning interfaces for iOS 7 and OS X. It also makes it easy to analyze your code, monitor performance, and test your apps, and with access to continuous integration built right in, your team can create better apps than ever before.
Xcode - Developer Tools Technology Overview - Apple Developer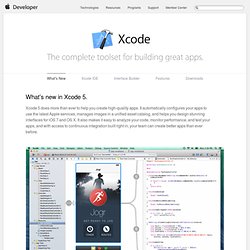 participer emission quebec
Panagiotis Limperopoulos recommends the worlds largest & fastest growing Link Cloaker, Shortener & List Builder... ViralURL.com
TinEye is a reverse image search engine. TinEye is a reverse image search engine. It finds out where an image came from, how it is being used, if modified versions of the image exist, or if there is a higher resolution version. TinEye TinEye is a reverse image search engine.