Persepolis
Marjane Satrapi (Persian: مرجان ساتراپی) (born 22 November 1969) is an Iranian-born French[1][2] cartoonist, illustrator, film director, and children's book author.
Marjane Satrapi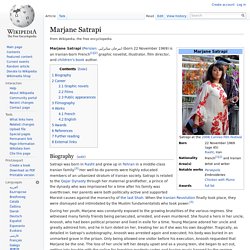 Okay, not the most original place to start. But if you want background on the author, here it is. Think about how the photos you see of Satrapi represented in different media--images, video, interviews, and comics. by tfristrom Apr 1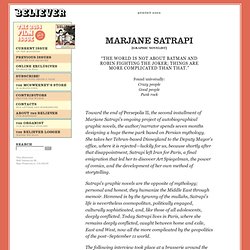 Interview with Marjane Satrapi
Toward the end of Persepolis II, the second installment of Marjane Satrapi's ongoing project of autobiographical graphic novels, the author/narrator spends seven months designing a huge theme park based on Persian mythology. She takes her Tehran-based Disneyland to the Deputy Mayor's office, where it is rejected—luckily for us, because shortly after that disappointment, Satrapi left Iran for Paris, a final emigration that led her to discover Art Spiegelman, the power of comics, and the development of her own method of storytelling. Satrapi's graphic novels are the opposite of mythology; personal and honest, they humanize the Middle East through memoir.
Interview in Believer magazine, dedicated to the contemporary art scene. by tfristrom Apr 1
Marjane Satrapi | January 28,2008 - Rick Warren | ColbertNation.
In the Colbert Show interview, Marjane Satrapi clearly explains her goals. She wanted a counter-narrative to the stories the media presented about Iran and its people throughout the world. Most people think "X" about Iran, but on closer examination . . . by tfristrom Apr 1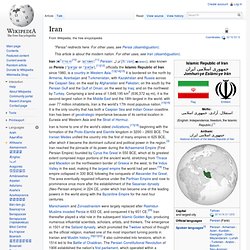 Coordinates: Iran ( i/ɪˈrɑːn/[9] or /aɪˈræn/;[10] Persian: ایران‎ [ʔiːˈɾɒn] (
Iran–Iraq War
While Satrapi clearly expects to have to explain much of her country's history in the book, here's more information that you can follow up on regarding the rise of Islam and the Iran-Iraq conflict. by tfristrom Apr 1
More on Iran
This is a list of links on an educational web site which would allow you to follo up on specific questions that Persepolis brings up regading Iran, its culture and history. by tfristrom Apr 1
Movie Preview
This is a preview for the Persepolis movie. It remains very much in keeping with Satrapi's drawings, though the animation and voices really help to flesh out the experience. The movie screenplay was written by Satrapi, so it can rightfully be seen as a revision rather than just an adaptation of her work. by tfristrom Apr 2
Scott McCloud was a visiting speaker at Drexel last year and I've come to like his books, particularly "Understanding Comics". I've included his website here, though I admit much of the material is only related to Persepolis in the most tangential way. by tfristrom Apr 1
Scott McCloud on comics
This is a Scott McCloud lecture available on TED (no relation). It gives the history of comics and an account of its development in relation to technology. by tfristrom Apr 2