Persepolis
Marjane Satrapi (Persian: مرجان ساتراپی) (born 22 November 1969) is an Iranian-born French[1][2] graphic novelist, illustrator, film director, and children's book author. Biography[edit] Satrapi was born in Rasht and grew up in Tehran in a middle-class Iranian family.[3] Her well-to-do parents were highly educated members of an urbanized stratum of Iranian society. Satrapi claims she is related to the Qajar Dynasty. Her parents were both politically active and supported Marxist causes against the monarchy of the last Shah.
Marjane Satrapi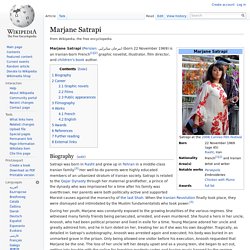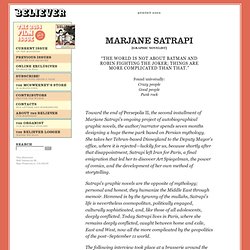 Interview with Marjane Satrapi
Toward the end of Persepolis II, the second installment of Marjane Satrapi's ongoing project of autobiographical graphic novels, the author/narrator spends seven months designing a huge theme park based on Persian mythology. She takes her Tehran-based Disneyland to the Deputy Mayor's office, where it is rejected—luckily for us, because shortly after that disappointment, Satrapi left Iran for Paris, a final emigration that led her to discover Art Spiegelman, the power of comics, and the development of her own method of storytelling. Satrapi's graphic novels are the opposite of mythology; personal and honest, they humanize the Middle East through memoir.
Marjane Satrapi | January 28,2008 - Rick Warren | ColbertNation.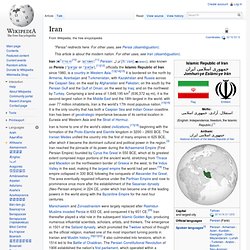 Coordinates: Iran ( i/ɪˈrɑːn/[10] or /aɪˈræn/;[11] Persian: ایران‎ [ʔiːˈɾɒn] (
Iran–Iraq War
More on Iran
Movie Preview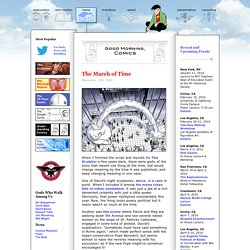 Still toiling away at the graphic novel, so this blog will remain quiet a few months longer, but I do have a tight cluster of trips coming up, so here's a bit more info on each, starting with an important opportunity coming up next month. The Two Day Making Comics Workshop comes to Alberta! On March 21-23, I'll be bringing the lecture and full 2-Day Workshop to the Galt Museum in Lethbridge, Alberta. SIGN-UP for one of the limited workshop seats, and get your advance tickets for the lecture starting on Feb 22. This is the first time the 2-day workshop has come to Canada, and this and the Los Angeles workshop (see last post) are the only ones currently planned for 2013, so don't miss this chance to learn two full days worth of comics-making strategies and techniques. Out and About
Scott McCloud on comics