Entrees
Hatch Pepper Honey Glazed Bacon wrapped Pork Tenderloins. The 20 Best Ways to Use Eggs Slideshow. The name sounds exotic, but this Arabic dish is simple to make and offers hearty flavor and a healthy dose of essential nutrients.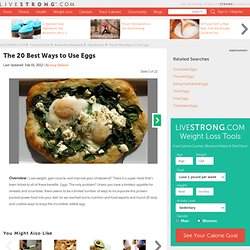 Tomato sauce made from fresh or canned tomatoes, onions, garlic, peppers, and a generous sprinkle of cumin and hot pepper flakes creates a bed in which to poach eggs. Add a few to the sauce in a large, wide pan, then cover and cook until the whites are set but the yolks are still runny. Italian Food Forever. Go wild for Wild Mushroom Risotto sans all the calories. Ingredients • 2 tsp vegetable oil • 1 cup finely chopped onion • 2 tsp finely chopped garlic • 4 cups chopped wild mush-rooms (try oyster, shiitake and/or portobello) • 1 cup arborio rice • 3 1/2 cups vegetable stock • 1 cup chopped asparagus (cut into 1-inch pieces) • 1/3 cup grated Parmesan • pinch of salt and pepper • 1/4 cup chopped fresh basil I love risottos but the restaurant versions are loaded with butter, cream or cheese.
Classic Beef Meatballs. Mexican Food Recipes. Pasta with Shrimp, Artichokes and Feta. This is one of the top 100 posts in Tastespotting for 2011!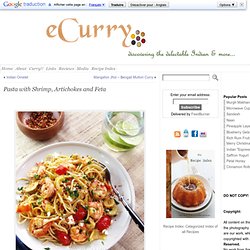 This is a really simple pasta recipe, with all my favorite things in it; light and right flavors for the warm weather. Life is moving at a fast forward pace right now. From dawn to the time I crawl in to the bed, I cannot account for what I have done. The Comfort of Eggs in a Basket. Eggs in a basket was the first meal I ever cooked.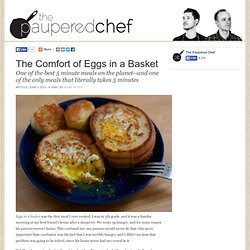 I was in 5th grade, and it was a Sunday morning at my best friend's house after a sleepover. We woke up hungry, and for some reason his parents weren't home. This confused me--my parents would never do that--but more important than confusion was the fact that I was terribly hungry, and I didn't see how that problem was going to be solved, since his house never had any cereal in it. "We'll make eggs in a basket," my friend said, pulling out a loaf of bread, a jug of oil, and a carton of eggs. 15 Minute Creamy Avocado Pasta. Oh…my….gosh.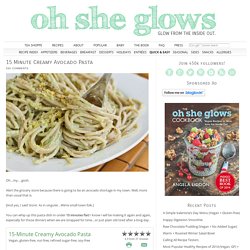 Alert the grocery store because there is going to be an avocado shortage in my town. Well, more than usual that is. [And yes, I said 'store'. As in singular…We're small town folk.] Roasted Tomato Basil Pesto. We haven't been this excited about a dinner recipe in a long time.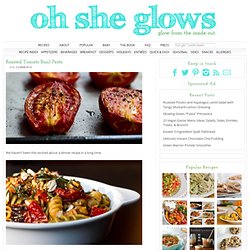 Probably not since the 15 Minute Creamy Avocado Pasta, which Eric said – in between shoveling this pasta in his mouth – is "not as good as this roasted tomato pesto recipe". I didn't believe it, but after tasting and then devouring my own bowl of pesto (ok, there was some pasta in there too), I may have to agree with him. This is by far, the best pesto I've made or perhaps ever tasted.
---