Informal Learning
Digital Learning Farm by Silvia Rosenthal Tolisano | SlideShare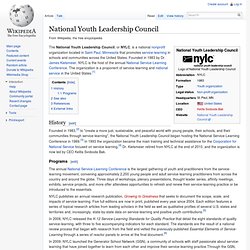 The National Youth Leadership Council , or NYLC , is a national nonprofit organization located in Saint Paul, Minnesota that promotes service-learning in schools and communities across the United States.
National Youth Leadership Council
Service learning is a method of teaching that combines formal instruction with a related service in the community .
Service-learning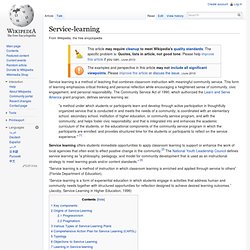 Let Kids Rule the School
Curriculum Design Tools The Learning Spiral
ALPS: The Thinking Classroom Home: The Learning Spiral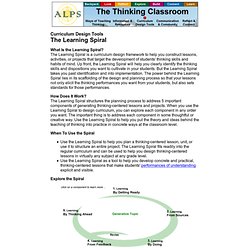 Research Bought, Then Paid For
By Melissa Venable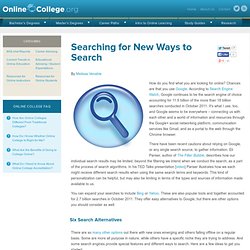 Searching for New Ways to Search
27. December 2011 by Bea Beste
The Special Agents of Change - playDUcation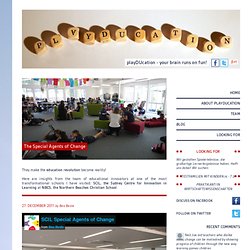 MediaShift . The Pedagogy of Play and the Role of Technology in Learning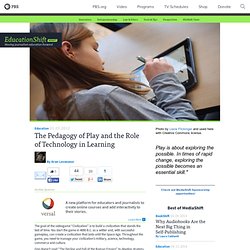 The goal of the videogame "Civilization" is to build a civilization that stands the test of time. You start the game in 4000 B.C. as a settler and, with successful gameplay, can create a civilization that lasts until the Space Age. Throughout the game, you need to manage your civilization's military, science, technology, commerce and culture.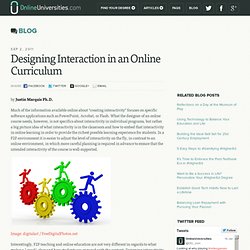 Designing Interaction in an Online Curriculum
Much of the information available online about "creating interactivity" focuses on specific software applications such as PowerPoint, Acrobat, or Flash.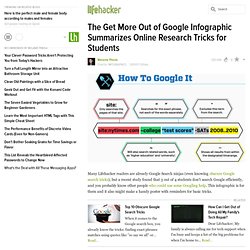 Many Lifehacker readers are already Google Search ninjas (even knowing obscure Google search tricks ), but a recent study found that 3 out of 4 students don't search Google efficiently, and you probably know other people who could use some Googling help . This infographic is for them and it also might make a handy poster with reminders for basic tricks. Provided by the folks at HackCollege, the infographic reminds student researchers that you can use Google as a calculator and unit converter, how to find papers by a specific author in Google Scholar, and basic operators you can use.
Experiential Learning
Open Campus, Open Network, Open Possibilities « The Whole Child Blog « Whole Child Education
It's a bright, sunny Tuesday morning, and students are entering Roosevelt Elementary school with excitement and energy.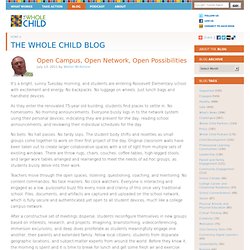 Jerome Bruner's Theory of Education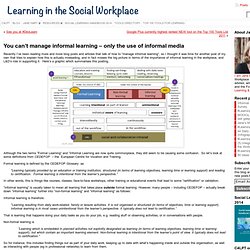 Recently I've been reading more and more blog posts and articles that talk of how to "manage informal learning", so I thought it was time for another post of my own that tries to explain how this is actually misleading, and in fact misses the big picture in terms of the importance of informal learning in the workplace, and L&D's role in supporting it. Here's a graphic which summarises this posting. Although the two terms "Formal Learning" and "Informal Learning are now quite commonplace, they still seem to be causing some confusion.
» You can't manage informal learning – only the use of informal media Learning in the Social Workplace
One of Homeschooling's Benefits for Parents: You Can See Clearly Now | PARENT AT THE HELM
Want a Healthier Family? 12 Health Benefits of Homeschooling | PARENT AT THE HELM
Education
Skip to main content Skip to navigation
The Gamification and Socialization of Learning
Sandra Dodd Site Index
www.scss.tcd.ie/publications/tech-reports/reports.01/TCD-CS-2001-04.pdf
MediaShift . The Literacy of Gaming: What Kids Learn From Playing
Click here to read the whole series
MediaShift . A Case for Using Social Networking for Learning
Education content is sponsored by the CUNY Graduate School of Journalism, which offers an intensive, cutting edge, three semester Master of Arts in Journalism ; a unique one semester Advanced Certificate in Entrepreneurial Journalism ; and the CUNY J-Camp series of Continuing Professional Development workshops focused on emerging trends and skill sets in the industry. We are witnessing the emergence of something profound: Humans, historically divided by geography, culture and creed, are beginning to connect and collaborate on a scale never seen before. The driving force behind this creative wave are digital tools and networks that allow new forms of collaboration and knowledge creation.
Advertisement by LinkedIn Member
In the first two posts in our Content Revolution series, we discussed how entertainment and information content is becoming digital and chunked .
Everything That Can Be Social, Will Be | OpenSesame
Seymour Papert
The Future of School
The Future of School The following discussion between Seymour Papert and the Brazilian philosopher and educator Paolo Freire took place in Brazil during the late 1980s.
Aran Levasseur - Peacemaker: Video Games and Learning on Vimeo