Informal Learning
Digital Learning Farm by Silvia Rosenthal Tolisano | SlideShare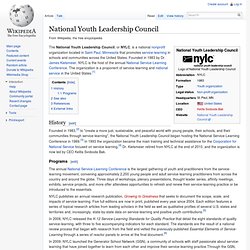 The National Youth Leadership Council, or NYLC, is a national nonprofit organization located in Saint Paul, Minnesota that promotes service-learning in schools and communities across the United States. Founded in 1983 by Dr. James Kielsmeier, NYLC is the host of the annual National Service-Learning Conference. The organization is a proponent of service-learning and national service in the United States.[1]
National Youth Leadership Council
Service learning is a method of teaching that combines classroom instruction with meaningful community service. This form of learning emphasizes critical thinking and personal reflection while encouraging a heightened sense of community, civic engagement, and personal responsibility. The Community Service Act of 1990, which authorized the Learn and Serve America grant program, defines service learning as:
Service-learning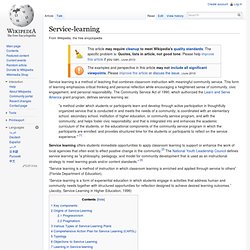 Let Kids Rule the School
Curriculum Design Tools The Learning Spiral What Is the Learning Spiral? The Learning Spiral is a curriculum design framework to help you construct lessons, activities, or projects that target the development of students' thinking skills and habits of mind. Up front, the Learning Spiral will help you clearly identify the thinking skills and dispositions you want to cultivate in your students.
ALPS: The Thinking Classroom Home: The Learning Spiral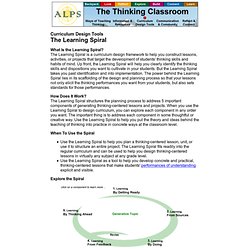 Research Bought, Then Paid For
By Melissa Venable How do you find what you are looking for online? Chances are that you use Google. According to Search Engine Watch, Google continues to be the search engine of choice accounting for 11.9 billion of the more than 18 billion searches conducted in October 2011. It's what I use, too, and Google seems to be everywhere – connecting us with each other and a world of information and resources through the Google+ social networking platform, communication services like Gmail, and as a portal to the web through the Chrome browser.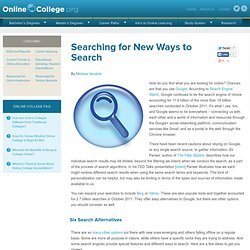 Searching for New Ways to Search
27. December 2011 by Bea Beste As many people who know me may have noticed: I spent time at SCIL during my education expedition in March 2011, and again for testing PlayDUcation ideas and prototypes in December. This place of innovative learning has inspired and enthused me deeply. I'm not a professional moviemaker. I just took visual notes with my camera, and managed to put some of them together now.
The Special Agents of Change - playDUcation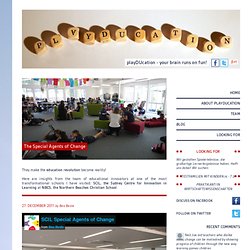 MediaShift . The Pedagogy of Play and the Role of Technology in Learning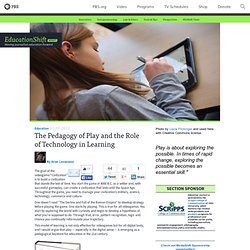 The goal of the videogame "Civilization" is to build a civilization that stands the test of time. You start the game in 4000 B.C. as a settler and, with successful gameplay, can create a civilization that lasts until the Space Age. Throughout the game, you need to manage your civilization's military, science, technology, commerce and culture. One doesn't read "The Decline and Fall of the Roman Empire" to develop strategy before playing the game.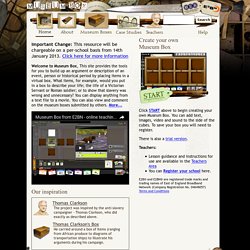 Important Change: This resource will be chargeable on a per-school basis from 14th January 2013. Click here for more information Welcome to Museum Box, This site provides the tools for you to build up an argument or description of an event, person or historical period by placing items in a virtual box. What items, for example, would you put in a box to describe your life; the life of a Victorian Servant or Roman soldier; or to show that slavery was wrong and unnecessary?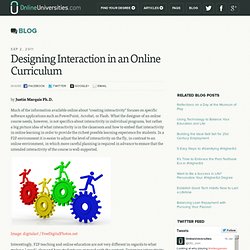 Designing Interaction in an Online Curriculum
Much of the information available online about "creating interactivity" focuses on specific software applications such as PowerPoint, Acrobat, or Flash. What the designer of an online course needs, however, is not specifics about interactivity in individual programs, but rather a big picture idea of what interactivity is in the classroom and how to embed that interactivity in online learning in order to provide the richest possible learning experience for students. In a F2F environment it is easier to adjust the level of interactivity on the fly, in contrast to an online environment, in which more careful planning is required in advance to ensure that the intended interactivity of the course is well-supported. Image: digitalart / FreeDigitalPhotos.net Interestingly, F2F teaching and online education are not very different in regards to what makes a "good" class and how students are engaged with the content.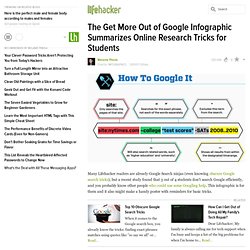 My favorite Google trick is to use Google Books to search for citations and useful quotes. When I'm writing papers or doing research, I usually have a bunch of quotes that I've scribbled down somewhere, or thrown in my paper without citing it, and when I have to go back during the editing process and fill in all that information is super useful to be able to search google for the exact page number. It's also useful to help find themes within books.
Experiential Learning
Open Campus, Open Network, Open Possibilities « The Whole Child Blog « Whole Child Education
It's a bright, sunny Tuesday morning, and students are entering Roosevelt Elementary school with excitement and energy. No backpacks. No luggage on wheels. Just lunch bags and handheld devices.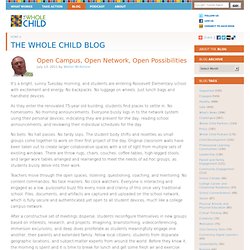 Jerome Bruner's Theory of Education
Knowing is a process, not a product. Bruner emphasizes that learning is an active processin which students construct new ideas or concepts based upon their current/pastknowledge. The learner selects and transforms information, constructs hypotheses, andmakes decisions, relying on a cognitive structure (connecting thoughts and organizinginformation) to do so.[15] Education is a knowledge-getting process and children need to participate in the processof acquiring knowledge.[16]One of the three major considerations in the Process of Education deals with the structure of knowledge.
Recently I've been reading more and more blog posts and articles that talk of how to "manage informal learning", so I thought it was time for another post of my own that tries to explain how this is actually misleading, and in fact misses the big picture in terms of the importance of informal learning in the workplace, and L&D's role in supporting it. Here's a graphic which summarises this posting. Although the two terms "Formal Learning" and "Informal Learning are now quite commonplace, they still seem to be causing some confusion.
» You can't manage informal learning – only the use of informal media Learning in the Social Workplace
You Can See Clearly Now by Linda Dobson Don't let what you're being get in the way of what you might become. - Harry Palmer My initial reasons for entering the world of homeschooling revolved solely around my children.
One of Homeschooling's Benefits for Parents: You Can See Clearly Now | PARENT AT THE HELM
By Linda Dobson Healthy food for breakfast and lunch! A family's homeschooling decision almost always begins with academic considerations. For myriad reasons, each family comes to the conclusion that the children will learn better and happier when the family is in charge of decisions, resources, and schedule. There's another aspect of homeschooling, though, that doesn't receive anywhere near the attention it deserves when mainstream media covers the topic.
Want a Healthier Family? 12 Health Benefits of Homeschooling | PARENT AT THE HELM
Education
Sandra Dodd Site Index
www.scss.tcd.ie/publications/tech-reports/reports.01/TCD-CS-2001-04.pdf
MediaShift . The Literacy of Gaming: What Kids Learn From Playing
MediaShift . A Case for Using Social Networking for Learning
Advertisement by LinkedIn Member
Everything That Can Be Social, Will Be | OpenSesame
Seymour Papert
The Future of School
Aran Levasseur - Peacemaker: Video Games and Learning on Vimeo