Edu-iPad
Business and Productivity Apps - The 100 Best iPad Apps. Bloomin' Apps. This page gathers all of the Bloomin' Apps projects in one place.Each image has clickable hotspots and includes suggestions for iPad, Google, Android, and Web 2.0 applications to support each of the levels of Bloom's Revised Taxonomy.I have created a page to allow you to share your favorite Web 2.0, iOS, or Android app with others.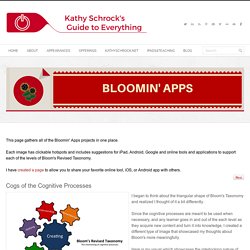 Cogs of the Cognitive Processes Option 1 I was recently reflecting on the triangular shape the Bloom's taxonomies utilize. An introductory guide to iPads for Teachers. I'm delivering some iPad training to a school tomorrow, so thought it might be useful to collate some of the links I've been putting together for the session.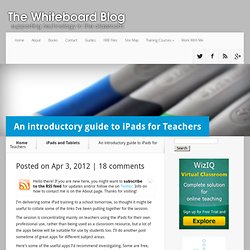 The session is concentrating mainly on teachers using the iPads for their own professional use, rather than being used as a classroom resource, but a lot of the apps below will be suitable for use by students too. I'll do another post sometime of great apps for different subject areas. Blooms Taxonomy of Apps. Only 1 iPad in the Classroom? [for additional ELA/Reading specific apps and ideas see Reading on the iPad] Is only one iPad in a classroom worth it?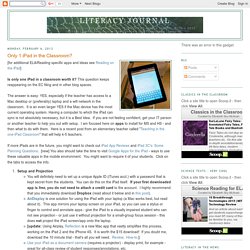 This question keeps reappearing on the EC Ning and in other blog spaces. The answer is easy: YES, especially if the teacher has access to a Mac desktop or (preferably) laptop and a wifi network in the classroom. iPads and Tablets in Education. 100 iPad Apps Perfect For Middle School. The Ultimate Guide To Using iPads In The Classroom. How Students Benefit From Using Social Media 14.60K Views 0 Likes A lot of criticism has been leveled at social media and the effect it has on the way students process and retain information, as well as how distracting it can be.
Apps for Autism: Communicating on the iPad. For severely autistic people, communication is often impossible, leaving them unable to convey what they want or need.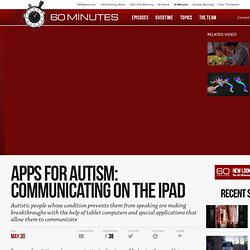 But as Lesley Stahl reports, touch-screen apps designed for tablet computers like the iPad are now giving autistic people new ways to express themselves, some for the first time. Teachers and parents are hailing the technology as a breakthrough, one that can reveal the true depth of knowledge and emotion trapped behind a wall of silence. The following script is from "Apps for Autism" which aired on Oct. 23, 2011. Lesley Stahl is the correspondent.
Karen Sughrue, producer. The Apple iPad Trends and Statistics. Classroom iPad use encourages innovation, reading with ease (Nov. 15, 2011) Nov. 15, 2011 The iPad is catching on as a classroom tool at the University of Wisconsin-Madison.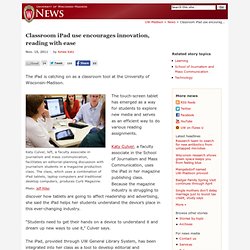 Katy Culver, left, a faculty associate in journalism and mass communication, facilitates an editorial-planning discussion with journalism students in a magazine production class. Learning and Teaching with iPads. Three Reasons Why the iPad WON'T Kill Amazon's Kindle. Reviews. Full category list for displayed posts: Gaming, iOS, iPad, iPad apps, iPhone, iPhone Apps, News, Reviews, Video Invade Earth And Score High In Arcade Game Captain Bubblenaut [Video Review] The idea of aliens invading earth is a theory that has been created and expanded upon for many years.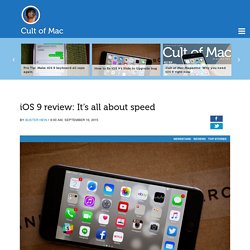 In the app Captain Bubblenaut the invasion comes to life as players help guide an alien as he obliterates Erf and all erflings standing in his way. Drag your finger across the screen to help guide Captain Bubblenaut to victory. The New York Times: Search for 'ipad' iPadagogy Intro Part 2. Apple iPad: A Comprehensive Guide. Last updated: January 27th, 2010 After months of speculation and rumors, it's official: The Apple iPad is real.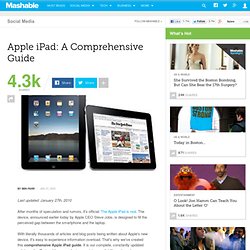 The device, announced earlier today by Apple CEO Steve Jobs, is designed to fill the perceived gap between the smartphone and the laptop. With literally thousands of articles and blog posts being written about Apple's new device, it's easy to experience information overload. That's why we've created this comprehensive Apple iPad guide. It is our complete, constantly updated article on the iPad and its specs, features, pricing, availability and much more. Review Of Educational iPad Apps. iPad in the Classroom: Round 2 | The History Channel This Is Not… Last time I posted on this topic I included some brief videos (extremely blurry videos, I will admit) that displayed how I planned to employ note taking software, dictation software, and geography/mapping apps with my students.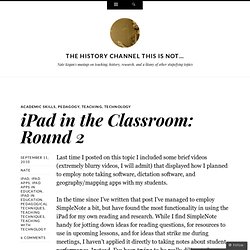 In the time since I've written that post I've managed to employ SimpleNote a bit, but have found the most functionality in using the iPad for my own reading and research. While I find SimpleNote handy for jotting down ideas for reading questions, for resources to use in upcoming lessons, and for ideas that strike me during meetings, I haven't applied it directly to taking notes about student performance. Instead, I've been trying to be really diligent about making observations and collecting my thoughts about students in a series of Google Docs organized according to class period.
I managed to stay on top of this really well during the first week, but have been a but more intermittent in my updates since then. 10 Must-Have Apps for the New iPad Owner. The iPad has finally made its international debut, meaning that thousands and thousands of new users will be enjoying Apple's latest device over the coming weeks.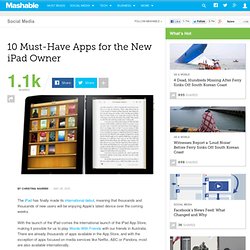 With the launch of the iPad comes the international launch of the iPad App Store, making it possible for us to play Words With Friends with our friends in Australia. There are already thousands of apps available in the App Store, and with the exception of apps focused on media services like Netflix, ABC or Pandora, most are also available internationally. We've been fortunate enough to have the iPad in our screen-smudging paws for the past two months and in that time we've surveyed well over 100 apps and games for the new platform. While this list could easily be four or five times as long as it is, we wracked our brains and decided to pick ten of our favorite iPad apps for the new iPad owner.
You've seen our list of ten must-have apps, now tell us your picks! iPad. The iPad Classroom. Umami Wants to Be the Ultimate Second Screen App for iPad. Umami is a new iPad app that aims to bring an enhanced, second-screen experience to broadcast and cable TV programming. Second screen apps are becoming standard fare for networks. Using audio fingerprinting technology, these apps can tell what you're watching — and provide an updated, customized experience based on the show. At the Mashable Media Summit last week, second screen experiences were highlighted as one of the major media trends of 2012. Until now, however, most of these experiences have been crafted specifically around one show or network. This requires users to download individual apps for the shows or networks they frequently watch.
The Arrival of the iPad - The Top 10 Everything of 2010. In April, Steve Jobs launched his iPad. And it was good. The iPad was not the first eReader or Tablet on the market nor was it as multi-functional as the iPhone (you can't make phone calls with an iPad). Apple iPad 2 - The Top 10 Everything of 2011. Thinner, lighter and more powerful than its predecessor, the mighty iPad easily sustained its reign as the king of tablets this year. Though the competition appears to be heating up with the introduction of a fleet of Android tablets ranging in size, price and features, Apple's venerable touchscreen wonder still has plenty of sunny skies ahead of it.
It may have the best apps and interface out there right now, and the sheer enormity of its mind share keeps just about everyone equating the concept of tablet computing first and foremost with the iPad. Next Galaxy Nexus by Samsung. Education - iPad makes the perfect learning companion.
Education - Apps. Games, Pop-Ups, 3D, and More – The iPad is Changing Books Forever. Hogworld lets you guide Gnart through a story that is a hybrid of book and video game. I grew up on a healthy regimen of Choose-Your-Own Adventure books, Nintendo, and role playing games, but even I am intimidated by the new brand of interactive storytelling that is flooding the iPad. More designers are exploring how the frenzy around Apple's tablet computer is evolving e-books into something new. Sure, you can find traditional children's picture books directly translated onto the iPad that simply let you flip through on a touchscreen, but there's so much more the medium allows.
Embedded games, interactive backgrounds, responsive audio, non-linear stories – "books" on the iPad have become something much better: immersive experiences. I've got a host of videos to show you what I mean, check them out below. iPad Insight | iPad blog for app reviews, news, tips,how-tos. More Schools Embrace the iPad as a Learning Tool. Mark Brumley | Educational Technology. Www.throughstudentseyes.org/ipads/Unlocking_Literacy_with_iPad/iPads_files/Unlocking_Literacy_iPad.pdf. Wordflick - A fast-paced, arcade-style, word game that anyone can enjoy. Moving photos and videos to and from your iPad wirelessly.
Top 10 best tips and tricks for new iPhone and iPad users | TiPb. Project Based Learning & iPad Integration. How To: Create eBooks for iPod, iPhone and iPad. Students Tackle Physics With iPads | uknow.uky.edu. iPads in Education - Exploring the use of iPads and mobile devices in education. How to Set Up Gmail for School iPads and iPods.
---