Blogs
A Blog Around The Clock
Amphibol
aktuelle Artikel Beobachtungsnacht mit einem 10-Meter-Teleskop Donnerstag nacht hatten wir hier auf der Südafrikanischen Nationalsternwarte (South African Astronomical Observatory, SAAO) die Möglichkeit, bei astronomischen Beobachtungen mit dem Southern African Large Telescope (SALT) dabei zu sein und der diensthabenden Astronomin und dem Teleskoptechniker bei ihrer Arbeit über ...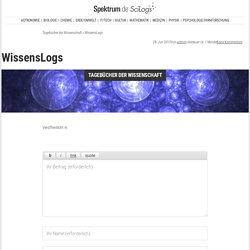 Fischblog
Fischblog
Homepage | Alles was lebt | ScienceBlogs.de - Wissenschaft, Kult
Well now, this is an interesting discovery: astronomers have found what looks like a "super-Earth" – a planet more massive than Earth but still smaller than a gas giant – orbiting a nearby star at the right distance to have liquid water on it! Given that, it might – might – be Earthlike. This is pretty cool news. We've found planets like this before , but not very many! And it gets niftier: the planet has at least five siblings, all of which orbit its star closer than it does. Now let me be clear: this is a planet candidate ; it has not yet been confirmed.
Biofortified: Stronger plants, stronger science, and stronger co
Clear Skies
18. Oktober 2011, 14:26 Fein inszenierte Weltuntergänge locken stets Menschenmassen vor die Kinoleinwände, manchmal auch mich.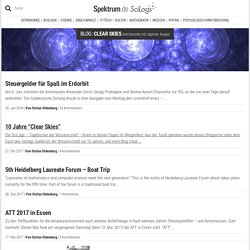 Links to the News and Press Releases / Contact me! This page is a kind of cosmic "short cut", leading the viewer to the most important (or most entertaining) events in space without wasting lots of time searching around for the real news stories or downloading unknown or useless images - that's my task :-) So then, welcome to The Cosmic Mirror of March 1, 2013! There are many long articles and a Blog (in German) to browse.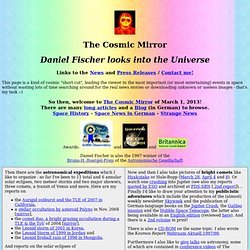 Daniel Fischer looks into the Universe...
Dr. Emmas Chemielabor
EISzeit
09. Oktober 2010, 14:30 Regelmässig sichte ich das astronomischen Preprint Webarchiv astroph nach interessanten, vor allem mein Themengebiet betreffende, Artikel. Von Zeit zu Zeit finde ich aber auch Manuskripte über allgemeine Themen.
Galaxienentwicklung
Gesundheitsexpertin's Blog
Homepage | WeiterGen | ScienceBlogs.de - Wissenschaft, Kultur, P
Homepage | Hinterm Mond gleich links | ScienceBlogs.de - Wissens
Sandwalk
Homepage | zoon politikon | ScienceBlogs.de - Wissenschaft, Kult
weird things « exploring science, the strange and the unknown
Wissenswerkstatt :: Beobachtungen der Gesellschaft :: Blog zu Wi
Starts With A Bang
Pharmakologie Journal