Blogs
A Blog Around The Clock
Amphibol
Fischblog
Homepage | Alles was lebt | ScienceBlogs.de - Wissenschaft, Kult
Well now, this is an interesting discovery: astronomers have found what looks like a "super-Earth" – a planet more massive than Earth but still smaller than a gas giant – orbiting a nearby star at the right distance to have liquid water on it!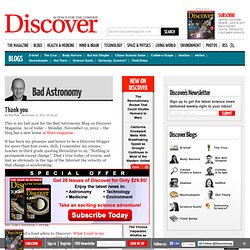 Biofortified: Stronger plants, stronger science, and stronger co
Clear Skies
DER Sternatlas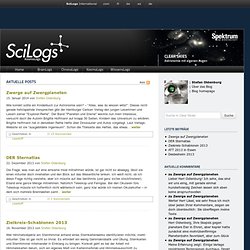 Links to the News and Press Releases / Contact me! This page is a kind of cosmic "short cut", leading the viewer to the most important (or most entertaining) events in space without wasting lots of time searching around for the real news stories or downloading unknown or useless images - that's my task :-) So then, welcome to The Cosmic Mirror of March 1, 2013!There are many long articles and a Blog (in German) to browse.Space History - Space News in German - Strange News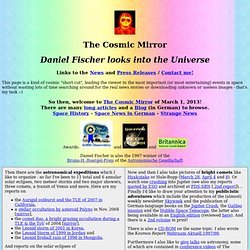 Daniel Fischer looks into the Universe...
Dr. Emmas Chemielabor
Herschel entdeckt fünf gelenste Submillimetergalaxien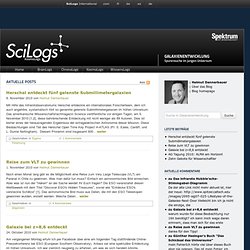 Galaxienentwicklung
Gesundheitsexpertin's Blog
Die Katalanen machen ernst. Gestern hat der Präsident der Generalitat von Katalonien, Artur Mas, in einer gemeinsamen Erklärung mit Repräsentanten anderer Parteien des katalanischen Parlaments Details zum geplanten Referendum über die Unabhängigkeit Kataloniens von Spanien angekündigt. Im Referendum, das am 9.
Homepage | WeiterGen | ScienceBlogs.de - Wissenschaft, Kultur, P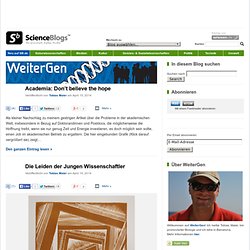 Homepage | Hinterm Mond gleich links | ScienceBlogs.de - Wissens
Sandwalk
Homepage | zoon politikon | ScienceBlogs.de - Wissenschaft, Kult
weird things « exploring science, the strange and the unknown
Wissenswerkstatt :: Beobachtungen der Gesellschaft :: Blog zu Wi
Starts With A Bang
Pharmakologie Journal