Dessert
Honeyed Pears in Puff Pastry. Poaching fruit is one of my favorite things to do when cold weather arrives.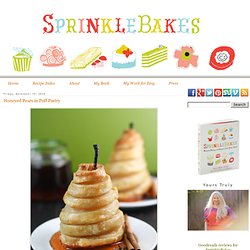 It's so warming to stand over a boiling pot of fragrant spices and lose yourself in thought. When I made these, I couldn't help but daydream as I stirred; if I were a pear... I wouldn't want to spend my days on the shelf of a cold produce department. Foodbuzz. Top 9 ~ Write With Us: Greens!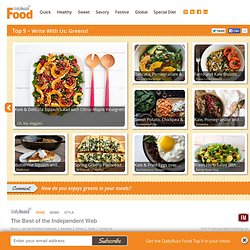 Kale & Delicata Squash Salad… with Citrus-Maple Vinaigrette Oh My Veggies Delicata, Pomegranate &… Avocado Kale Salad So...Let's Hang Out Farro and Kale Risotto… with Roasted Tomatoes. Funnel Cakes! Yes Please! Cinnamon Sugar Apple Pie Eggrolls. Is anyone else still holding on to apple season for dear life?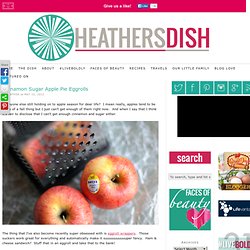 I mean really, apples tend to be more of a fall thing but I just can't get enough of them right now. And when I say that I think it's fair to disclose that I can't get enough cinnamon and sugar either. The thing that I've also become recently super obsessed with is eggroll wrappers. Those suckers work great for everything and automatically make it suuuuuuuuuuuper fancy. Ham & cheese sandwich? Almond-vanilla rice pudding. Can someone explain to me how we can boil some grains, like oatmeal, in milk with a little bit of sugar and mix in some dry fruit and it is called breakfast but when you do it to others, like rice, it is considered dessert?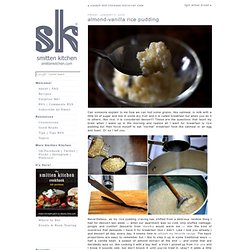 These are the questions that taunt my brain when I wake up in the morning and realize all I want for breakfast is rice pudding but then force myself to eat "normal" breakfast food like oatmeal or an egg and toast. Or so I tell you. Recipe for apple crisp wontons. Somewhere, in a file of ideas for future cooking classes, I have a list titled 100 things to make with wonton skins.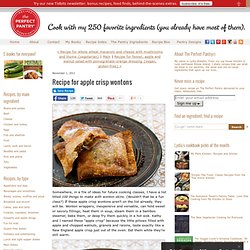 (Wouldn't that be a fun class?) If these apple crisp wontons aren't on the list already, they will be. Wonton wrappers, inexpensive and versatile, can hold sweet or savory fillings; heat them in soup, steam them in a bamboo steamer, bake them, or deep fry them quickly in a hot wok. Chocolate Peanut Butter Cookies. My family loves my soft peanut butter cookies and my Nutella peanut butter cookies, so I decided to create a chocolate version of this fave.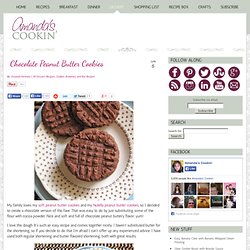 That was easy to do by just substituting some of the flour with cocoa powder. Nice and soft and full of chocolate peanut buttery flavor, yum! I love this dough. Mind-Blowing Cake Decorating Tip. Home » $1 and Free, Food Crafts, Headline, Party Crafts Mind-Blowing Cake Decorating Tip 16 September 2011 959,078 views 177 Comments by heather.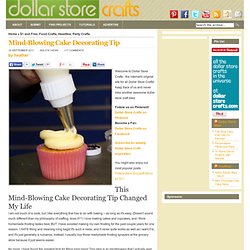 How to Make Ice Cream Cones on a Panini Press. This one is worth screaming from the rooftops.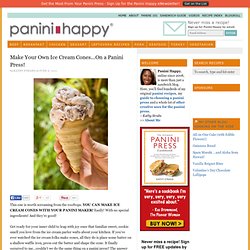 YOU CAN MAKE ICE CREAM CONES WITH YOUR PANINI MAKER! Easily! With no special ingredients! Chocolate. Ridiculously Easy. I mean it.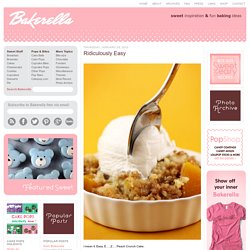 Easy. E…..Z…. Peach Crunch Cake. You need some sliced peaches in syrup. Just dump them in a 13 X 9 dish. Snickerdoodle Muffins. Snickerdoodle Muffins I have been obsessed with Pinterest lately!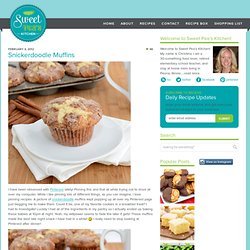 Pinning this and that all while trying not to drool all over my computer. While I like pinning lots of different things, as you can imagine, I love pinning recipes. A picture of snickerdoodle muffins kept popping up all over my Pinterest page just begging me to make them. Mini Nutella Fried Pies with Glaze. How to Make Marshmallow Fondant. This time I decided to make it with those mini fruit flavored marshmallows. I had to sort them by colour first. I figured they would add a little bit of flavor to the fondant so I wouldn't have to add much flavoring oil.
I use gel colours to dye my fondant but regular food colouring will work too. Chocolate Chunk Banana Bread Cookies. I love recipes that make me feel like I can get away with eating something sweet first thing in the morning. These banana bread cookies do the trick! Combining my own love for banana bread and the addition of chocolate chunks, these cookies are soft and cake like, much like the bread. They are perfect for enjoying with a cup of coffee in the morning, as a afternoon snack or the perfect dessert. They are a great excuse to eat a cookie any time of day. Peanut Butter Chocolate Pillows. Happy Birthday to my Brother in Law, Steve! Steve just so happens to be smitten with my baked goods, so every birthday I spoil him with a new vegan treat to enjoy.
I've been meaning to make these Peanut Butter Chocolate Pillows by Isa & Terry for a very long time now! Christmas Dinner Recipes - Party Ideas for Christmas. Thick, chewy oatmeal raisin cookies. I woke up Sunday morning craving oatmeal raisin cookies something fierce, so I tried to make myself eat oatmeal with raisins and brown sugar in it for breakfast but that didn't work, and so there was nothing left to do but to bake cookies. My life is so hard, innit? I have very specific tastes in oatmeal raisin cookies. A crisp edge is always welcome, but the rest of it must be thick and chewy. Just to confuse, this is unlike other oatmeal cookie recipes on this site, the crunchier chocolate chip pecan version and the thick but shattery, salty white chocolate version. Easter Cupcakes Baked in Real Egg Shells. I watched my Grandmother's face when she realized that I hadn't handed her a hard boiled egg but rather a cake baked inside a real egg shell.
Her eyes were filled with wonder and I could envision what she must have looked like as a tyke the very first time she saw a red balloon float across the sky or the the trunk of a giant elephant spewing a stream of water. "Crack it on the table," I told her. Eggs were cracked, cupcakes were eaten, and I was perceived as a cupcake Houdini. One Bowl Vanilla Cupcakes For Two | How Sweet It Is - StumbleUpon. Crazy Domestic: Melted Snowman Cookies. A brownie by any other name… Recipe Index. Nutella Mug Cake.
---