Divergence time estimation
Three extant genera of freshwater thalassiosiroid diatoms from Middle Eocene sediments in northern Canada
Late Eocene nonmarine diatoms from the Beaver Divide area, Fremont County, Wyoming, (Book, 1968) [The University of Texas Libraries]
A Molecular Genetic Timescale for the Diversification of Autotrophic Stramenopiles (Ochrophyta): Substantive Underestimation of Putative Fossil Ages
+ Author Affiliations Abstract Carbonaceous cherts of the Tarahumara Formation, exposed near Huepac, Sonora, Mexico, contain abundant diatom frustules occurring as benthic filamentous colonies. Stratigraphic and paleontological observations indicate that Tarahumara sediments accumulated in a nonmarine setting; radiometric ages on encompassing volcanic rocks delimit their depositional age to ca. 70 Ma. Tarahumara fossils therefore extend the paleontological record of nonmarine diatoms from middle Eocene to Late Cretaceous.
70 Ma nonmarine diatoms from northern Mexico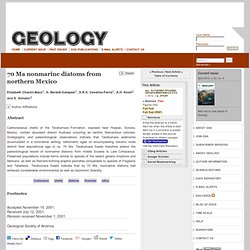 Bayesian phylogenetic inference using DNA sequences: a Markov Chain Monte Carlo Method.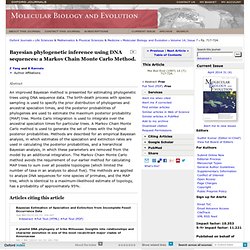 + Author Affiliations An improved Bayesian method is presented for estimating phylogenetic trees using DNA sequence data. The birth-death process with species sampling is used to specify the prior distribution of phylogenies and ancestral speciation times, and the posterior probabilities of phylogenies are used to estimate the maximum posterior probability (MAP) tree.
+ Author Affiliations E-mail: bhrannala@ucdavis.edu. Accepted September 13, 2005. We implement a Bayesian Markov chain Monte Carlo algorithm for estimating species divergence times that uses heterogeneous data from multiple gene loci and accommodates multiple fossil calibration nodes. A birth-death process with species sampling is used to specify a prior for divergence times, which allows easy assessment of the effects of that prior on posterior time estimates. We propose a new approach for specifying calibration points on the phylogeny, which allows the use of arbitrary and flexible statistical distributions to describe uncertainties in fossil dates.
Bayesian Estimation of Species Divergence Times Under a Molecular Clock Using Multiple Fossil Calibrations with Soft Bounds
Giraffe_Pipe_Fossils
1. Introduction 2. Material and methods
SSU RNA timescale for diatom evolution
Representation of Fossil Calibrations on Bayesian Estimation of Species Divergence Times
+ Author Affiliations *Correspondence to be sent to: Department of Biology, Galton Laboratory, University College London, Darwin Building, Gower Street, London WC1E 6BT, UK; E-mail: z.yang@ucl.ac.uk. Received January 14, 2009.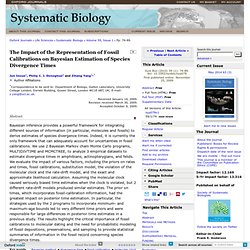 Bayesian Dating of Shallow Phylogenies with a Relaxed Clock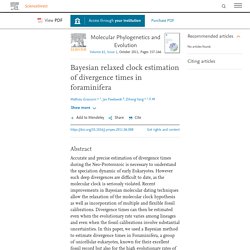 1. Introduction 2.
Divergence times in foraminifera
A time-calibrated phylogeny of Pinnularia