Ancient
Alexander (2004)
Edit Storyline Alexander, the King of Macedonia, leads his legions against the giant Persian Empire. After defeating the Persians he leads his Army across the then known world venturing further than any Westerner had ever gone all the way to India. Written by Anonymous Plot Summary | Plot Synopsis
Edit Storyline Plot Summary | Plot Synopsis Taglines: The untold beginning of the King Arthur legend. See more »
The Last Legion (2007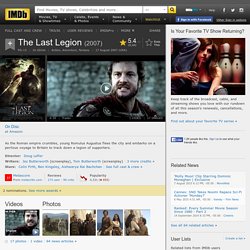 I, Claudius (TV mini-series 1976)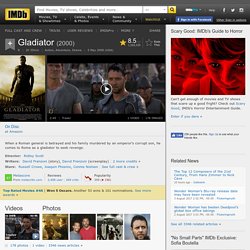 Edit Storyline Maximus is a powerful Roman general, loved by the people and the aging Emperor, Marcus Aurelius.
Caligula (1979)
Edit Storyline The rise and fall of the notorious Roman Emperor Caligula, showing the violent methods that he employs to gain the throne, and the subsequent insanity of his reign - he gives his horse political office and humiliates and executes anyone who even slightly displeases him. He also sleeps with his sister, organises elaborate orgies and embarks on a fruitless invasion of England before meeting an appropriate end.
Edit Storyline Marcellus is a tribune in the time of Christ. He is in charge of the group that is assigned to crucify Jesus. Drunk, he wins Jesus' homespun robe after the crucifixion. He is tormented by nightmares and delusions after the event.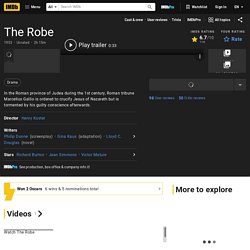 The Robe (1953)
Demetrius and the Gladiators (1954)
Edit Storyline The story picks up at the point where "The Robe (1953)" ends, following the martyrdom of Diana and Marcellus. Christ's robe is conveyed to Peter for safe-keeping, but the emperor Caligula wants it back to benefit from its powers. Marcellus' former slave Demetrius seeks to prevent this, and catches the eye of Messalina, wife to Caligula's uncle Claudius.
Ben-Hur (1959)
Edit Storyline Judah Ben-Hur lives as a rich Jewish prince and merchant in Jerusalem at the beginning of the 1st century.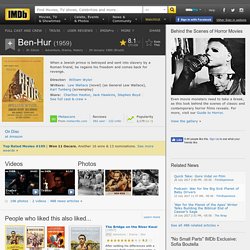 Ben Hur (TV mini-series 2010)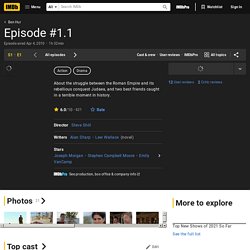 Edit Storyline Judah Ben-Hur lives in Jerusalem with his mother Ruth,sister Tirzah and his friend Messala,illegitimate son of the patrician Roman Marcellus who has virtually disowned the boy. On reaching manhood Messala becomes an officer in the Roman army and is part of a parade headed by governor Pontius Pilate which will march in triumph through Jerusalem to show Roman power. Judah's family watch but accidentally dislodge a tile from the roof which hits Pilate. The family steward David,a Zealot,exploits the accident to start a riot.
Imperium: Augustus (TV 2003)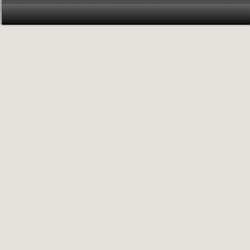 Edit Storyline In 42 BC Rome is in the middle of a civil war. Together with his friend AGRIPPA, the young Augustus goes to Spain in order to help JULIUS CAESAR in his struggle against the troops of POMPEY.
Fellini Satyricon (1969)
Edit Storyline In first century Rome, two student friends, Encolpio and Ascilto, argue about ownership of the boy Gitone, divide their belongings and split up.
Centurion (2010)
Edit Storyline Britain, A.D. 117. Quintus Dias, the sole survivor of a Pictish raid on a Roman frontier fort, marches north with General Virilus' legendary Ninth Legion, under orders to wipe the Picts from the face of the Earth and destroy their leader, Gorlacon. Written by Anonymous
Edit Storyline In 48 BC, Cleopatra, facing palace revolt in her kingdom of Egypt, welcomes the arrival of Julius Caesar as a way of solidifying her power under Rome.
Cleopatra (1934)
Cleopatra (1963)
Edit Storyline In 48 B.C., Caesar pursues Pompey from Pharsalia to Egypt.
Cleopatra (TV mini-series 1999)
Agora (2009)
Spartacus (1960)
Spartacus (TV 2004)
Spartacus: Gods of the Arena (TV Series 2011)
The Sign of the Cross (1932)
Empire (TV mini-series 2005)