Short sleeve
J.Crew lace stripe tissue tee
White on White Shirt Tutorial
December 14, 2010 9:28 am From the beginning I've been a fan of tone on tone clothing. And my color preference is white. Here's a little tutorial using some scrap fabrics in different tones or textures. You could do this with any shade of shirt and coordinating strips.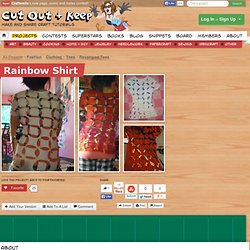 Rainbow Shirt
rainbow shirt, diy, cute, recon This is a really cute shirt. What you are seeing is the back because I only cut out squares on the back.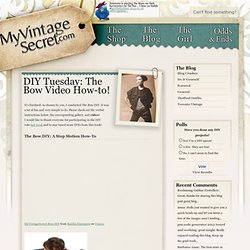 DIY Video: A Stop Motion video showing how to re-do a sweatshirt
It's finished! As chosen by you, I conducted The Bow DIY. It was a lot of fun and very simple to do.
March 29th, 2010 Ok so it certainly ain't brain surgery. It's just a shitload of safety pins, a needle and thread and a really old t-shirt. But hey, 'simple yet effective' is a design principle that will never die.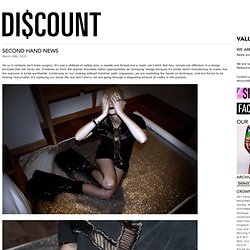 Second Hand News « DI$COUNT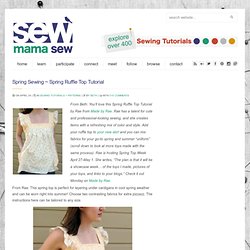 From Rae: This spring top is perfect for layering under cardigans in cool spring weather and can be worn right into summer! Choose two contrasting fabrics for extra pizzazz. The instructions here can be tailored to any size.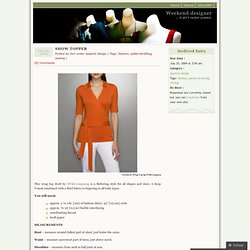 Featured: Wrap Top by NY&Company This wrap top draft by NY&Company is a flattering style for all shapes and sizes. A deep V-neck combined with a fluid fabric is forgiving to all body types. You will need: approx. 2 ¼ yds. [2m] of fashion fabric, 45" [115 cm] wide approx. ½ yd. [0.5 m] fusible interfacing coordinating thread kraft paper Bust – measure around fullest part of chest, just below the arms.
short sleeve with belt
Last summer, we were obsessed with shibori indigo tie dying . No, really . . . we just about dyed anything white in sight. So when Free People asked us to include a DIY in their guest blogger series , we knew a new tie dye project was absolutely in order. And as the weather is beginning to warm up, what better time than now to start experimenting with reverse tie dye using bleach! Black tees and tops: watch out!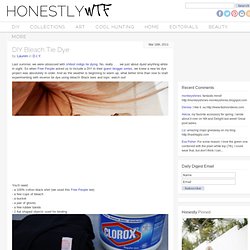 M ink P i nk top, L ev i's shorts, G u ess vest, L e ath e r-canvas t o te, DV s anda l s Say hello to one of my favorite tees! I love this Mink Pink top so much that I made a "DIY" crop top in the color white. Supplies you will need: Wooden Beads, T-shirt, Scissors, Needle or Toothpick 1. Cut the bottom hem. 2.
DIY: Mink Pink Beaded Shirt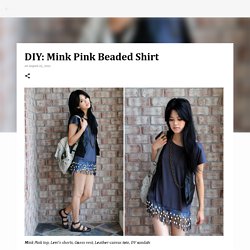 With the current fashion flashback to the 1960′s, try a ruffled shoulder peasant-style blouse. A great piece for casual daywear with any skirt, or an evening out because this kind of soft blouse is flattering for most figure types. And the best thing is, no pattern is required. You will need: approximately 1-1⁄2 yards (1.37 m) of fashion fabric that is at least 41 inches (104 cm) wide. If using a washable fabric, pre-shrink fabric before sewing. approximately 1-5/8 yards (1.48 m) of 1/4″ inch-wide (0.6 cm) elastic. sewing thread to colour-match.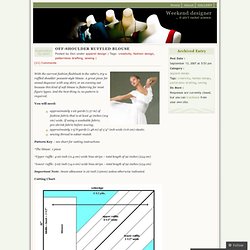 ruffled neckline blouse