Oversized
MULTI-POCKET URBAN TOTE. "multi-pocket urban tote" Smart-looking yet functional in commuter bag designs.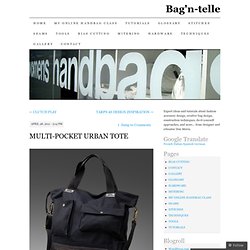 An urban carry-all with a variety of pocket compartments for wallet, cellphone and PC notebook makes it the perfect everyday tote. OLD SCHOOL BACKPACK. Around campus or across the country, make the journey more beautiful with this vintage-inspired backpack.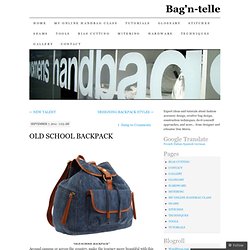 Dimensions: approximately 14" high X 12" wide X 7" deep (35.5 cm x 30.5 cm x 18 cm) with grab handle with dual adjustable 17" (43 cm) shoulder straps for versatility and exterior flap and zip pockets at the front and sides. Construction Method: Turned finish – this method may be recognized by noting the lack of machine-stitching that is visible at points of assembly on the exterior side of the bag. This is possible by placing the material, or parts, face to face, machining and turning right-side out.
It is the most commonly used assembly process. DUFFLE BAG TOTE. A duffle bag tote is an ideal type of luggage that no traveler should be without.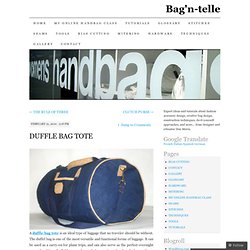 The duffel bag is one of the most versatile and functional forms of luggage. It can be used as a carry-on for plane trips, and can also serve as the perfect overnight or weekend bag. Duffel bags can be made in a variety of styles, designs, colours and fabrics. Therefore, anyone from a business traveler, to a camper, or everyday vacationer, will find use for a duffle tote bag. CARPETBAGGER. Featured: Turtle Tote by LIFEwithBIRD An exercise in stylish functionality by Aussie line LIFEwithBIRD.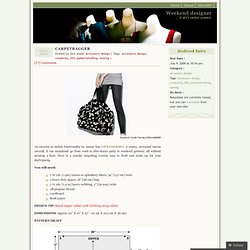 A roomy, oversized canvas carryall, it can seamlessly go from work to after-hours party to weekend getaway, all without missing a beat. PUSH THE ENVELOPE. Featured: Messenger Bag by Ecolution Originally created for hard-working couriers, the classic Messenger Bag has been in circulation for several decades.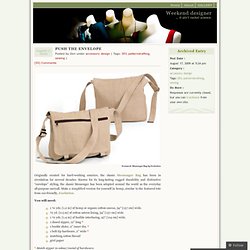 Known for its long-lasting rugged durability and distinctive "envelope" styling, the classic Messenger has been adopted around the world as the everyday all-purpose carryall. Make a simplified version for yourself in hemp, similar to the featured tote from eco-friendly, Ecolution. You will need: THE WEEKENDER. Featured: Lex Trip Bag So this weekend will have you jetting off to the coast for sun & surf?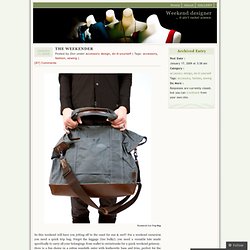 For a weekend excursion you need a quick trip bag. Forget the luggage (too bulky); you need a versatile tote made specifically to carry all your belongings from wallet to swimtrunks for a quick weekend getaway. Here is a fun choice in a cotton waxcloth outer with leatherette base and trim, perfect for the do-it-yourselfer, similar to the Lex Trip Bag from PROPERTY OF. Dimensions: approximately 18″ x 8 x 17″ [45cm x 20.5cm x 43cm].
---