Noodles, Bread and Rice
Delicious Stuffed Peppers… Here's a cute story: Once upon a time, when my parents were newly married (and I mean "newly" – they probably hadn't even been married a week yet!)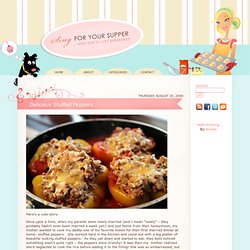 And just home from their honeymoon, my mother wanted to cook my daddy one of his favorite meals for their first married dinner at home- stuffed peppers. She worked hard in the kitchen and came out with a big platter of beautiful looking stuffed peppers. Creamy Taco Mac… - adapted from Delish 1 lb. lean, ground beef 8 oz dry pasta + 1 cup reserved pasta water 1 can (14.5 oz) petite diced tomatoes 4 Tbsp mild taco seasoning (one packet) 3 oz cream cheese.
Perfect Mac-n-Cheese « My Cooking Quest. November 13, 2008 by joejhorn A few weeks ago I started a quest for some good mac and cheese.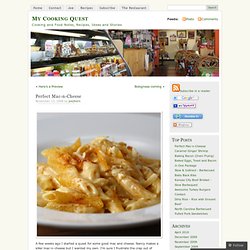 Nancy makes a killer mac-n-cheese but I wanted my own. I'm sure I frustrate the crap out of Nancy sometimes because I'm always looking for something better when it comes to food and recipes. Apple-Cheese Danish Recipe - Delish.com. Sage Baked Macaroni and Cheese - Delish.com. Baked Macaroni with Three Cheeses - Delish.com. Pimento-Cheese Potato Gratin Recipe - Delish.com. Cheese Grits and Corn Pudding - Delish.com. Mushroom Ravioli with Garlic-Sage Brown Butter and Asparagus. Some of you might remember Sara's post from a few weeks ago where she did a video with Good Bite demonstrating her Creamy Chicken and Bacon Pastry Pockets.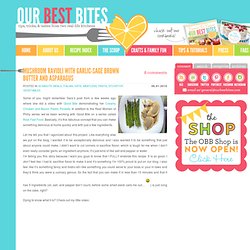 In addition to the Real Women of Philly series, we've been working with Good Bite on a series called Real Fast Food. Basically, it's this fabulous concept that you can make something delicious at home quickly and with just a few ingredients. Let me tell you that I agonized about this project. Like everything else we put on the blog, I wanted it to be exceptionally delicious and I also wanted it to be something that just about anyone could make. I didn't want to cut corners or sacrifice flavor, which is tough for me when I don't even really consider garlic an ingredient anymore; it's just kind of like salt and pepper or water. Meg Kat. Grilled cheese with caramelized onions | Meg Kat. Meg Kat. Penne à la vodka + belgian brownies. I have no doubt I'm opening a can of worms here, but I really don't see the point of the classic foodie hobby, Rachael Ray Bashing.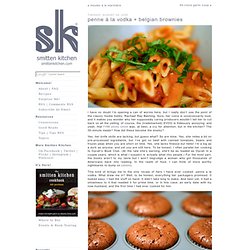 Sure, her voice is unnecessarily loud, and it makes you wonder why her supposedly caring producers wouldn't tell her to cut back on all the yelling; of course, the (trademarked) EVOO is hideously annoying; and yeah, that FHM photo shoot was, at best, a cry for attention, but in the kitchen? The 30-minute meals? How did these become the enemy? Yes, her knife skills are lacking, but guess what? So are mine. Butternut squash and caramelized onion galette. I love fall.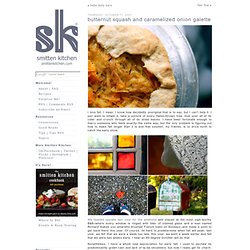 I mean, I know how decidedly unoriginal that is to say, but I can't help it. I just want to inhale it, take a picture of every flame-thrown tree, mull over all of its cider and crunch through all of its dried leaves. I have been fortunate enough to marry someone who feels exactly the same way, but the only problem is figuring out how to make fall longer than it is and that solution, my friends, is to drive north to catch the early show. We headed upstate last year for the weekend and stayed at the most sigh-worthy B&B–where every window is ringed with tiles of stained glass and a man named Richard makes you amaretto-brushed French toast on Sundays–and made a point to get back there this year. Pumpkin Alfredo. I have decided to try something exciting and new!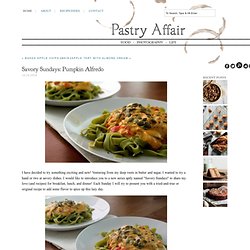 Venturing from my deep roots in butter and sugar, I wanted to try a hand or two at savory dishes. I would like to introduce you to a new series aptly named "Savory Sundays" to share my love (and recipes) for breakfast, lunch, and dinner! Each Sunday I will try to present you with a tried-and-true or original recipe to add some flavor to spice up this lazy day. Simple Carbonara. Serves 4-5.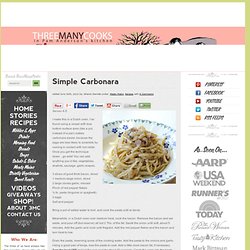 I make this in a Dutch oven. I've found using a vessel with less bottom surface area (like a pot, instead of a pan) makes carbonara easier, because the eggs are less likely to scramble by coming in contact with hot metal. Once you get the technique down…go wild! You can add anything you'd like, vegetables, shallots, sausage, garlic scapes.
Grilled cheese reinvented. Rice Balls. Rice balls are fabulous as a side dish or as an entree.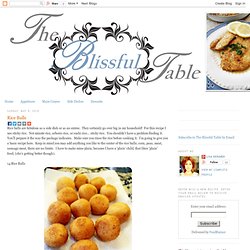 They certainly go over big in my household! For this recipe I use sticky rice. Not minute rice, arborio rice, or sushi rice… sticky rice. You shouldn't have a problem finding it. You'll prepare it the way the package indicates. Ricotta Gnocchi with Tomato-Basil Sauce. Serves 6 Since this quantity of ingredients calls for 1 whole egg it makes sense to make this amount.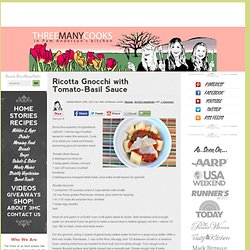 Cook only what you need and freeze remaining gnocchi another meal. Tomato-Basil Sauce 2 tablespoons olive oil 3 large garlic cloves, minced 1 can (28 ounces) crushed tomatoes 2 tablespoons chopped fresh basil, plus extra small leaves for garnish Ricotta Gnocchi 1 container (15 ounces) scant 2 cups whole milk ricotta 1/2 cup finely grated Parmesan cheese, plus extra for topping 1 to 11/2 cups all-purpose flour, divided 1 large egg, beaten Salt Heat oil and garlic in a Dutch oven until garlic starts to sizzle. Nathalie's Cheese Soufflé. Serves 4-6 for lunch The English introduced this dish to the South, where it was served at Mt. Vernon and Monticello, among other plantations. It is delicious, light, but filling and makes for a great lunch, or even a light supper. Add a green salad and a small desert and everyone will be quite satisfied.
---