Frozen Treats
Little Bites of Goodness: Part Two of Four. Chocolate Soup for Two. Valentine's day is exactly one month away and I'm elbow deep in chocolate recipes.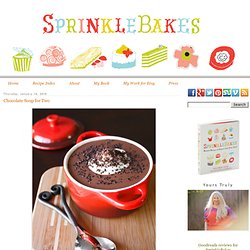 I've been searching for ideas and inspiration for sweet, edible tokens of affection. Recently while watching a food show on TV, I saw chocolate soup being served at a popular chocolate bar/buffet. Patrons were proclaiming their love (between slurps of soup) for the warm, velvety smoothness and rich chocolaty flavor. I got out a pen and paper and wrote: In my search I've found so many variations on chocolate soup, I didn't know which one to try!
Chocolate Chai Cups and a Tutorial: How to Make Chocolate Vessels. I've been waxing philosophical chocoholical lately, as you can tell.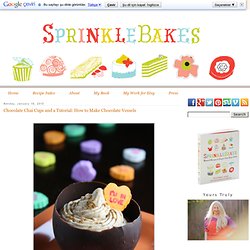 It may be cliché, and it may be expected, but when Valentine's day rolls around I'm in a complete chocolate state of mind. And why not? Chocolate supposedly mimics the feeling of falling in love via some crazy stimulant that gets released into our bloodstream after eating it. I always like to plan ahead and prepare early, but this recipe requires little of that. It's great for those of you who have little time to bake or fuss over a special occasion dessert. Pumpkin Spice Ice Cream Sandwiches. Remember a few posts ago when Kate asked what your ultimate fall food was?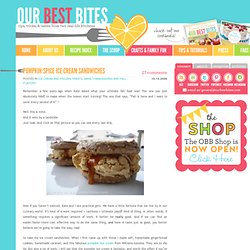 The one you just absolutely HAVE to make when the leaves start turning? The one that says, "Fall is here and I want to savor every second of it" ? Well this is mine. And it wins by a landslide. Pumpkin Pie Milkshake. Are you ready for a serious confession?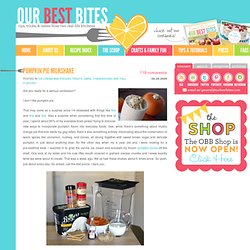 I don't like pumpkin pie. That may come as a surprise since I'm obsessed with things like this and this and this. Bittersweet Chocolate Sherbet with Coconut Rum Sauce. This weekend I spent well over an hour scanning recipe books agonizing over whether I needed to consume something with excessive amounts of chocolate or coconut.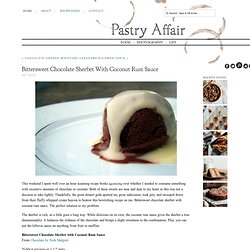 Both of these sweets are near and dear to my heart so this was not a decision to take lightly. Thankfully, the great dessert gods spotted my great indecision, took pity, and swooped down from their fluffy whipped cream heaven to bestow this bewitching recipe on me. Bittersweet chocolate sherbet with coconut rum sauce. The perfect solution to my problem. The sherbet is rich, so a little goes a long way. Nutella Gelato with Biscuits & Caramel Corn. Before all the choices of easy bake cinnamon rolls lined shelves, I remember when my parents used to take pre-made buttermilk biscuit dough, dip it in melted butter and then dredge through a cinnamon and sugar mixture and bake them.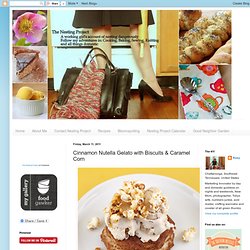 They were my favorite and we always got them on special holidays for breakfast like Thanksgiving and Christmas. The reason I came upon this dessert is I was craving these little cinnamon biscuits from my childhood and I was also trying to find a creative idea for a dessert on Oscar awards night. I broke out my Ciao Bella gelato cookbook and made some vanilla gelato and added 2 tsp of cinnamon. After that I made my favorite recipe for caramel corn.
---