Chicken
Somebody Give Me A Cookie! Big news everybody – BIG news!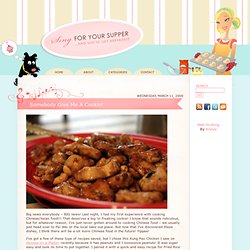 Last night, I had my first experience with cooking Chinese/Asian food!!! That deserves a big 'ol freaking cookie! Southwestern Skillet… I always, always, always have cans of black beans, diced tomatoes and Mexi-corn in my pantry (Mexi-corn is just canned corn with chopped red and green peppers).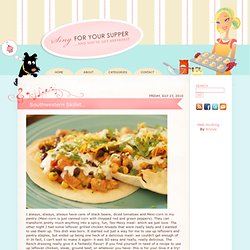 They can transform pretty much anything into a spicy, fun, Tex-Mexy meal- which we just love. The other night I had some leftover grilled chicken breasts that were really tasty and I wanted to use them up. This dish was born. It started out just a way for me to use up leftovers and pantry staples, but ended up being one heck of a delicious meal- we couldn't get enough of it! Slow Cooker Mole Chicken Chili. Fiesta Chicken and Rice. Creamy Mushroom-Garlic Chicken - Campbell's Kitchen - Campbell's Kitchen. 1 tablespoon(s) vegetable oil 4 skinless, boneless chicken breast half 1 can(s) Campbell's® Condensed Cream of Mushroom with Roasted Garlic Soup 1/2 cup(s) milk Heat the oil in a 10-inch skillet over medium-high heat.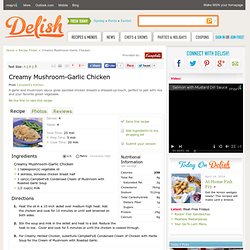 Add the chicken and cook for 10 minutes or until well browned on both sides. Stir the soup and milk in the skillet and heat to a boil. Reduce the heat to low. Honey-Orange Chicken with Sesame Sauce - Easy Chicken Recipes - Delish.com. Chicken Breasts Stuffed with Apple and Goat Cheese - Delish.com. How to: Cook Chicken Breasts. So when a recipe calls for X cups of cooked or shredded chicken, I usually just use leftover chopped Fauxtisserie Chicken.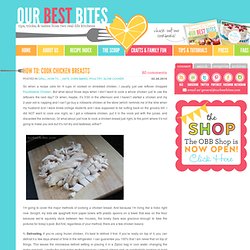 But what about those days when I don't want to cook a whole chicken just to use the leftovers the next day? Or when, maybe, it's 3:00 in the afternoon and I haven't started a chicken and my 2-year-old is napping and I can't go buy a rotisserie chicken at the store (which reminds me of the time when my husband and I were broke college students and I was supposed to be cutting back on the grocery bill. I did NOT want to cook one night, so I got a rotisserie chicken, put it in the crock pot with the juices, and discarded the evidence). Crispy Coconut Chicken Fingers. You know what I secretly love?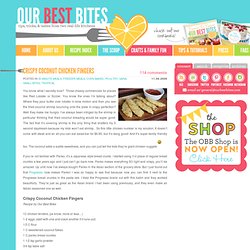 Those cheesy commercials for places like Red Lobster or Sizzler. You know the ones I'm talking about? Where they pour butter over lobster in slow motion and then you see the fried coconut shrimp bouncing onto the plate in crispy perfection? Well they make me hungry. I've always been intriged by the shrimp in particular thinking that fried coconut breading would be super good. Chicken Pot Pie for Two | Meg Kat. Baked chicken meatballs. As it turns out, I'm a sucker for a good meatball.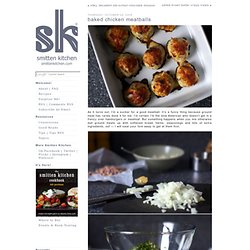 It's a funny thing because ground meat has rarely done it for me; I'm certain I'm the lone American who doesn't get in a frenzy over hamburgers or meatloaf. But something happens when you mix otherwise dull ground meats up with softened bread, herbs, seasonings and bits of extra ingredients, oof — I will swat your fork away to get at them first. I've found some good ones over the years, such as the only ones you should ever serve with your spaghetti and these guys, which, if you have not already, you should not wait until next summer to try, not to mention the ones I sneak into sliders and soup. But as I hadn't tried these before, my meatball recipe collection — and possibly even my life — was woefully deficient. KFC Chicken Recipe Kentucky Fried Chicken Recipes. KFC Original Fried Chicken - Recipes - Recipe Trove. Ultimate Chicken and Dumplings. Season 3 of Recipe to Riches has come to an end.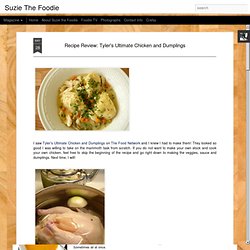 I had a lot of fun watching the show and was honoured to be sponsored to write about it. I was very impressed with the quality of the product ideas Canadians came up with. Chicken Pot Pie with Puff Pastry Crust Recipe | Seasons and Suppers. Martha and I go way back.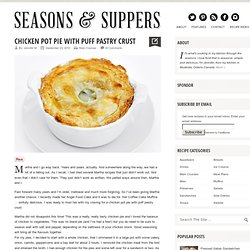 Years and years, actually. And somewhere along the way, we had a bit of a falling out. As I recall, I had tried several Martha recipes that just didn't work out. Parmesan Chicken Recipe. Method 1 Preheat oven to 450°F.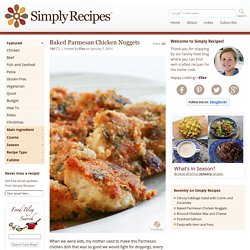 Pat the chicken pieces dry with paper towels. Chicken in a Pot: The Garlic and Lemon Version. Makes 4 servings Recipe copyright 2010 by Dorie Greenspan, Photo © Alan Richardson, reproduced with permission of Houghton Mifflin Harcourt.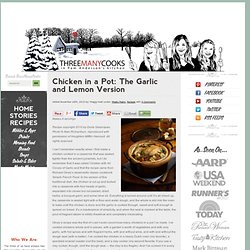 All rights reserved. I can't remember exactly when I first made a chicken cooked in a casserole that was sealed tighter than the ancient pyramids, but I do remember that it was called Chicken with 40 Cloves of Garlic and that the recipe came from Richard Olney's deservedly classic cookbook Simple French Food.
---