Belts
HABERDASHERY BELT. Featured: Forever 21 belt from Twelve By Twelve A unique and eye-catching haberdashery "vest-style" belt to make.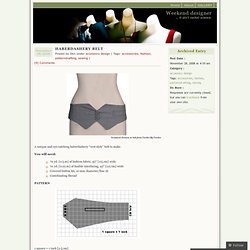 You will need: ½ yd. [0.5 m] of fashion fabric, 45″ [115 cm] wide¼ yd. [0.25 m] of fusible interfacing, 45″ [115 cm] wideCovered button kit, 10 mm diameter/line 16Coordinating thread 1 square = 1 inch [2.5 cm] Bow Belt. We're always looking for fun ways to add embellishments and touches of color to our outfits especially in the winter when we tend to get bored with everything and anything.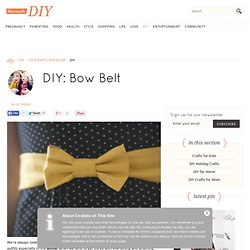 With bows being fiercely back in style, what better way than with a bright bow belt! You can pick any color for this but we'd recommend something solid and cotton. You'll need a simple snap as well to hand stitch on. DIY Tutorial: Nina Ricci Inspired Flower Sash. Here's a really quick tutorial on how to make a Nina Ricci Inspired Flower Sash!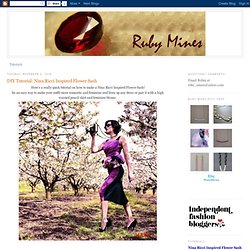 Its an easy way to make your outfit more romantic and feminine and liven up any dress or pair it with a high waisted pencil skirt and feminine blouse. Marion Cottliard in Nina Ricci Dress and Flower Sash -Vogue July Supplies. Elastic Brad Belt. This project uses thick elastic and the least expected item for any kind of fashion DIY - scrapbooking brads.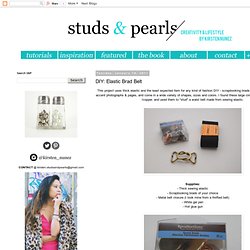 These are usually used to accent photographs & pages, and come in a wide variety of shapes, sizes and colors. I found these large circle brads in silver/gold/brass/copper, and used them to "stud" a waist belt made from sewing elastic. Supplies:- Thick sewing elastic- Scrapbooking brads of your choice- Metal belt closure (I took mine from a thrifted belt)- White gel pen- Hot glue gun 1) Measure a piece of elastic at the length desired - I decided to make mine a waist belt.
Add half an inch to an inch at both ends. Beret and belt. The lined beret is sized in small, medium and large with an inside grosgrain ribbon band.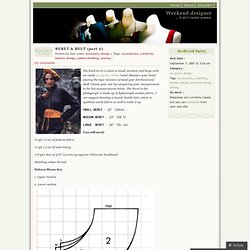 Measure your head, placing the tape measure around your forehead and skull. Choose your size by comparing your measurement to the hat measurements below.
---