Halloween
DIY: Make your own Halloween dinnerware. So now you've seen my interpretation of a Raven themed dinner party, I wanted to show you how I made the dinnerware.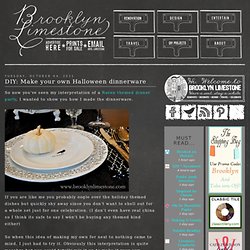 If you are like me you probably oogle over the holiday themed dishes but quickly shy away since you don't want to shell out for a whole set just for one celebration. (I don't even have real china so I think its safe to say I won't be buying any themed kind either) So when this idea of making my own for next to nothing came to mind, I just had to try it. Obviously this interpretation is quite macabre but you could totally mix it up to make it your own - think nursery rhymes for baby showers, holiday song lyrics for christmas, bible passages for easter, dirty doodles for hen nights... Friday Faves: Halloween DIY Roundup & Poor & Pretty. Halloween is 16 days away!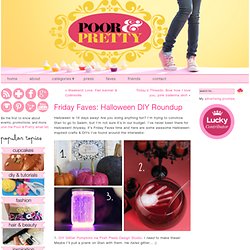 Are you doing anything fun? I'm trying to convince Stan to go to Salem, but I'm not sure it's in our budget. Halloween Costume Ideas | Little BGCG - StumbleUpon.
---