Brownies
Good Ol' Homemade Brownies & Buns In My Oven - StumbleUpon. This may be a cooking blog, but I find myself sharing some of my deepest, darkest secrets (never having tried oatmeal before, for instance) here.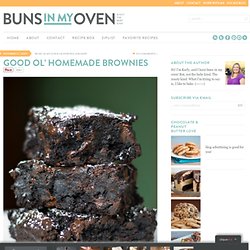 So far you all have accepted me and all the horrible things I've kept hidden for years and years. I can only hope that you will continue to stand by my side as I reveal this next bit of private information about myself. I prefer my brownies to be made from a box mix. I'm sorry, okay? How To Make Perfect Brownies | How To Cook Like Your Grandmother - StumbleUpon. I've tried lots of brownie recipes: Boxes, scratch, frosted, plain, nuts, chips, fudge … Each of them has something to like, but depending on my mood I might want a change of pace.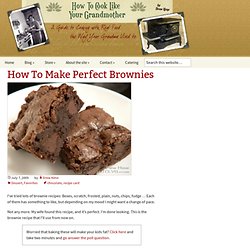 Not any more. My wife found this recipe, and it's perfect. Red Velvet Cheesecake Brownies | Sweet Pea's Kitchen - StumbleUpon. Red Velvet Cheesecake Brownies These Red Velvet Cheesecake Brownies are rich, decadent and so perfect for Valentine's Day!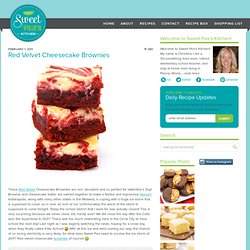 Brownie and cheesecake batter are swirled together to make a festive and impressive dessert. Indianapolis, along with many other states in the Midwest, is coping with a huge ice storm that is supposed to cover us in over an inch of ice.
---